When it comes to crafting your Privacy Policy, should AI be your go-to tool? The answer is no, and here's why.
While ChatGPT is undoubtedly advanced, it's a machine-learning system. It doesn't possess the human judgment and understanding required to interpret legal principles and precedents accurately.
This becomes especially critical when your Privacy Policy (see the definition of a Privacy Policy here) and other legal documents need to be tailored to the specifics of your business - something you, as a business owner, are all too familiar with. A one-size fits all solution just doesn't work for most companies.
These aren't the only limitations AIs like ChatGPT have, either. Join us as we delve deeper into why tools like TermsFeed's Privacy Policy generator, designed with legal precision and human touch, still reign superior in crafting your all-important Privacy Policy.
Understanding AI and ChatGPT
Artificial Intelligence (AI) refers to machines demonstrating cognitive abilities, traditionally the domain of humans. This includes learning, reasoning, concept understanding, and pattern recognition.
Essentially, an AI-enabled machine can autonomously perform tasks, whether it's creating art, operating self-driving cars, or combating cyber threats.
ChatGPT, a product of OpenAI, is a manifestation of this AI power. 'GPT' stands for Generative Pretrained Transformer, a term describing a series of large language models (LLMs). The LLMs use a deep learning methodology, simulating human information processing patterns, to train ChatGPT.
This AI chatbot has access to an extensive dataset comprising millions of written word examples. The sources range from textbooks to online articles, allowing it to recognize complex patterns, syntax, and diction.
As a result, ChatGPT can engage in human-like conversations using natural language, creating various forms of written content like social media posts, essays, codes, and emails.
Despite these capabilities, the key question remains: Can it craft a compliant Privacy Policy for your business? The answer is "it can," but it won't be very good, and it probably won't be relevant to your specific needs.
Exploring ChatGPT for Privacy Policy Creation

Imagine employing an AI to craft a unique, accurate, and legally compliant Privacy Policy for your business. While it might sound like an ideal solution, we've found that human involvement remains paramount, particularly when aiming to fully adhere to data privacy regulations.
During our experimentation with ChatGPT to construct a detailed Privacy Policy, it quickly became apparent that while AI could produce reasonable drafts, each component of the final document required careful examination.
Each iteration triggered a cycle of edits, revisions, and modifications.
You might think, "Well, can't we use ChatGPT to at least draft a rough version of a Privacy Policy?"
Indeed, that is a possibility. However, we'd still recommend using a free Privacy Policy generator or template, especially one like TermsFeed's that is vetted by legal and data privacy professionals.
It's important to remember that your Privacy Policy should adequately inform website visitors about your data privacy practices while ensuring compliance with all relevant data privacy laws.
Our Privacy Policy generator accomplishes this, eliminating the need for the extensive writing necessary for an AI-assisted yet imperfect result from ChatGPT. Moreover, there's no guarantee that the final policy generated using ChatGPT will offer the same level of legal security or accuracy.
But before we get ahead of ourselves, let's first look at the test results we got from using ChatGPT.
Testing ChatGPT for Privacy Policy Creation

Let's delve into the intriguing part: putting ChatGPT to work on generating a Privacy Policy. We utilized four distinct prompts, refining them each time to yield the most effective results.
Here's a breakdown of our process and the prompts we used, showcased in the table below.
Test
Prompt for ChatGPT
#1
Write a Privacy Policy for TermsFeed.com
#2
Write a Privacy Policy for TermsFeed.com that is GDPR compliant
#3
Write a Privacy Policy for TermsFeed.com that is CCPA compliant
#4

Formulate a Privacy Policy for TermsFeed.com, ensuring it encompasses the following specifics:

For users in the EEA/UK:

Organization's name and contact information: TermsFeed LLC, [email protected]

Contact information for the data protection officer: [email protected]

Objectives of data processing: Provision of services and products, payment processing, and marketing offers distribution

Legal grounds: We utilize contract, consent, and legitimate interest as the basis for personal data processing

Third parties or categories of third parties handling personal data: Data analytics providers, customer relationship management platforms, and payment processors

International transfers: Personal information is transferred to the US based on Standard Contractual Clauses as outlined in our Data Processing Agreement

Retention duration of collected personal data: Information is retained for the duration of your account's active status, applicable purposes, or to adhere to legal requirements and regulations

You are entitled to access, modify, delete, limit the processing of your personal information, and withdraw consent at any given time.

We employ automated decision-making, inclusive of profiling, within our marketing strategies.

You hold the right to file a complaint with a supervisory authority.

In certain instances, provision of personal data might be a legal or contractual obligation or prerequisite to a contract conclusion.

Categories of personal data collected: Names, email addresses, company names, IP addresses, device data, browser details, payment information, transaction history, and credit card specifics.

We might acquire your personal information from alternate sources, like social media or data analytics service providers.

For Users in California

You possess the right to be informed, the right to delete, and the right to refuse the sharing or sale of your personal data.

A link labeled "Do Not Sell or Share My Personal Information" is accessible on our website.

Types of personal information gathered in the preceding 12 months: Names, email addresses, company names, IP addresses, device data, browser details, payment information, transaction history, and credit card specifics.

Sources from which we collect personal data: Customers, end-users, and website visitors.

The business purpose for collecting personal data: To provide our services and products, process payments, and distribute marketing offers.

Categories of third parties to whom personal data is shared or sold: Data analytics providers, customer relationship management platforms, and payment processors.

The Privacy Policy was last updated on September 12, 2021.
Test 1: Write a Privacy Policy for TermsFeed Using ChatGPT AI

In our first test, we began with a simple, broad request, using it as a "control" in our experiment. However, the resulting Privacy Policy fell short of TermsFeed's specific legal requirements.
See ChatGPT's output below: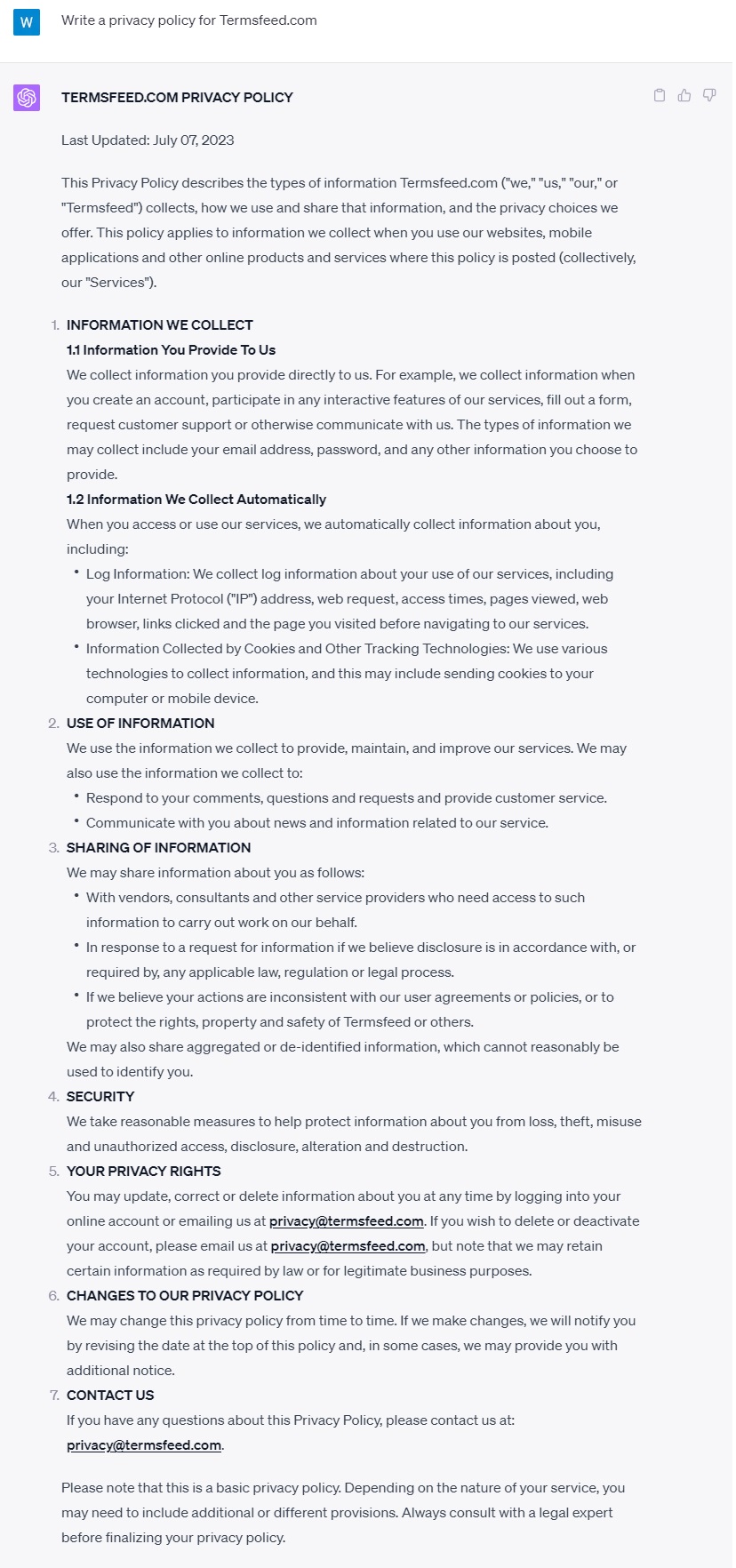 One of the very first things we noticed was that ChatGPT put in a disclaimer at the bottom of its output, which essentially tells the user two things up-front:
The Privacy Policy it generated is basic, and

Even if you choose to use it, ChatGPT itself recommends that you have a legal professional review the output
Additionally, our initial test with ChatGPT revealed a critical limitation: the AI could not adequately define the legal scope of the Privacy Policy, resulting in a non-compliant output.
Typically, the foremost step in crafting a Privacy Policy is determining which data protection laws your business needs to abide by. This is influenced by factors like:
Your business's location
Your customer demographics
Your industry
However, as ChatGPT doesn't ask questions, it cannot discern which laws or regulations pertain to your business.
If you attempted to create a Privacy Policy using this approach, you would still need to sift through data privacy laws and identify those relevant to your business.
Subsequently, you would have to revisit the Privacy Policy and insert all necessary clauses and missing elements to ensure it aligns with those laws.
In essence, you would be crafting the entire document yourself. Instead, you might consider using a Privacy Policy template from a source like TermsFeed, which is already properly formatted and customizable, allowing you to save significant time.
The templates also have the added advantage of being vetted by legal professionals to ensure compliance.
Test 2: Write a GDPR Compliant Privacy Policy for TermsFeed Using ChaptGPT AI

In our second test with ChatGPT, we honed our prompt to be more specific. Suppose we've determined that our business is solely governed by the General Data Protection Regulation (GDPR). Can ChatGPT generate a Privacy Policy that complies with it?
The resulting Privacy Policy was incredibly generic despite containing GDPR components and, consequently, is not compliant.
Let's delve into what ChatGPT provided below:

Just as in our first test, ChatGPT provided a disclaimer at the bottom of its output, which declared that its attempt at writing a GDPR-compliant Privacy Policy was:
A simplified example of a GDPR-compliant Privacy Policy
The user should still "seek legal counsel" to review its output
Outside of that, the Privacy Policy generated by ChatGPT in this instance is not GDPR-compliant. Were you to post it on your website, you could face fines for contravening the Regulation - a situation every business wants to avoid.
In the table below, we compare the GDPR requirements to the Privacy Policy ChatGPT generated. This will clearly illustrate the aspects of the Regulation that this policy fails to adhere to.
GDPR Article
GDPR Requirement
ChatGPT Generated Privacy Policy

Article 13 1(a)

(Information to be provided when personal data is gathered directly from the individual)

The company's identity and contact details

ChatGPT's output provided the company name but did not provide any contact details

Partially compliant

Article 13 1(b)
Provide contact details for the Data Protection Officer (DPO)

No details provided

Not compliant

Article 13 1(c)
Reasons for data processing and the legal grounds for doing so

Technically compliant

(but super generic)

Article 13 1(d)
Third-party entities or types of organizations involved in processing the personal data

No details provided

Not compliant

Article 13 1(f)
International data transmissions, the protective measures employed during the transfer, and how to acquire details about these protective measures

There is a clause on this issue but no details about protective measures or how to acquire information about those measures

Partially Compliant

Articles 13 2(a)
Duration of holding the gathered personal data

Technically compliant

(but super generic)

Articles 13 2(b) +(c)
The presence of rights to view, correct, delete, and limit the handling of personal data, along with the right to revoke approval
Compliant
Articles 13 2(f)
The presence of automated decision-making processes, which include profiling activities

No details provided

Not compliant

Articles 13 2(d)
Right to file a grievance with a regulatory body

No details provided

Not compliant

Articles 13 2(e)
If supplying personal data is a legal or contractual obligation, or a prerequisite for forming a contract

No details provided

Not compliant

Article 14 1(d)

(Content to be provided when the personal data is not directly sourced from the individual)

List categories of personal data collected

No details provided

Not compliant

Article 14 2(f)
The origin or source from where the personal data is derived

No details provided

Not compliant
As you can discern from the highlighted discrepancies in the above table, the GDPR Privacy Policy produced by ChatGPT is significantly lacking in terms of GDPR compliance.
What's more, there's no guarantee that the information it generates is accurate.
Take, for instance, Section 2, 'Data Collection and Usage.' The output provided by ChatGPT says nothing about the specific types of data that TermsFeed collects. It also does not list the specific ways that TermsFeed uses that information.
These discrepancies arise from the fact that ChatGPT generates text based on pre-existing policies rather than the unique business practices of TermsFeed.
We are faced with the same issue we encountered in the first test. ChatGPT requires all the necessary information to be embedded directly in the prompt since it doesn't possess the ability to request specifications or corrections. As such, generating a fully compliant Privacy Policy with this method proves quite challenging.
Test 3: Write a CCPA Compliant Privacy Policy for TermsFeed Using ChatGPT AI

For our third test with ChatGPT, we decided to focus on the California Consumer Privacy Act (CCPA). Suppose we've determined that our business is solely subject to the CCPA. Can ChatGPT create a Privacy Policy that fully complies with this law?
Unfortunately, despite including some CCPA elements, the resulting Privacy Policy was far too generic to be deemed compliant.
Let's dissect what ChatGPT has produced for us below:

In reviewing the results of our third test with ChatGPT, a familiar pattern emerged. Just like in our previous tests, ChatGPT included a disclaimer concerning its legal output, indicating that it's not designed to offer legally sound advice.
The CCPA Privacy Policy generated by ChatGPT was strikingly similar to the way it generated an overly general GDPR Privacy Policy in the second test.
The reality is that AI falls significantly short in terms of CCPA compliance. The lack of specific CCPA-required disclosures and the generality of the information undermine its compliance.
Further exacerbating the situation, ChatGPT's output isn't guaranteed to be accurate. Any inconsistencies are due to ChatGPT's reliance on pre-existing policies for reference rather than its being able to understand and adapt to TermsFeed's unique business practices.
Test 4: Write a Privacy Policy With the Provided Specifics Using ChatGPT AI

For this test, we decided to challenge ChatGPT further by asking it to combine the requirements of several privacy laws, specifically the General Data Protection Regulation (GDPR) and the California Consumer Privacy Act (CCPA), given all necessary data.
In theory, this approach should have enabled ChatGPT to create a comprehensive privacy agreement ready for online publication. Did it meet these expectations?
Partially.
The resulting Privacy Policy incorporated all the requested elements but fell short in terms of clarity and proper formatting. It still required human oversight for editing.
Let's go over ChatGPT's output below: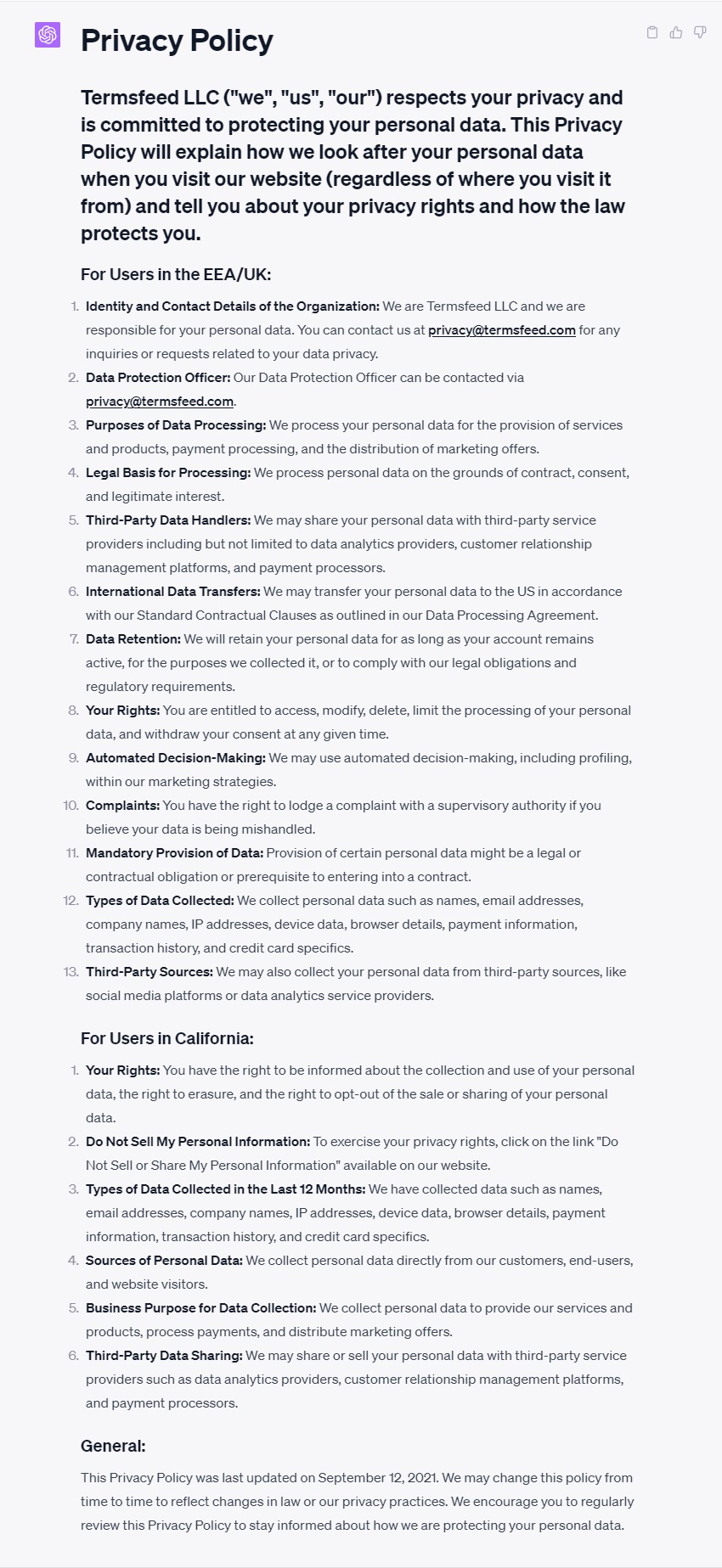 Reflecting on TermsFeed's final experiment with ChatGPT, some noteworthy aspects emerged.
Interestingly, ChatGPT omitted the usual disclaimer following its output. It managed to integrate all of the requested sections and clauses but did not indicate which legal standards it aimed to meet.
As with prior tests, the output remained remarkably generic, a trend consistent across its GDPR and CCPA-compliant Privacy Policies.
Nonetheless, a considerable amount of preparatory work was required on our part, contradicting the initial goal of AI utilization - reducing workload.
We concluded that merging different privacy laws' requirements is feasible with AI, provided that a comprehensive, well-structured request is given.
However, human intervention remains crucial in finalizing the Privacy Policy. ChatGPT's generated content, more a list of requirements than a coherently structured privacy agreement, still needed thorough review and potential rewrites for improved readability and coherence.
The Disadvantages of Using AI to Generate a Privacy Policy

AI may seem capable, but it falls short when generating a bespoke Privacy Policy. It can't replicate the human background knowledge crucial for specific legal advice. In this section, we'll unravel four critical problems associated with entrusting your Privacy Policy to an AI like ChatGPT.
The Deficit in Legal Knowledge
While AI, like ChatGPT, is limited by its last update in terms of legal knowledge, Privacy Policy templates offered by reputable platforms like TermsFeed are regularly updated to reflect changes in the law. You get templates crafted with up-to-date legal expertise, ensuring the relevance and validity of your Privacy Policy.
The Inaccuracy and Inefficiency of AI
As it stands, AI, specifically ChatGPT, cannot be relied upon to generate a compliant Privacy Policy.
Even with a specific prompt, a human review is mandatory to edit, reformat, and double-check the document for legal and consistency errors. AI's limitations in accuracy and contextual relevance present significant risks in legal situations where precision is paramount.
While ChatGPT, being a robot, lacks the ability to exercise human judgment for unique legal scenarios, Privacy Policy templates are created by legal experts with human judgment in mind. They incorporate best practices and cater to typical business needs, reducing the likelihood of biased or inappropriate content.
The template approach ensures your Privacy Policy is robust, legally sound, and tailored to your business needs.
AI's Limitations in Specific Company Knowledge
AI cannot generate elements that are specific to your company. It lacks the capability to comprehend:
The legal requirements applicable to your company
The purposes for which you process personal information
The types of personal data your company processes
The third parties you collaborate with to process personal information
Details about international transfers of personal data and their modalities
These are all intricate details bespoke to your company's operations that AI simply can't grasp.
The High Cost of Time and Effort with AI
Lastly, the effort needed to create a legally sound Privacy Policy using AI is disproportionately higher than with a Privacy Policy generator. The back and forth with ChatGPT - feeding it prompts, making corrections, providing information - takes significantly more time and effort than the few minutes a Privacy Policy generator needs.
And even after this laborious process, you're left with lingering uncertainty about the legal soundness of your policy.
Why You Must Exercise Caution When Using ChatGPT

In the aftermath of our trials with ChatGPT, it's evident that caution is indispensable when using this technology, particularly if you're relying on it to craft a compliant Privacy Policy.
As it stands, the capability for creating a bespoke, compliant policy is beyond ChatGPT's reach without extensive involvement on the part of the user. Use of the AI requires explicit, detailed instructions.
Crafting these directives necessitates a substantial investment of time, effort, and a firm grasp on both your business's requirements and Privacy Policy obligations.
Why?
The AI model pulls data from existing resources, essentially merging a multitude of Privacy Policies available online rather than tailoring one to your company's unique needs.
This method, unfortunately, often results in omissions of crucial legal requirements - components you might overlook if you're not well-versed in data privacy laws or legal jargon.
Compared to a free Privacy Policy Generator that requires little to no writing, using ChatGPT can be notably more intricate and time-consuming.
Superior Alternatives for Drafting Your Privacy Policy

As a business owner obligated to comply with data privacy laws, it's advisable to use a Privacy Policy generator as your ideal solution.
TermsFeed Privacy Policy Generator provides a personalized, legally sound final draft derived from your own responses, ensuring it's unique to your business.
Crafted by product engineers and data privacy specialists, our generator encompasses the relevant clauses to comply with seven primary data protection laws. Moreover, we keep it up-to-date in accordance with law changes or new enactments.
The process of creating a tailored Privacy Policy for your website, app, ecommerce store, or SaaS business takes mere minutes. Furthermore, post-creation, your policy is available for download in various formats like HTML, DOCX, Plain Text, or Markdown.
Custom text requirement in your Privacy Policy? No worries. Our Live Editor allows you to make custom edits. Additionally, you're kept informed whenever new laws and regulations necessitate an update to your Privacy Policy.
This ensures your Privacy Policy always stays current and compliant.
Summary
Wrapping up our investigation, it's evident that utilizing AI, specifically ChatGPT, is not the most practical or economical method to create a legally compliant Privacy Policy as it currently stands.
To generate a legally valid Privacy Policy, ChatGPT necessitates extensive user input that could translate into hours of work for any employee unfamiliar with privacy laws. This would involve informing it of:
Your legal jurisdiction (i.e., the laws you are obligated to adhere to)
Your company's contact details
The contact information for your Data Protection Officer
The reasons behind your data processing
The types of personal data you gather
Whether you sell or share it with any third parties
The categories of those third parties
Specifics concerning international data transfers
The moment you've assembled all of this data as a prompt for ChatGPT, you've essentially drafted half of a compliant Privacy Policy. Consequently, it's not faster or simpler, and depending on your understanding of data privacy, you might still require a legal review.
Moreover, an AI-produced Privacy Policy doesn't automatically update, meaning it fails to stay abreast of evolving data privacy legislation.
In contrast, using TermsFeed's Privacy Policy generator or one of our templates poses none of these problems.
Designed with privacy compliance at its core, unlike ChatGPT, the choice between the two for safeguarding your business becomes clear.

Comprehensive compliance starts with a Privacy Policy.
Comply with the law with our agreements, policies, and consent banners. Everything is included.