If you use cookies, you must notify your users of this. The specific requirements vary depending on what cookies you use and where you do business, but here are four universal ways to notify your users about your use of cookies.
Use our Cookie Consent all-in-one solution (Privacy Consent) for cookies management to comply with GDPR & CCPA/CPRA and other privacy laws:
For GDPR, CCPA/CPRA and other privacy laws
Apply privacy requirements based on user location
Get consent prior to third-party scripts loading
Works for desktop, tables and mobile devices
Customize the appearance to match your brand style
Create your Cookie Consent banner today to comply with GDPR, CCPA/CPRA and other privacy laws:
Start the Privacy Consent wizard to create the Cookie Consent code by adding your website information.

At Step 2, add in information about your business.

At Step 3, select a plan for the Cookie Consent.

You're done! Your Cookie Consent Banner is ready. Install the Cookie Consent banner on your website:

Display the Cookie Consent banner on your website by copy-paste the installation code in the <head></head> section of your website. Instructions how to add in the code for specific platforms (WordPress, Shopify, Wix and more) are available on the Install page.
What's the Cookie Law?
The Cookie Law was introduced via amendments to a 2003 EU e-Privacy Directive that requires websites to get user consent for the use of tracking technologies, the most common being cookies.
A cookie (sometimes called web cookie or browser cookie) is a file stored in a user's web browser with small pieces of data that stores information like user settings and preferences, and things like the frequency someone visits a specific website and other analytics specs.
The Information Commissioner's Office (ICO) wrote a full guide for webmasters to learn how to become compliant with this law. The British Information Commissioner's Office states that UK-based websites that to do not comply with this law are to be fined of up to £500,000 for non-compliance.
In 2012, the deadline of May 26 was the last date when UK-based websites had to update their Privacy Policies and include a "Cookies Notice" to get informed consent from their users before using any cookie files to store information on their users' computers.
The BBC reported this on May 26, stating that thousands of websites were in breach of the new cookie law, but others reported that very few people noticed and, in one survey by PwC, only 13% of respondents knew how cookies work.
Ways to notify users that you use cookies
Let's take a look at 4 cookie law-compliant ways you can notify your users that you use and store cookies.
1. Fixed Footer Notification
Adding your cookie notice to your website footer is a universally smart move. Since most websites include important legal links in the footer, people know to look here for important things. When a notice is placed in the footer region, your users will be very likely to notice it and take it seriously.
Here's an example from Credit Agricole where the cookie consent banner is slightly transparent over the bottom of the homepage and stays static as a user scrolls, until a user selects options: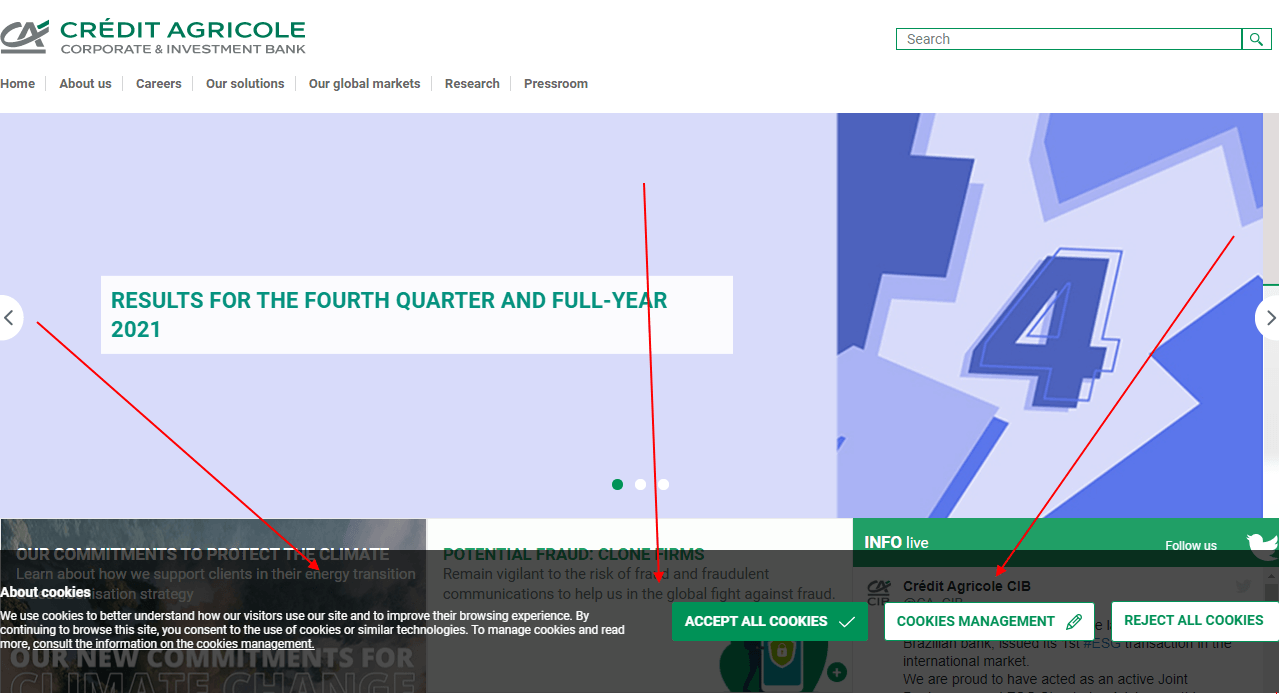 Essentra has a fixed footer across all pages that notifies users about cookies usage and collection. The footer remains taking up the bottom portion of the website and remains there until a user clicks to accept and close. The Cookies Policy is linked to the notification so users can find out more information before deciding if they're ok with accepting Essentra's use of cookies.

There's a "More about GDPR" link that takes users to a page that discusses more about how the company strives for GDPR compliance. Because the GDPR focuses on transparency and user rights, a cookie notice like this that gets consent from users before placing cookies is a requirement of the GDPR when most cookies are used.
And here's how Lenovo adds a banner like this to the bottom of its website:

2. Top Header Notification
A top header notification will be displayed front and center at the top of your website. This means it'll be nearly impossible for a site visitor to miss. Websites notoriously put important messages at the very top including sale notifications and other things users know to watch for, so this is a smart area to place your cookie notice.
The Thomas Cook website was early to this method many years ago with displaying a notice at the very top of its site, above the main navigation menu: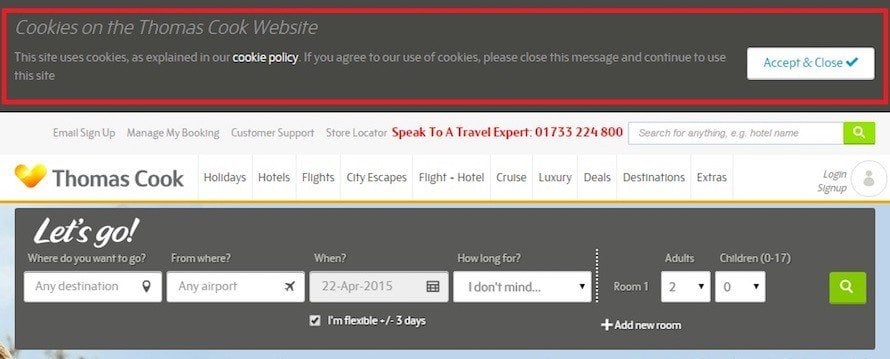 The notification doesn't disappear unless the visitor takes clicks a button to accept and close the notice. As usual, the Cookie Policy is linked to the notification so users can make an informed decision.
Bank of Australia takes this approach as well, yet doesn't offer any options to users. They can simply learn about cookies, but not make any settings through the banner. This method is not recommended:

3. Inline Top Header Notification
These types of notifications are much smaller and "in line" with the styling of the site for a minimalistic approach. Here's how Gov UK used to use an inline notification that was below the logo, but above the website content:

This worked really well with the design of the Gov UK website that's very minimalistic. The notice was slightly lighter color blue from the site background that fits well with the logo section line and the "Welcome to GOV.UK" section.
However, note that Gov UK has since updated its cookie consent notice to include more information as well as options for accepting and rejecting cookies. This makes it more of a standard header notification versus an inline header notification: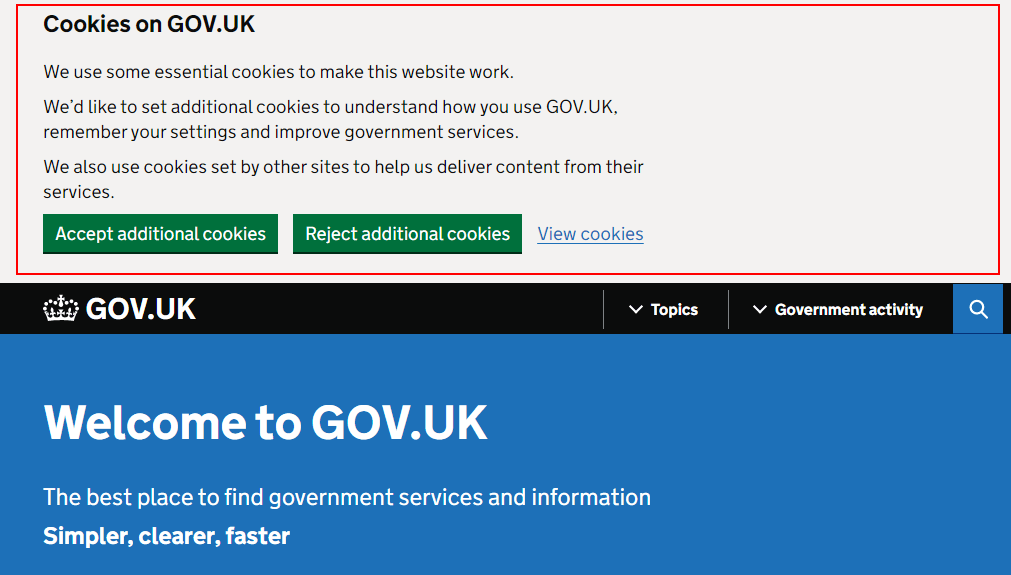 4. Box Notification
A box notification works by positioning a box on the website that is in a fixed position, regardless of how a user scrolls. To get the box to disappear, a user must select one of the available options or accept the terms presented in the box.
The BBC's Good Food site uses a box style cookie consent notice that blocks out access to the website until users agree or select custom options to agree to: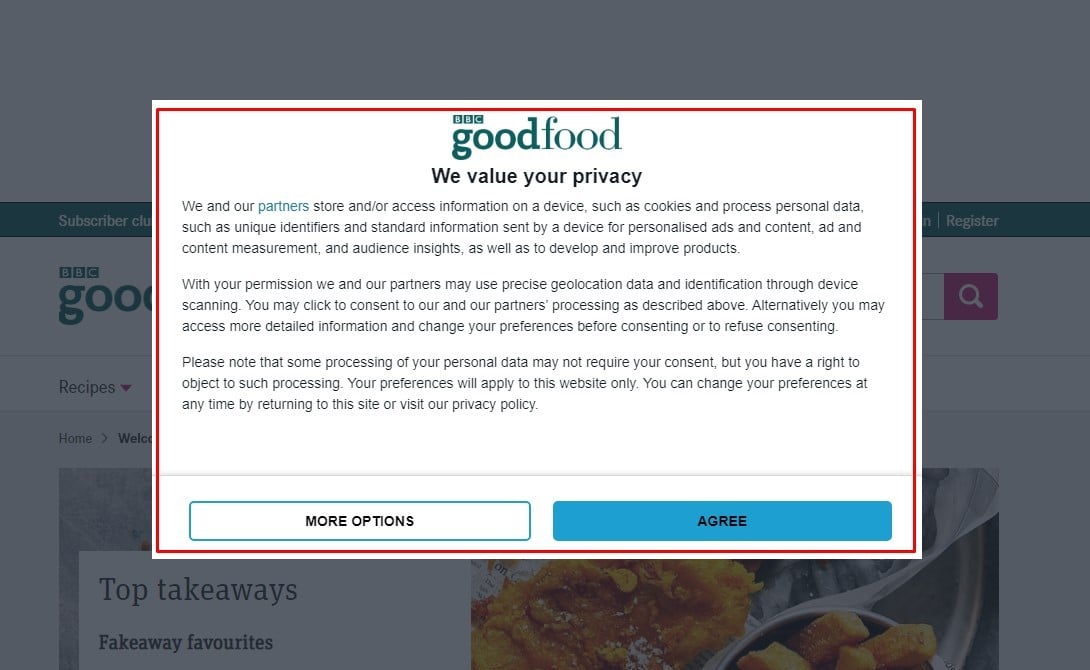 This method works well on mobile devices since the box can display largely on the screen: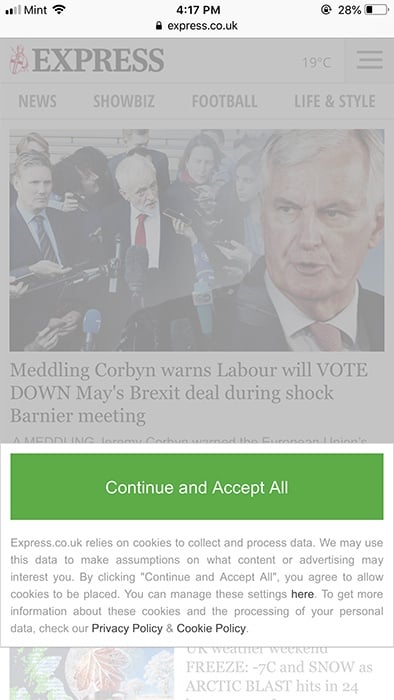 Wrapping it Up
You can comply with the cookies law by implementing any kind of design functionality you'd like that matches your website as long as users can give their informed consent for the usage of cookies on your website. Just make sure to design your notification to be easy to notice.
In your cookies notification, make sure to include a link to where users can find out more about the specific cookies that your website stores, either in your Privacy Policy or in a separate Cookies Policy.
The notification needs to be displayed to new visitors of your website across all pages. If a new user lands on a specific land page and not your homepage, such as via Google search results, you still need to have the notification message displayed.