Earnings Disclaimers - also known as Income Disclaimers - are commonly found on websites and mobile apps that present ways to help people make money or learn business strategies better.
These types of websites/apps may offer online classes, educational materials, profit generation methods, and other information and resources that could be confused as ways to "get rich quick" or make a guaranteed profit or income.
An Earnings Disclaimer will let users know that you aren't guaranteeing results or income, and that the information on your website/app is to be used at your own risk, with no liability on you if the user doesn't have success.
In the US, the Federal Trade Commission (FTC) requires that websites have Earnings Disclaimers when they present advice and information to users that's intended to help them make money. Basically, in the US, if you make a claim that a user can make income, you need to provide a disclaimer.
The UK does not have laws regarding Earnings Disclaimers. However, its consumer protection regulations make these disclaimers a vital part of your website.
Let's look at why you should have an Earnings Disclaimer on your UK website, how to create one and how to display it to your users in the most effective way.
Unlike the US, the UK does not have laws that directly require earnings disclaimers.
However, the UK takes consumer protection very seriously, especially when it comes to advertising. The Consumer Protection from Unfair Trading Regulations 2008 contains provisions that encourage the use of Earnings Disclaimers.
Our Disclaimer Generator can generate a legal disclaimer for your business, website or mobile app. Just follow these steps:
At Step 1, select where your Disclaimer will be used.

At Step 2, add in information about your website/app and business.

Answer some questions about your business practices.

Enter an email address where you'd like to receive your Disclaimer and click "Generate."

Done! You'll be able to instantly access and download your new Disclaimer.
The Legal Connection to UK Earnings Disclaimers

The Consumer Protection from Unfair Trading Regulations 2008 contains 31 banned trading practices. These regulations replaced the Trade Descriptions Act 1968 to extend consumer protection and place the responsibility of fair trade on businesses. This was due to the EU's Unfair Commercial Practices Directive, which required member states to meet minimum standards for consumer protection.
False or misleading advertising is among the banned practices.
When it comes to UK Earnings Disclaimers, the most relevant provisions of the Consumer Protection from Unfair Trading Regulations 2008 are Regulations 5 and 6.
Regulation 5 addresses false or misleading information about a product or service. This would include direct statements that are fundamentally untrue at worst, or misleading at best.
If the statement leads a consumer to make a purchase decision they would avoid if not for the misleading information, the statement violates Regulation 5.
It is not just direct statements that can get a website operator in trouble. You can also face liability if you leave out essential information.
Regulation 6 addresses these omissions. If a commercial entity leaves out information that may discourage a customer from using a product or service, that also falls under unfair trade and can be penalized.
These regulations are often discussed in terms of tangible consumer products, but websites and apps offering business methods and profit generation strategies can easily fall under them, too.
This is especially true since many people search the web for ways to make money and they can be vulnerable to flamboyant advertising just as much as people shopping for products.

Most misleading information associated with earnings and income claims is related to the benefits and risks aspects of the claims.
For example, a user may come across a website that offers instructions on how to make a blog more profitable. The user may read testimonials describing six-figure salaries or feel drawn in by the operator's own success story.
However, that web page may omit vital information. Many strategies only work if a user commits to learning them, and that could involve buying products, attending online classes or investing a lot of time and money in the process. Reading free blog articles or committing only halfway may not be enough.
If the website does not make that clear, the operator may face penalties if a user feels misled.
This is why Earnings Disclaimers are important. Many people may visit a website hoping to find a way to profit quickly or grow a business, and this disclaimer reminds them that nothing is guaranteed.
Earnings Disclaimers vs Affiliate Disclosures
Earnings Disclaimers are different than Affiliate Disclosures.
While an Affiliate Disclosure informs users that the website operator may get a commission from purchases, the earnings disclaimer addresses the real risks and lack of guarantee of a benefit from using a product or service.
Writing Your UK Earnings Disclaimers

Your UK Earnings Disclaimer needs to let users know the following points:
You make efforts to be accurate on your website/app
There is no guarantee of income/results/success
Individual results are up to the individual and will vary
Your website is not liable for any failures or damages as a result of using the website's information
Here's an example of an earnings disclaimer from Matt Morris. In 4 short paragraphs, it covers each of the 4 points that should be in every earnings disclaimer: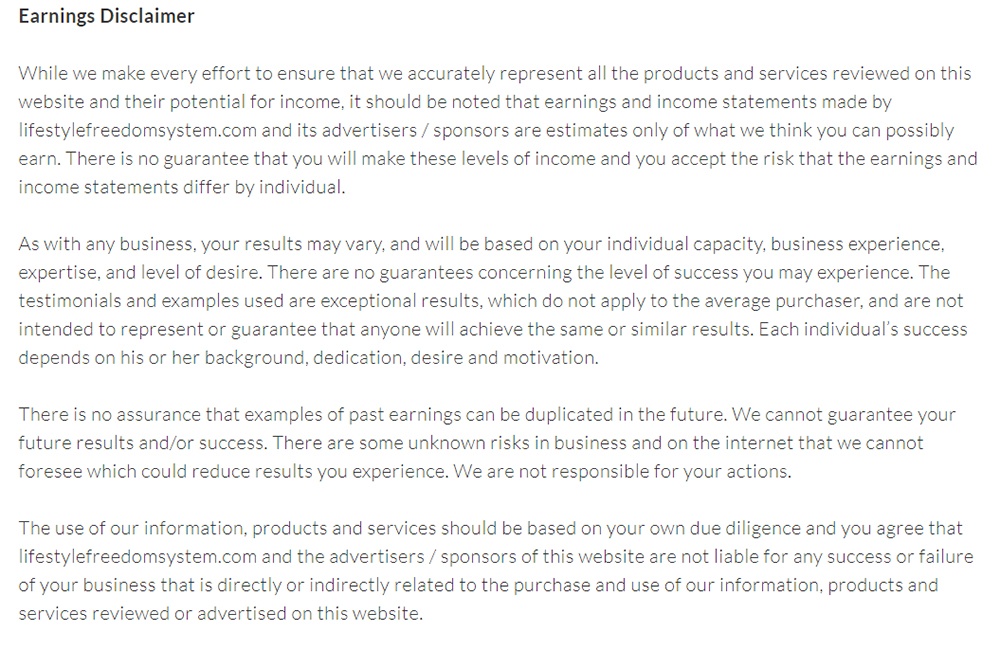 The disclaimer starts out by stating that efforts have been made to make sure all products and services are described accurately.
It then lets users know that results are not guaranteed, and that each person's results will be dependent on that individual.
Finally, the disclaimer states that the website is not liable for any failures of an individual who relies on the information, products or services on the website.
It's important that your Earnings Disclaimer emphasizes user effort. Most of these products and services are not effective unless a user puts in the needed financial and educational resources.
State that directly as the Abraham Group has here:

It is a good idea to address forward-looking statements. These include any statements that predict future events. "We believe you can make a six-figure income within 18 months" would be a forward-looking statement.
Addressing these types of statements is actually required by US law, so if there is any chance that Americans may use your products or services, this reference will help you comply with US laws.
Even if that chance is low, being upfront about these predictions will help you comply with UK law.
Here's an example of a clause in an Earnings Disclaimer from Brodie Consulting Group that addresses forward-looking statements.

End your UK Earnings Disclaimer with your contact information. Include a business name and email address where your readers can contact you if they want to: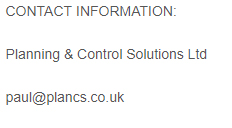 Displaying Your UK Earnings Disclaimer
Once you finish drafting your Earnings Disclaimer, consider how you want to display it on your website. Best practices suggest giving it a link with your other agreements.
This can be as part of a link list where you display your Privacy Policy, Terms of Use and other important legal information: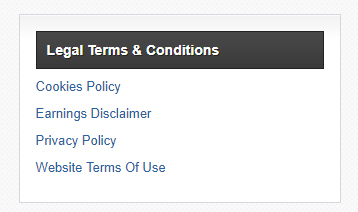 Or, you can add it to your website's standard footer, which is where users commonly look for important links and legal information.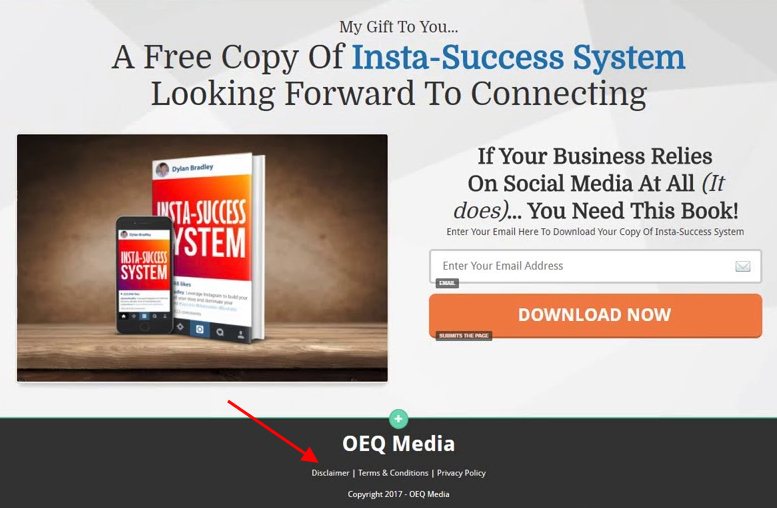 Like all disclaimers, earnings disclaimers are best when they're easy to locate and written in plain language.
Examples of UK Earnings Disclaimers
Earnings Disclaimers may stand on their own or be integrated with other content, like Terms of Use agreements or Affiliate Disclaimers. It often depends on how the website operator views the importance of the content.
Andrew Minalto advertises himself as an ecommerce expert and business coach. He offers insight information about how to make money on Amazon UK, and lots of it.
There are no profit promises or alleged timelines for success. But even then, the Earnings Disclaimer has its own footer link that makes it easy to find:

The Earnings Disclaimer is presented as a separate agreement. It denies any "get rich" schemes are going on and addresses forward-looking statements as well: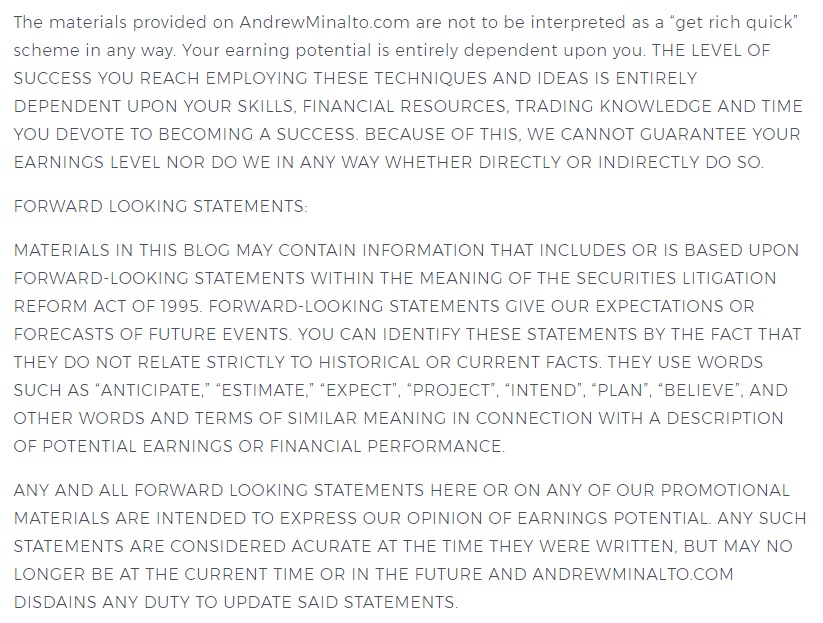 Other website operators prefer to combine their Earnings Disclaimers with other content.
Dani Johnson adds her disclaimer to her Terms, Privacy and Earnings Disclaimer page. The disclaimers are all mentioned first, and the Terms of Use begins right after the Earnings Disclaimer concludes:

If you maintain affiliate relationships, you may also consider combining your Affiliate Disclaimer with the Earnings Disclaimer, especially since they both relate to money and income.
Website.co.uk, a resource site for ecommerce and marketing, takes this approach. It starts with the Earnings Disclaimer: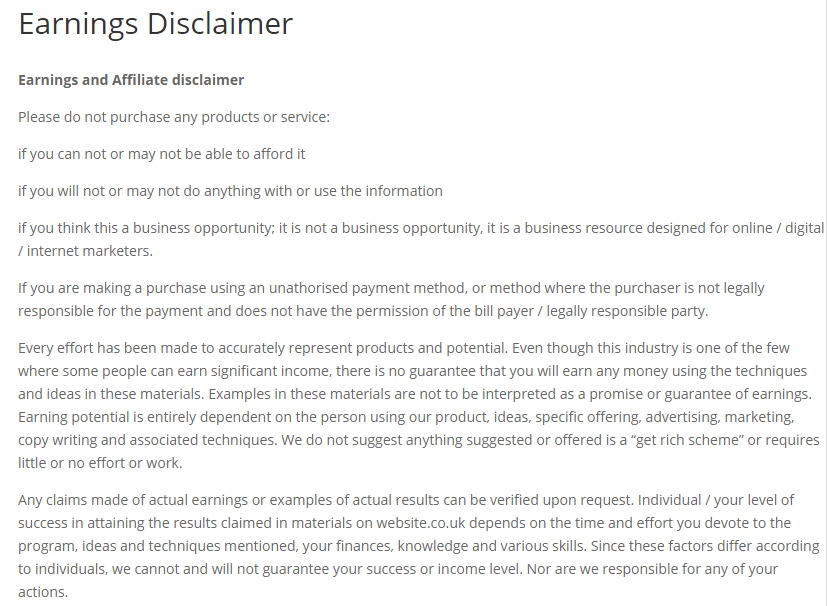 It ends with the Affiliate Disclaimer which also contains a warranty waiver connected to affiliate products:

An Earnings Disclaimer helps you be honest and upfront with your customers.
Draft it clearly, and if you add extra terms, make sure "Earnings Disclaimer" or "Income Disclaimer" is still in the title of the document. You may want to add links to it throughout your website, especially on a testimonial page.
The more accessible you make it to your customers, the more likely you will be presented as an honest and informative business under UK law.

Comprehensive compliance starts with a Privacy Policy.
Comply with the law with our agreements, policies, and consent banners. Everything is included.