Written by
Widener University School of Law graduate, Managing Legal Editor at TermsFeed.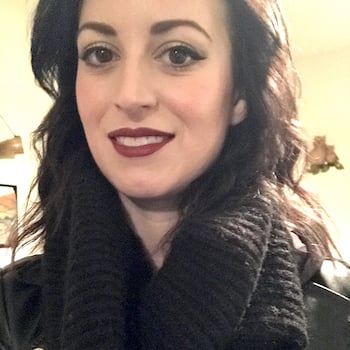 If you're looking for one standard Privacy Policy and standard Terms and Conditions (T&C) (also known as Terms of Use or Terms of Service) for your business' website and mobile app, you aren't going to find it.
While you can find very useful templates for each agreement that will be great starting points, time-savers and perhaps almost fully adequate for your business, these templates will still need to be customized to reflect your unique business operations.
You may need to add additional clauses (i.e. clauses for payment processing if you sell goods), and take out or change other clauses that may not be relevant or accurate for your business (i.e. a licensing clause isn't relevant if you don't license anything).
Even if the clauses in any template you may find online are the exact ones you need, you'll still likely need to edit their details to reflect your company's actual practices.
For example, in our Return and Refund Policy Template different sections are notated as details that should be changed according to your own practices, such as your website name, and days you allow for returns to be made.
Any of the other information can also be changed to reflect your own actual policies.
This template has the customer paying for return shipping, but maybe your business offers free returns always, or under certain conditions. Or, maybe you don't offer any returns or refunds at all.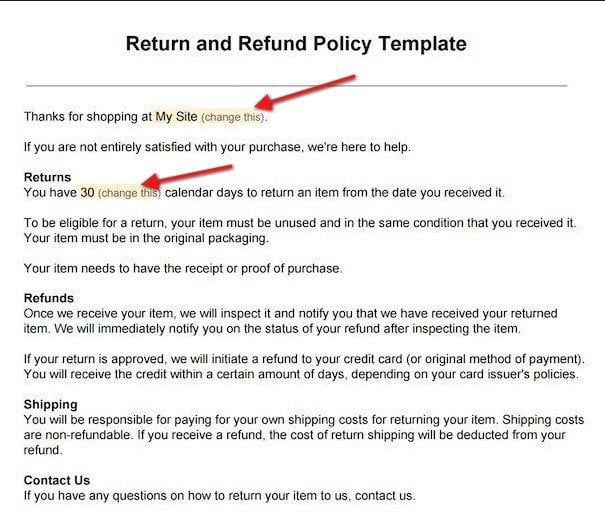 No Standard Terms & Conditions
Our Terms and Conditions Generator makes it easy to create a Terms and Conditions agreement for your business. Just follow these steps:
At Step 1, select the Website option or the App option or both.

Answer some questions about your website or app.

Answer some questions about your business.

Enter the email address where you'd like the T&C delivered and click "Generate."

You'll be able to instantly access and download the Terms & Conditions agreement.
Consider this: there are a handful of clauses that should be included in a Terms & Conditions agreement, but there are dozens of clauses that can be included depending on your individual business structure.
For example, most websites and mobile apps will include the following clauses:
"Governing Law" clause.

This clause informs users which laws will govern your agreement, such as a country or state,

"Termination" clause.

This clause lets users know that you reserve the right to terminate their accounts, either for specific reasons or at your sole discretion,

"3rd Party" clause.

This clause lets users know that you aren't responsible for any third party websites that you or other users may link to on your website/mobile app.

"Electronic Communications" clause.

This clause is used to inform users that they agree to receive electronic communications from you for specific purposes.
Other clauses and topics that may or may not be relevant and important to your Terms & Conditions for your business/mobile app, but also may not be, include:
"Subscription" clause: how subscriptions to your service work (pro-rating, cancellation, billing periods),
"Refunds and Returns" clause: how you handle refunds and returns, or that you don't allow them,
"International Shipping" clause: how you handle international shipping, taxes, tariffs, etc.,
"Purchase Orders and Invoicing" clauses: when are payments due,
"Advertising" clauses,
"Sweepstakes" clauses and rules,
"Breach of Contract" clause,
Some clauses will be very consistent across all businesses, such as "Intellectual Property" clauses and the "Disclaimers of Warranties" clauses.
"Intellectual Property" clauses let your users know that you own all of the content on your website and mobile app and that your content is not to be copied, reproduced, or otherwise appropriated. While this can be phrased in a number of different ways, the point is the same.
Here's a short and basic - but adequate - "Intellectual Property" clause example:

Here's how Trello presents its "Proprietary/Intellectual Property Rights" clause: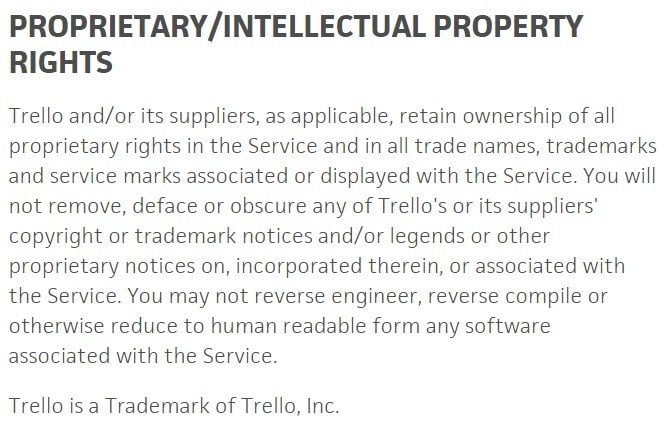 Each clause from the examples above are a bit different, but basically, covers the same idea: The company is retaining ownership and rights in its intellectual property and limiting what a user can do.
"Disclaimer of Warranty" clauses tend to be very boilerplate. Chances are you've seen these capital letter clauses in all sorts of Terms & Conditions agreements from websites and mobile apps.
The first part of the "Disclaimer of Warranty" example clause seen below, in all caps, is comprised of the standard language seen commonly across industries and businesses. The sentences following, in regular font, are additional details customized for the company, elaborating how their disclaimer will work in specific circumstances.

No Standard Privacy Policy
Our Privacy Policy Generator makes it easy to create a Privacy Policy for your business. Just follow these steps:
At Step 1, select the Website option or App option or both.

Answer some questions about your website or app.

Answer some questions about your business.

Enter the email address where you'd like the Privacy Policy delivered and click "Generate."

You'll be able to instantly access and download your new Privacy Policy.
When it comes to a one-size-fits-all Privacy Policy, the same idea applies: while you can get some excellent templates, these templates are a good starting point and won't be standard across businesses.
The job of a Privacy Policy agreement is to let users know:
What personal information you're collecting from them,
How you're collecting, storing and safeguarding this information,
Why you're collecting it,
Any third party data collection or use that you allow, and
How users can control the collection and use of their data.
Depending on what type of business you have, you can have drastically different answers and information for each of these points.
For example, if you have a website/mobile app that allows users to create accounts where they can log in and interact with your website, you're going to be collecting information like a name and email address.
If you sell tangible goods, you're going to collect payment and financial information and physical shipping addresses.
If you have a more basic website or app that simply presents information to users without letting them interact in a unique way, you may not collect anything at all.
You'll need to have different security features in place if you collect financial information versus if you only collect email addresses.
While a good Privacy Policy template can give you a good start, you'll need to customize the details to reflect exactly what your business actually does.
This "Table of Contents" from National Geographic's Privacy Policy shows that the policy covers the main points that all Privacy Policies will cover:
Collection,
Use and disclosure,
Security and
User control
However, each section contains customized information that describes National Geographic's specific practices: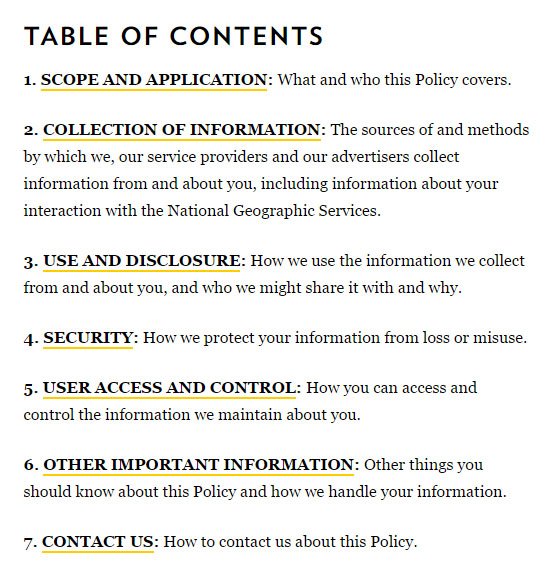 MailChimp's Privacy Policy lets users know that if they add a "Distribution List", MailChimp will have access to the email addresses in the distribution list and the information associated with it.
MailChimp will not have access to email addresses that your email gets forwarded to by others. This is an important disclosure and is specific to MailChimp: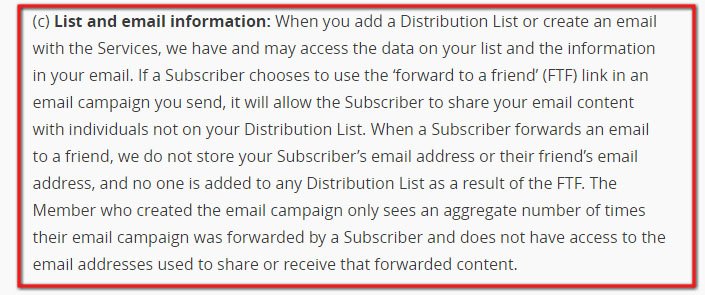 Twitter allows users to communicate with each other over its platform through "Direct Messages" and "Non-Public Communications".
These communications are covered in Twitter's Privacy Policy and users are informed that these communications and information related to them is "stored and processed.":

PayPal is used around the world to send and receive money. Because of PayPal's heavy access to financial information, security is addressed more than other types of apps may need.
A section in the Privacy Policy deals with "Authentication and Fraud Detection", and lets users know that their personal information, as well as information about computers, mobile phones, and other access devices, may be collected in an attempt to protect users from fraud, malicious software and malicious activity.

Your business is unique and your Terms & Conditions and Privacy Policy will be, as well.