If you're a business owner, then you know that dealing with customer returns can sometimes be a huge hassle.
That's why it's in your best interest to understand the entire return and refund process, including how you can use return merchandise authorization (RMA) numbers to track returns and ensure you take the proper steps to process them.
In this article, we'll discuss return authorization numbers, what they are, how to issue one, and what to do if a returned product is damaged or is unacceptable. Let's get started.
Use our Return & Refund Policy Generator to generate a Return and Refund Policy for your store. Just follow these steps:
At Step 1, select where your Return & Refund Policy will be used.

At Step 2, add information about your website/app and business.

Answer some questions about your business practices.

Enter an email address where you'd like to receive your Return and Refund Policy and click "Generate."

Done! You'll be able to instantly access and download your new Return and Refund Policy.
What is Return Merchandise Authorization?
RMA stands for Return Merchandise Authorization, and it's the first step in returning an item to a business in order for a customer to receive a repair, replacement, or refund.
An RMA gives the customer and the company a way to officially document and track the return. The RMA process can vary from company to company, but typically the customer will need to contact the company to request an RMA number.
Typically, companies that use a return merchandise authorization system are those that do business across distances. Most often, these are online businesses engaged in ecommerce. If you sell something and deliver it through mail (i.e., the customer doesn't purchase it in the store and take it home with them personally). it may be beneficial to use an RMA system.
When using an RMA system, the business and customer discuss the problem and the business determines the validity of the issue. RMA numbers are then typically assigned by customer service representatives when a customer initiates a return.
The RMA number is used to track the return throughout the process. These numbers are also sometimes used to refer to the authorization itself. For example, you might say "I need to get an RMA for my defective printer."
RMAs can be issued for a variety of reasons, such as receiving a damaged product, needing to exchange an item, or requesting a refund for an unwanted item.
In order to get a return merchandise authorization, customers typically need to provide proof of purchase, such as a receipt or order confirmation. Once the customer is issued an RMA, they can return the item according to your instructions.
The return merchandise authorization process is a key part of providing excellent customer service and ensuring that products are returned in a timely and efficient manner.
What is a Return Merchandise Authorization Number?

As previously stated, when a customer wants to return a product they have purchased from a company, the company will assign that customer a return merchandise authorization number.
The RMA number is then used to track the specific product return as it is processed by the company. This number allows the warehouse to update their inventory management software or ERP system upon arrival of the returned product.
Sometimes, the abbreviation will reverse the word order and instead of "RMA" it will be "MRA," as seen in the screenshot below, but it's the same thing.
The return merchandise authorization number system is beneficial because it provides an efficient way to keep track of product returns and helps to avoid any potential delays in processing.
Returned products can often be scanned and processed more quickly when an RMA number is used, meaning less inconvenience for the customer.
Here's an example from RV Part Shop: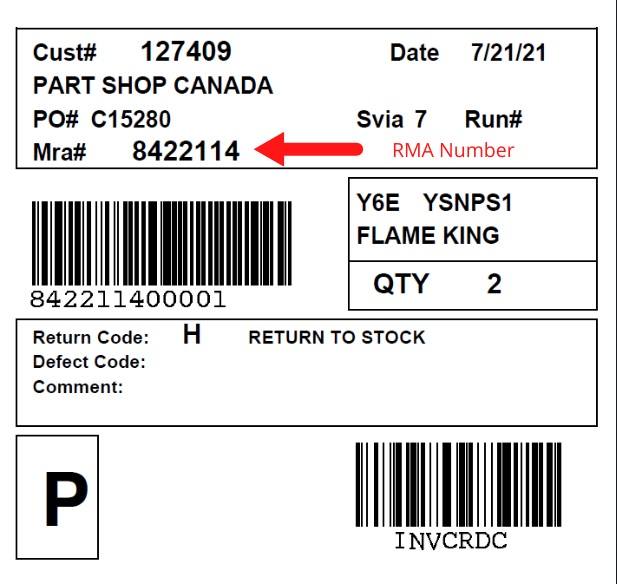 These numbers are often used as part of a return merchandise authorization form, which we'll take a look at next.
What is a Return Merchandise Authorization Form?

A return merchandise authorization form is a document that is used when products need to be returned to a company. The RMA form will outline the reason for the return as well as the expected next steps.
It can be included with the product inside ecommerce packaging or sent out to customers upon request. Customers will need to fill out the RMA form and include it with the return.
The return merchandise authorization form is then used by the company to process the return and issue a refund or replacement, as needed.
What to Include in a Return Merchandise Authorization Form
You should include the following fields within your RMA forms:
Customer information: Include fields for the customer's name, address, phone number, and email address.
Product data: Include fields for the product's name, model number, serial number, and purchase date if applicable.
Reason for return: Include a field or drop-down menu for the customer to select the reason for their return.
Return or refund: If your company offers both returns and refunds, you should provide a field or drop-down menu for the customer to select their preferred option.
By getting as much information as you can upfront, you can help to ensure that the return process is as smooth as possible for both you and your customer.
Here's a sample form from Ecotek Outdoors: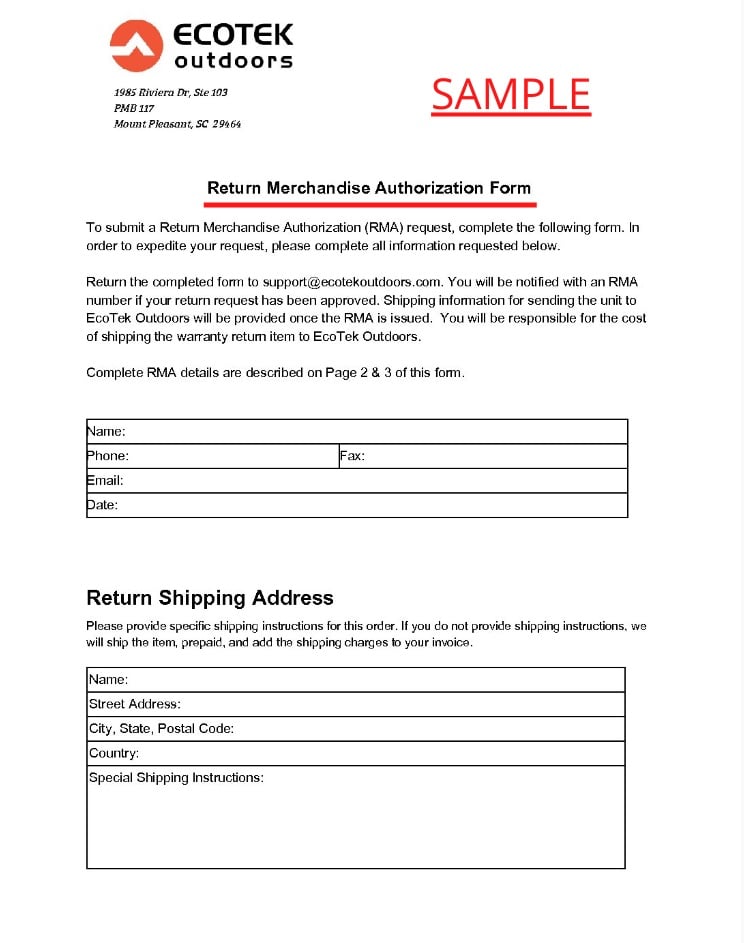 Now that we've looked at what an RMA system looks like, let's consider whether you should have one or not, and why we believe you can benefit greatly from one.
Do You Really Need a Return Merchandise Authorization System?

If you run an online business that sells products, you should probably use a return merchandise authorization system.
Refund requests can be frustrating, but it's important to remember that they're also a normal part of doing business. For instance, refund requests typically increase during holiday seasons, when people are buying gifts for friends and family members.
Remember that because your customers are purchasing online, they can't touch or try out the products before they buy them. As a result, there's always a risk that the product won't meet their expectations.
An effective RMA strategy reduces the purchase risk of buyers, giving them an opportunity to correct wrong purchase decisions. By increasing customer satisfaction with the shopping experience, businesses may stay strong in the high competition of ecommerce stores.
Implementing an RMA system is important to help maintain a good reputation for businesses and keep customers coming back for more.
Remember that while it's impossible to completely eliminate refund requests, there are a few things you can do to minimize them in addition to having an airtight RMA system.
For example, make sure your Return and Refund Policy is clearly stated on your website and includes detailed instructions for how to initiate a return.
You should also consider offering a discount or voucher for customers who agree to keep the item they purchased instead of returning it.
By taking these steps in tandem with an RMA, you can help reduce the number of refund requests you receive.
Let's take a look at where exactly the RMA fits into the overall return process in the following section.
The Stages of the Return Process

There are nine major stages of the return process. They are as follows:
A customer requests the RMA - This is the first and most important stage of the process. If a customer does not request an RMA, you cannot process their return.
The business approves the RMA and assigns an RMA number - This can be done automatically or manually. If you approve the request, you will also need to assign an RMA number.
The customer receives the RMA number - All subsequent actions by the customer and the business will have a reference to that number.
The business receives the items listed on the RMA - The customer will send the items back to you, and you'll need to check that everything they're returning is on the RMA.
The business inspects the received items and records findings - You will need to inspect the items and make note of their condition. This is important for quality control and also for calculating any restocking fees.
Escalating the RMA to other vendor-specific processing steps - There may be multiple stages in an RMA case's life cycle and you will need to take the appropriate action for each.
The business closes the RMA case and assigns a case resolution - After you have processed the RMA, you will need to close the case and assign a resolution.
The business informs the customer about the findings and resolution - The customer will need to be updated on the status of their RMA case and what the resolution was.
The customer receives a refund, a replacement or repaired product.
What Elements Does a Good Return Merchandise Authorization System Include?

Returns are a natural part of online shopping, and a well-designed return process is essential for keeping customers happy. Merchants must strike a balance between making it easy for customers to return items and preventing abuse of the system.
Returns should be simple and straightforward, with clear instructions for how to initiate a return and where to send the item.
The return merchandise authorization process should be clearly explained, and customers should be able to track the status of their return online. Most importantly, returns should be processed quickly and efficiently, with refunds issued as soon as possible.
By designing a return process that is customer-friendly and easy to use, merchants can minimize the hassle of returns and keep their shoppers coming back.
Here are some of the elements your RMA system should include.
A Well-Written Return and Refund Policy
It's critical to have a well-framed Return and Refund Policy to control the negative flow of purchased products.
Most ecommerce stores have a Return and Refund Policy that can be found in the footer or near the purchase button on the product page. It's important to have an easily discoverable Return and Refund Policy because more than 50% of buyers read it before finalizing their purchase.
By having a clear and concise Return and Refund Policy, you can help reduce the number of customer service inquiries and increase customer satisfaction.
Here's a great example from the Hiut Denim Company: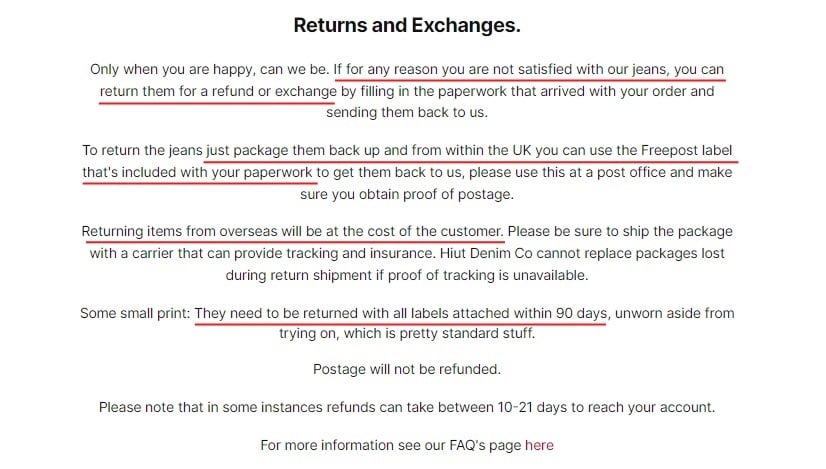 Correct Segmentation of Refundable and Non-Refundable Products
It's important to be aware that not all products are refundable or returnable. Preferably, you should give your customers reasons why you don't provide refunds or allow returns.
In some cases, some categories of products may be refundable but only with a restocking fee. Either way, the buyer must be pre-informed about these things before making a purchase.
A great return merchandise authorization system segments products into categories that are returnable, refundable, or wherein you permit exchanges.
Examples of non-refundable items may include:
Perfumes and self-care
Makeup products
Personalized products
Medical products
Intimate jewelry products
Food items/perishables or consumables
Once the customer has used these types of products, they can't be returned and resold. This is usually the case with food items, cosmetics, and personal care items.
If you've ever tried to return makeup or opened food, you know that most stores won't accept them back because they can't be sure that the product is still safe to resell.
Many businesses also will not accept returns of damaged products. However, in these cases it's important to listen to your customer's questions and concerns and attempt a resolution.
Automation
Automation is a powerful tool in any business because it automates processes that would otherwise need to be completed manually. This means that less man-power is required to complete the task, and the process can be completed more quickly.
In addition, automation can help to improve customer satisfaction by ensuring that buyers do not have to wait longer for their refunds or replacement items. Any process that is repeated and does not require intelligence decision making can be automated.
In an automatically processed return merchandise authorization system, the backend team can automatically process the request and send out the approval or disapproval email to the buyers without having to rely on manual involvement.
This way, buyers can receive their approval or disapproval emails almost instantaneously, rather than waiting for days or weeks. Not only does this reduce the overall turnaround time, but it also increases customer satisfaction and loyalty.
A Virtual Wallet Feature
Adding a virtual wallet to your store has two major benefits.
First, paying the refund amount to the wallet is easier than to a customer's bank or credit/debit card.
Second, your revenue is not lost even if a refund is made. A virtual wallet is a store feature that adds a section to every individual user account that works to hold equivalent cash value that can be used to pay at the store for the product purchases.
As a result, adding a wallet to your store can streamline the refund process and help you keep your revenue even if a customer needs to return a purchase.
There are many companies that offer digital wallet services for online stores. For example, Click to Pay integrates with all major ecommerce platforms:
Other major providers include:
Paypal
Google Pay
Apple Pay
A virtual wallet is considered to be a semi-closed prepaid system. It's a system where users can feed in amounts but can't send the amount back to the bank.
That means that the only way to use the money is to spend it at your store. This can be beneficial for businesses because it means that customers are more likely to spend the money that they have already put into the system.
Additionally, it can help to prevent fraud and reduce the risk of theft.
Return Labels
When your customers need to return a product they've purchased, they need to use a return label. This label provides all of the necessary information about the product and the return, such as:
The package ID number
Product name
Category
Rates
Dates
Pricing
Addresses
This information ensures that the product can be easily tracked during the return process.
Most RMA systems will provide a return label that customers can download and print. This makes it easy to attach the label to the package before returning it to the merchant.
By using a return label, you can make sure that your products are properly identified and tracked throughout the return process.
Here's a sample: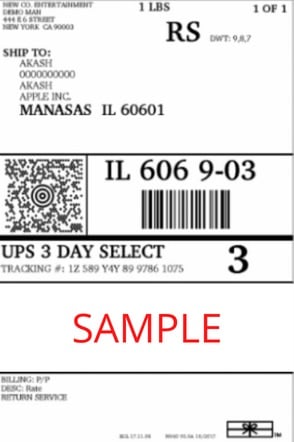 Partial Cancel Feature
Have you ever placed an online order, only to realize later that you wanted to cancel a few items? This can be a frustrating experience, especially if you have to cancel the whole order.
Many online retailers now offer the option to cancel individual items from an order. This feature provides immense help when the user does not want to cancel the entire order amount.
For example, let's say a customer ordered a new shirt and pants from an online store. But when they tried them on at home, they realized that the pants didn't fit. With a partial cancel feature, they can easily cancel just the pants and keep the shirt.
This way, they don't have to go through the hassle of returning the whole order, and can get what they really wanted in the first place.
Trackable Returns and Refunds
In order to create a trackable shipping process, online stores should first consider the customer's experience. The customer should be able to easily track their return request and know what is happening with their refund.
By creating a trackable shipping and returns process, retailers can provide a better customer experience and encourage repeat business.
Notice the tracking number in the sample return label below: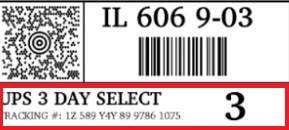 Emails Plus Attachments
When a buyer requests a refund or return, it's important for them to have the option to provide their reason for doing so. This not only helps the buyer to communicate their query, but also helps the merchant to discover the mishap and take steps to improve it in the future.
Additionally, giving buyers the option to attach documentation (receipts, pictures, etc.) with their refund or return request can help to verify their claim and speed up the process. Ultimately, these simple measures can help to create a smoother refund or return experience for both buyers and merchants alike.
Tax and Coupon Code Management
When purchasing online, shoppers are typically responsible for paying any applicable taxes and fees. However, some retailers offer coupon codes that can be applied to an order to decrease the total cost.
If a customer returns an item that was purchased using a coupon code, it's important for the Return and Refund Policy to specify whether the coupon code will also be refunded.
Additionally, the software used to process returns should be able to automatically calculate any refunds owed for coupon codes or taxes.
By clearly specifying their policies and using return management software that is up to the task, retailers can help ensure a hassle-free return experience for both themselves and their customers.
Here's how BuyDig states how it handles returns from purchases made with coupons: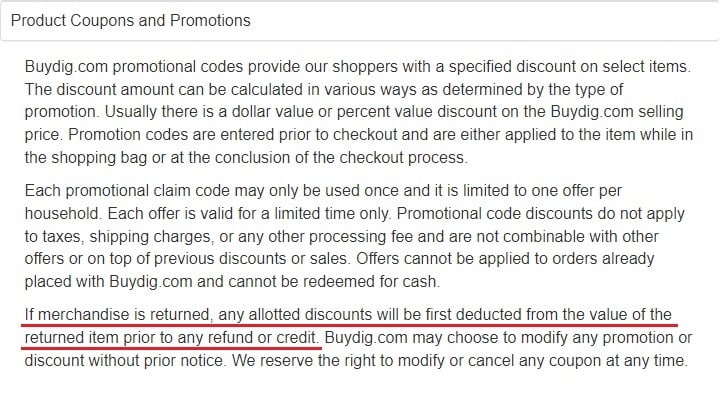 A Fast and Effective Process
No one likes to wait, especially when they're expecting a refund or exchange. That's why it's important to make the process as fast and efficient as possible. If there's any delay, be sure to inform the customer and apologize for the inconvenience. A little goes a long way, and these small efforts will be appreciated by your buyers.
Return Merchandise Authorization Best Practices

Every business is different, and each one will have its own unique requirements. However, when it comes to your return merchandise authorization system, there are some best practices that all businesses should follow.
Initiate the Return Online
At its core, the goal of your return merchandise authorization system is to make the lives of your customers easier. It should be a streamlined process that's easy to initiate from their end via your website, a return form or by contacting you.
Ensure the returns are an extension of the buying transaction. This means that customers should be able to initiate returns from their customer portal or account page whenever possible.
Provide an Option to Exchange Items
If a customer is unhappy with their purchase, give them the option to exchange it for something else instead of solely limiting it to a return. This can encourage customer retention, and everyone likes more options versus less of them.
Allow Customers to Print Labels
Set up your RMA system to send shipping labels by email, which your customers can print as soon as they can. Remember that by making it easy for consumers to return items, you'll encourage them to shop with you again in the future.
Make the Transactions Easy to Track and Monitor
It's important to be able to monitor the progress of your returns in order to ensure that your customers are satisfied with the process. Your RMA system should let you check on the progress of returns in a matter of seconds.
You should know if a returning product is in transit or has arrived at your warehouse. You must also monitor how and when refunds get actioned, or exchange items dispatched. This way, you can be sure that your customers are happy with the way their return is being handled.
Where Should You Display Your Return Merchandise Authorization Information?
Typically, companies will make it known via their Return and Refund Policy whether they require customers to obtain an RMA number. Here's how TenPoint Crossbow Technologies does this here, in its Return Policy: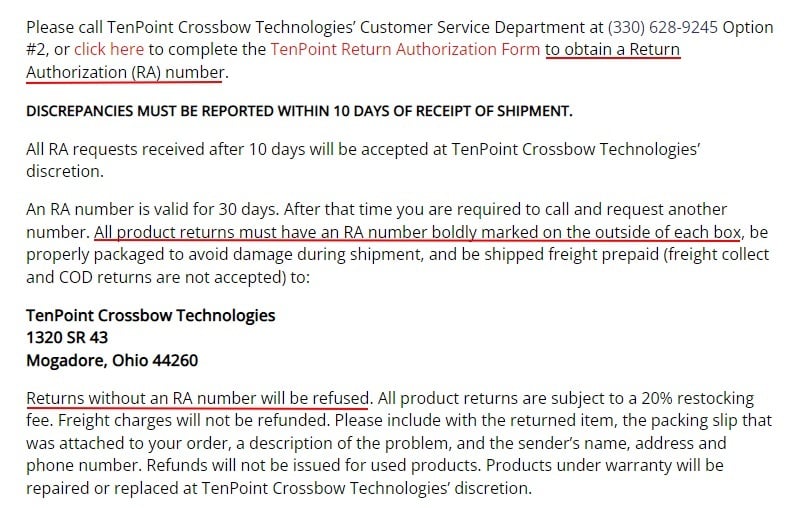 To request an RMA number, customers can usually fill out a form on the company's website or contact customer service.
Summary
Online stores have to deal with returns and refunds just like brick and mortar retail businesses. But because customers aren't physically in the store, there's an extra layer of complexity.
A well-run online store will have a robust system for Returns and Merchandise Authorizations (RMAs). This ensures that if there's a problem with an order, it can be resolved quickly and efficiently.
A good RMA system will also keep track of customer data so that if a return is necessary, the business can contact the customer easily. This way, the store can keep the customer informed about the status of their return, and resolve any issues that may arise.
In short, a good RMA system is essential for any online store that wants to run smoothly and keep its customers happy.
Make your RMA information known via your Return and Refund Policy, since customers will know to look here for such information.