Written by
Freelance writer and researcher at TermsFeed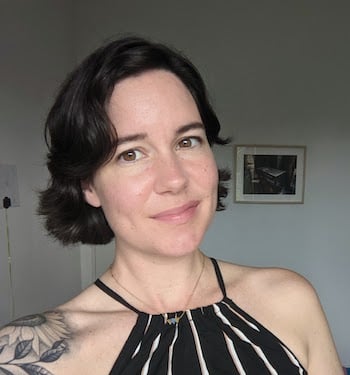 Setting up your e-commerce store is exciting, but a lot of work.
The last thing you may be thinking about is what kind of legal documents you need. Or maybe your store is already up and running, and you've suddenly realized that there are a few things that were overlooked.
The four most important legal documents you need for your e-commerce store are a Terms of Use, a Privacy Policy, a Warranty Policy, and a Returns and Refunds Policy. With these documents ready you can feel secure in knowing that you are legally protected on all fronts.
TermsFeed is the world's leading generator of legal agreements for websites and apps. With TermsFeed, you can generate: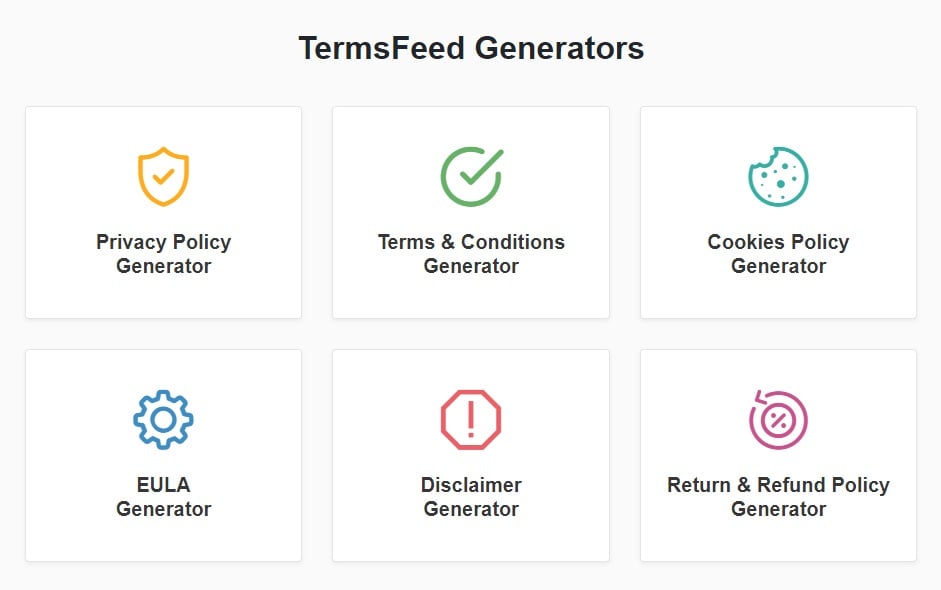 Terms of Use
The first legal document to set up is your Terms of Use agreement (also known as Terms & Conditions or Terms of Service). Your Terms of Use is the overarching document that covers all of the Terms that a customer is bound by when they browse your store, sign up for an account, or buy an item.
The most important clauses to make sure you include in your Terms of Use are:
How you expect your customers to use your e-commerce store, and what behavior is allowed and not allowed;
Accountability for misconduct (e.g. banning of customer accounts);
Payment information;
Limitation of liability;
Disclaimers;
Dispute resolution procedures;
Jurisdiction and details for notices;
How changes to the policy will be made and how customers will be notified; and
Definitions of key terms.
Your Terms of Use can be displayed for your customers in two main ways: browsewrap and clickwrap.
Browsewrap is a method of having your customers agree to your legal documents by browsing your website. Most websites display a link in their footer to their Terms of Use, which is a browsewrap method.
Here's an example from eBay showing their User Agreement in their website footer:

In contrast, clickwrap is where your customers agree to your legal documents by clicking on something such as an "I Agree" button or a check-box that says "I Agree to the Terms of Use".
Here's an example of a clickwrap check-box from Omocha's ecommerce store: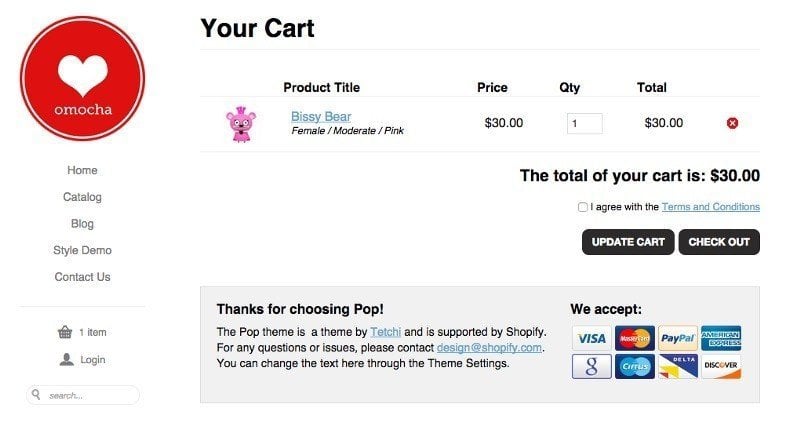 You can see that the "I agree" check-box is below the cart total amount, and above the "Check Out" button, which helps to make it visible and ensure that Omocha's customers see and click the check-box.
Clickwrap is a much stronger method of agreement in a legal sense.
Courts have held that clickwrap methods of agreement to a contract are enforceable, while browsewrap methods are only enforceable if your Terms are displayed prominently and frequently enough to the point where your customers have had reasonable notice and opportunity to review them.
Privacy Policy
A Privacy Policy is needed whenever you're collecting information from your customers, and your e-commerce store will collect some types of information from your customer simply by way of them browsing your store.
For example, your store will record your customer's IP address and what time they accessed your page as soon as they open your landing page.
If you use Google Analytics, you'll be recording even more information through this tool
When your customer fills in a web form to create an account or purchase an item, you'll be collecting their name, address, email address, phone number, and credit card details, as well as any other types of information that you collect through the form.
Your Privacy Policy needs to explicitly state:
That you will be collecting all of these types of information;
That you will keep it secure;
What you will do with that information and in what circumstances you will release it;
How the customer can review the information you hold on them; and
How the customer can change or delete that information.
Your Privacy Policy should be a separate document to your Terms and Conditions.
This is partly because it's easier for your customers to find it, and partly because if you have any US customers you will need to comply with the California Online Privacy Protection Act of 2003, which requires that you must have a distinctive link to your Privacy Policy itself.
Remember to display it prominently and frequently so that your customers can find it and read it.
The Telegraph displays their Privacy Policy at the top of their website instead of at the bottom below the fold, which puts it more in the line of sight of your customers:

Warranty Policy and Guarantees
Now that you've set up your Terms of Use and a Privacy Policy, it's a good idea to consider what kind of warranties and guarantees you want to (and can) give to your customers.
A guarantee is essentially a promise that you give to your customers, such as a 30-day money back guarantee.
A warranty, on the other hand, is basically a form of product insurance, where you give your customers a particular guarantee (with specific terms) in written form, and they pay extra money for this warranty to be provided to them.
Warranties are sometimes known as extended guarantees. The law in many countries requires that your products be fit for purpose — i.e. they can't just break as soon as you've sold them.
A warranty cannot reduce the legal rights of your customers, only extend them. So if the law in your country requires that customers have a right to a refund if an item has a fault, you cannot get rid of these rights by giving them a warranty.
The warranty sits on top of whatever basic legal rights your customer has.
A Warranty Policy sets out any default warranties that are included in the sale of your products, as well as any specific terms relating to warranties that your customers can purchase.
Here's an example of part of a Warranty Policy from Dell: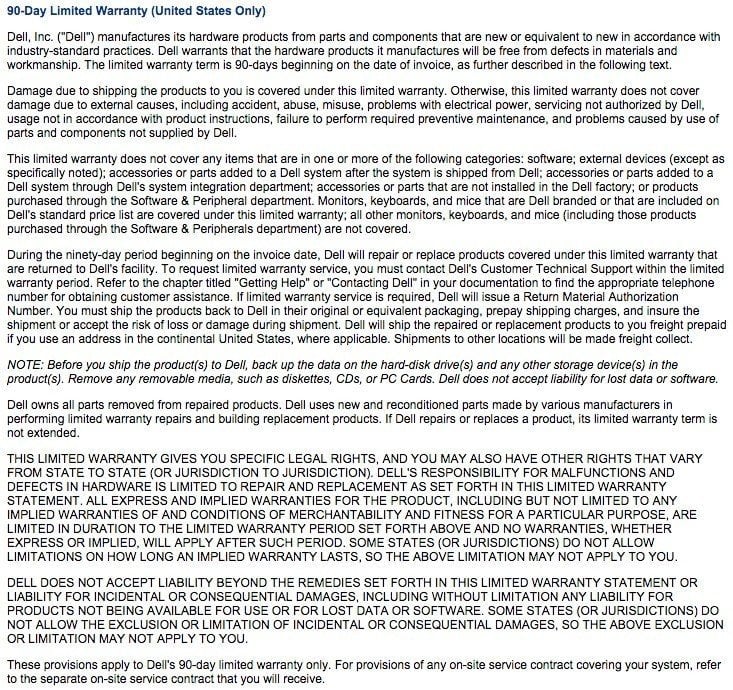 Note that the warranty policy sets out that it covers damage due to shipping, but not other damage from external causes such as accident or problems with electrical power.
This is their 90-Day warranty, and they also offer warranties with longer time periods that you can view on the link above.
If you purchased, for example, a laptop from Dell and it was covered by one of their warranties such as the one above, they will repair or replace it for you.
Like your Terms of Use, if you have any onerous or important clauses, make sure that they are highlighted in bold or capital letters so that your customers' attention is drawn to those clauses.
You can see in the example above that Dell has sections in capital letters that remind the customer of what legal rights the customer has, and limit Dell's liability.
Your warranty and guarantee terms can be rolled into your Terms of Use, but it may be more helpful for customers if they are included in a separate policy.
Returns and Refunds Policy
Finally, it's important to include a Returns and Refunds Policy for your customers to set out exactly how you will respond in the case that the customer is not happy with your product for whatever reason.
Your Returns and Refunds Policy should be separate to your Terms of Use so that your customers can find it easily.
Most other stores do this, and your customers won't want to scroll through a long Terms of Use document just to find out how they can return an item.
You can roll your Warranty and Returns/Refund Policy into one document, as long as you clearly set out the terms without burying them in legal language.
First, consider how long your customers should have before they can return an item. Most people would consider 10–30 days a reasonable amount of time to allow returns, and your country or state may have specific time periods that you need to allow.
Have a look at this example of a Returns Policy from Apple which allows 14 days: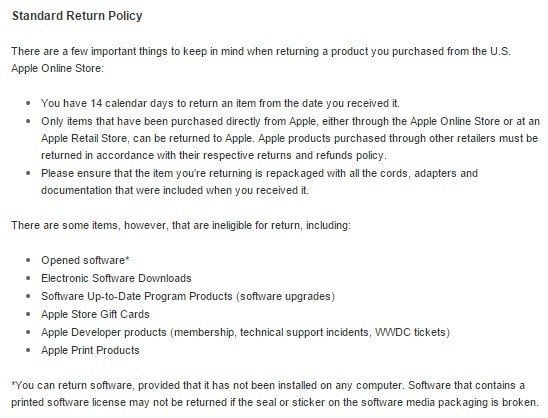 Make sure you also cover who pays for shipping in your Returns Policy, and whether there are any types of products (such as digital products) that you do not allow returns for.
Once you've received a returned item back from a customer, you'll need to replace or refund it or offer store credit.
In Apple's Refund Policy, a refund is issued immediately when an item is returned, and they also offer their customers the ability to exchange an item if the customer wants to: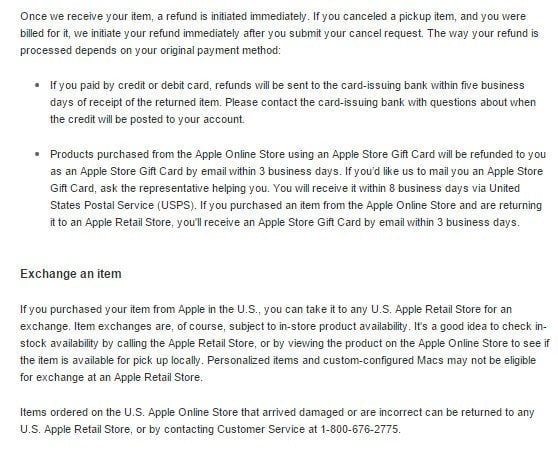 Once you've got all of those policies and legal documents set up, your e-commerce store will be legally well protected from risk.
Always remember to display your policies clearly and make it easy for your customers to access them so that you can be sure that your customers are bound by your terms.