AdRoll targeting is simple: AdRoll keeps track of everyone who visits your website and follows these users wherever they go on other websites to show your ads.
This is called retargeting.
Whenever you start using retargeting services, such as AdRoll, you must update your Privacy Policy.
However, this requirement isn't limited only to AdRoll, but to all other remarketing platforms, such as: AdWords, Twitter, Perfect Audience, AppNexus.
AdRoll lets you show the retargeted ads on Facebook, on mobile apps, on Twitter or just on websites. It integrates with Google, Yahoo!, AppNexus, OpenX, and over 200 leading networks and exchanges.
Before starting your first campaign, learn what are the legal implications when using a retargeting campaign with AdRoll and what you need to do before you get started.
Requirements for AdRoll retargeting
There are a few steps you need to consider when you start using retargeting, either through AdRoll or another third-party:
Users must be informed that you use third parties to collect data and then show them ads (this are the retargeted ads)
Users must have a choice over this: they can opt-out from your usage of retargeting third parties. For example, users can opt-out from AdRoll retargeting by visiting this link.
Your section informing users about retargeting in your Privacy Policy (if you haven't updated it first, do so as soon as possible) can be drafted by following these tips:

Describe to users how you're using retargeting through AdRoll and why (to better show ads that match these users' interests)
Describe how AdRoll, or the third parties you use for retargeting, are showing these targeted ads (through use of cookies that are being stored on each page visit of each user)

Describe that AdRoll or the third parties you use are using cookies to show targeted ads. You can do this in the Privacy Policy or through a separate Cookies Policy.

This is especially important for EU-based businesses or for businesses that have customers from the EU in order to comply with the EU Cookies Law.

Inform how users can opt-out from the targeted ads (they need to visit a certain link where they can opt-out)
Before you start rolling your first AdRoll campaign, make sure that you:
1.Update your Privacy Policy.
You must inform users that you are using third parties to collect data from users and then show targeted ads to these users.
What customers say about TermsFeed:
This really is the most incredible service that most website owners should consider using.

Easy to generate custom policies in minutes & having the peace of mind & protection these policies can offer is priceless. Will definitely recommend it to others. Thank you.

- Bluesky's review for TermsFeed. Read all our testimonials here.
With TermsFeed, you can generate:
AdRoll informs its users through its Terms of Service that they must comply with the applicable law, guidelines and industry codes of practice and any other regulations or statutes:
(iii) the Client Content complies with the Interactive Advertising Bureau Guidelines Standards & Best Practices and all other applicable law, guidelines and industry codes of practice and any other regulations or statutes which may apply; (iv) the Client Content complies at all times with all applicable laws, statutes, statutory instruments, contracts, or regulations, advertising and marketing codes of practice in any of the jurisdictions where the banner is displayed;


Make sure you inform users that they can opt-out.
Just like the requirement from Google AdWords to inform users that they can opt-out of AdWords tracking users for remarketing purposes, you also need to inform users - through your Privacy Policy or through a separate page designed for this purpose - that they can opt-out from AdRoll tracking.
AdRoll is providing users with a simple link to opt-out of their remarketing cookies through the Adjust Ad Preferences link in the footer of their website:

When users click on that link, they're being redirected to a page where they can opt-out.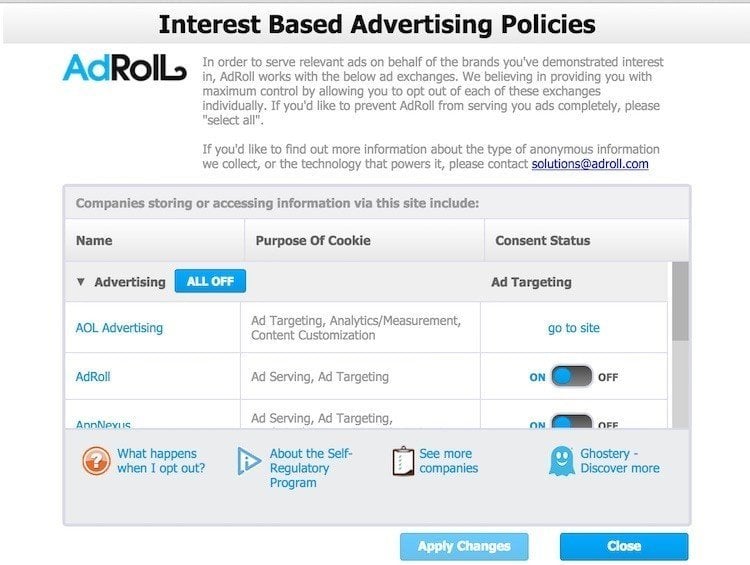 To setup your first retargeting campaign with AdRoll, simply follow these steps:
Create an account by visiting adroll.com

Place the tracking code, named Smart Pixel.

This code should be placed in the footer of your website, just before closing the body tag.

Setup your campaign on AdRoll's dashboard. The dashboard allows you to select where your ads should be displayed: Facebook, on the web, Twitter and so on.
Segment the audience. Use the retargeting power of AdRoll by segmenting your users depending on which action they did on your website (or didn't do): they almost purchased a product, but left on the checkout page.
Done. Your AdRoll campaign is now good to go!
These are the most basic guidelines you need to consider when starting to use AdRoll.
However, if you use AdRoll retargeting along with email marketing, you also need to comply with CAN-SPAM Act or other EU directives (such as European Privacy Directive) regarding email marketing, e.g. have an unsubscribe mechanism in place.
Example of Privacy Policy clause
These examples may not be suitable for your business. Use the Privacy Policy Generator to create a custom agreement with the necessary clause for AdRoll.
If you already have a Privacy Policy, you can get inspired by the following examples of websites that are using AdRoll and have updated their policies to inform users about AdRoll.

Here's how Food Blogger Pro informs users that the website occasionally uses AdRoll in their Privacy Policy:
Food Blogger Pro occasionally uses the AdRoll display advertising network to collect visitor data on our site and then serve targeted display ads to you on other sites. Our partners use technology such as cookies and web beacons to collect this data. For more information or to opt-out of this type of advertising, please visit AdRoll's privacy policy.



Make sure you inform users in your Privacy Policy that they can opt-out and describe how they can do that.

Troy-Bilt uses both Google AdWords and AdRoll to run retargeting on their website visitors. Their Privacy Policy uses a specific section where AdWords and AdRoll are mentioned and how users can opt-out from both services:
Troy-Bilt uses anonymous cookies to track information on your browsing history on TroyBilt.com, and third-party advertising networks, such as Google AdSense and AdRoll, use the information to serve ads to you on Troy-Bilt's behalf on other sites throughout the Internet.




The Pampered Chef mentions in their Privacy Policy at the "Cookies, Web Beacons, and other Technologies by Advertisers" chapter that they use third party advertising companies which place cookies on users' PCs for the purposes of running interests-based ad campaigns.
It also informs users that some of these companies are part of the NAI ("Network Advertising Initiative") and that they can opt-out by visiting the NAI opt-out page.
We may use third-party advertising companies to serve advertisements on our behalf. These companies may use cookies or other technologies (such as a 1x1 pixel .gif file, also known as a web beacon), to tailor advertisements you see on the Website and third party websites, to track your response to advertisements, report on visitor interaction and to measure the effectiveness of advertisements.




You can also use examples from "Kenneth Cole" where they don't specify what third-parties they use for interests-based ads, but they inform users about the use of Pixel Tags (which are used for retargeting, but also for email marketing) and how users can opt-out.
This is all in the Privacy Policy of Kenneth Cole. Here's how the Pixel Tags section looks like:
Pixel Tags. We and our service providers may also use so-called "pixel tags," "web beacons," "clear GIFs" or similar means (collectively, "Pixel Tags") in connection with some Site pages and HTML-formatted e-mail messages to, among other things, compile aggregate statistics about Site usage and response rates. A Pixel Tag is an electronic image, often a single pixel (1x1), that is ordinarily not visible to Site visitors and may be associated with Cookies on the visitors' hard drives. Pixel Tags allow us to count users who have visited certain pages of the Site, to deliver branded services, to serve ads, and to help determine the effectiveness of promotional or advertising campaigns. When used in HTML-formatted e-mail messages, Pixel Tags can tell the sender whether and when the e-mail has been opened.



And here's how it informs users that they can opt-out from interests-based ads (their retargeting campaigns):
If you prefer that we not share Non-PII with partners, including third parties that use tracking technologies to deliver targeted display advertising based on such information, please CLICK HERE http://www.networkadvertising.org/ to access the Network Advertising Initiative opt-out.




Comprehensive compliance starts with a Privacy Policy.
Comply with the law with our agreements, policies, and consent banners. Everything is included.