Written by
Freelance writer and researcher at TermsFeed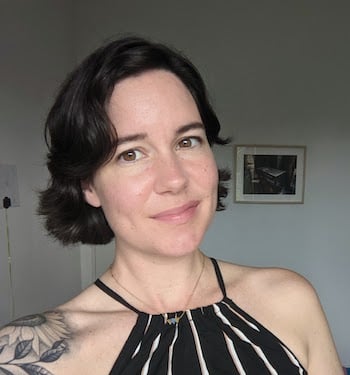 Limitation of liability clauses are typically viewed by the courts as acceptable, while exclusion clauses are not. Courts in many jurisdictions look very carefully at these clauses, and so it's important to ensure that they are drafted reasonably and correctly or they might be overturned.
In many Terms and Conditions agreements online you'll see both "Limitation" and "Exclusion of Liability" clauses.
This article will describe what these clauses do and can you use these clauses for your business.
Our Terms and Conditions Generator makes it easy to create a Terms and Conditions agreement for your business. Just follow these steps:
At Step 1, select the Website option or the App option or both.

Answer some questions about your website or app.

Answer some questions about your business.

Enter the email address where you'd like the T&C delivered and click "Generate."

You'll be able to instantly access and download the Terms & Conditions agreement.
Definition of a Terms and Conditions Agreement
A Terms and Conditions agreement (also known as Terms of Use or Terms of Service) is simply a set of rules for whoever is using your website or mobile app.
It's a legally binding agreement between the website/mobile app operator and the user using the website/mobile app.
Definition of key words and phrases used in the entire agreement
User rights and responsibilities
Proper or expected usage
Accountability for online actions, behavior, and conduct
Payment details such as membership or subscription fees
Procedure for account termination, if available
Exclusion (or Limitation of Liability) clarifying the site's legal liability for damages incurred by users
How users are notified about upcoming changes to the terms
Definition of Exclusion of Liability
An "exclusion of liability" clause does just what it sounds like: it excludes all of your liability for certain events or consequences.
It anticipates that there will be a breach of contract, and then excludes all liability for that breach.
Here's an example of what an exclusion of liability clause looks like from the Terms and Conditions of Basecamp: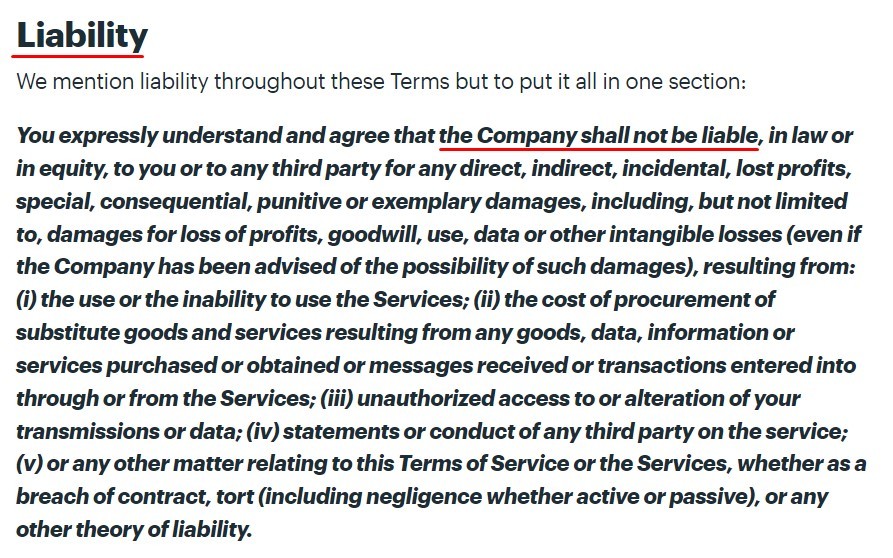 These clauses are often very hard to read, and very dense. We'll look at the legality of this shortly.
Definition of Limitation of Liability
In contrast to an exclusion of liability clause, a limitation of liability clause only limits your liability for certain breaches and may explicitly state a dollar amount that the liability is limited to.
You may have limits on your liability such as "Company will not be liable for more than $200 in the event of a breach," or "Company will not be liable for more than three times the yearly subscription fee."
Here are some visual examples of what a limitation of liability clause looks like.
The first example is from Google's New Zealand Store's Terms of Sale for Devices:

You can see that in this example from Google that no dollar cap is stated. Google also doesn't limit its liability for any of several categories or anything that cannot be excluded or limited by law.
This example from the Terms of Use agreement of Bass Pro shows the dollar amount at the end of the clause ($100). You can also see that the first part of their clause is really trying to exclude quite a lot of the liability.

Legislation on These Clauses
Courts around the world have often held that exclusion clauses are not enforceable unless a number of conditions are met. These conditions are very clear:
Is the clause incorporated into the contract/agreement?
Is the liability in question covered by the clause?
Are there any cases or legislation regulating its effect?
Generally, the clause can be incorporated by signature, by notice, or by the previous course of dealings. We won't look at the third way of incorporation in this article.
Incorporation by signature is just that: if both parties have signed the contract, the courts will consider that the exclusion clause is part of the contract.
If the contract is not signed, the clause can be incorporated by notice. This means that the person trying to rely on the clause (e.g. the website owner) must have taken reasonable steps to bring it to the customer's notice.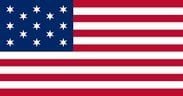 In the U.S., an important factor in enforcing a limitation of liability provision is to be able to show that the provision was negotiated between two parties with relatively equal bargaining power.
Generally, a business and a consumer are not considered to have equal bargaining power. This means that if you want to rely on a limitation of liability clause, you need to make sure that you bring it to your customer's attention, write it in plain language, and limit your liability to a reasonable fixed amount, such as 2-3 times yearly fees, or a set number such as $50,000.
This helps make the clause more reasonable and less onerous on the consumer.
Courts do not look favorably on a limitation of liability clause that limits liability to a minimal dollar amount.
In Estey v. McKenzie Engineering, Inc. 1996, a man hired an engineering firm to conduct a "limited visual review" of a house he intended to purchase. The contract contained a limitation of liability clause in the third paragraph, which read:
The liability of MEI (McKenzie Engineering, Inc) and the liability of its employees are limited to the Contract Sum ($200).
The Oregon Supreme Court invalidated the clause, ruling it was vague and the specified amount ($200) was too low in comparison to the actual damages ($340,000).
In most cases, if your clause does not explicitly state the type of liability or damage you want to exclude, the courts will not allow your clause to be binding on your customers.
This means that if you want to exclude liability in tort, for indirect losses, or for consequential damages, you need to explicitly state those things in your clause.
There are some types of losses that you cannot exclude, however. For example, because of the Unfair Contract Terms Act 1997 in the UK you cannot exclude liability for negligence, even if the consumer agrees to your contract. Other types of exclusions are allowed, but if the clause is ever litigated, courts usually interpret the clause in the strictest possible way against the party that inserted it into the contract.
In other countries, you can exclude liability for negligence, but it has to be explicit and the customer or consumer must have clearly agreed to it.
In some jurisdictions, there will be specific legislation regulating the way in which these types of clauses are dealt with by the courts, and what kinds of clauses are illegal.
There's no equivalent legislation in the U.S., and there are technically no legally unfair contracts. It can be argued however that the clause has not been incorporated into the contract, or that the customer has not agreed to it (rather than the contract itself being intrinsically unfair).
This means that courts are willing to step in and mark a contract as voidable if it is so one-sided with excessive or inconspicuous but onerous terms, as in these cases it is usually argued that the consumer could not possibly have agreed to the contract had those clauses been brought to their attention.
On the other hand, with regard to case law in the US, the landmark Californian case of Markborough v. Superior Court, 1991 established that limitation of liability clauses are legal as long as the customer has been given a reasonable opportunity to review the clause.
In that case, developer Markborough California, Inc., sued the consulting engineers who had designed a manmade lake for a housing project. The lake's liner failed, which led to a $5 million claim against the engineer. The engineer said that a clause in their contract with the developer limited their liability to the amount of their fee $67,640. The developer argued that the provision was not specifically negotiated and not expressly agreed to.
The court disagreed, and said that the letter the engineers sent with the proposed contract gave the client a reasonable opportunity to review the agreement and negotiate any element of it.
How to Draft the Clauses
Let's look at how to make sure your clauses cover off all of the above legal bases.
First, if you include one of these clauses in your Terms and Conditions agreement, make sure that your agreement is easy to find and are brought to the notice of your customers.
There are two different ways that you can approach the display of your Terms and Conditions, called browsewrap and clickwrap.
Browsewrap is a method where you display your Terms and Conditions agreement on your website and gain agreement or acceptance from your users by having them browse the website to find the agreement.
Typically the link to the website's legal agreement is displayed down the bottom of the web page, in the footer. Here's an example:

This isn't a very strong method of legal protection, as it can always be argued that your customer did not see those terms.
Clickwrap, on the other hand, requires your customer to actually click "I Agree to the Terms and Conditions," usually by way of a tick box or a statement above a web form submit button.
Here's a visual example of the clickwrap method: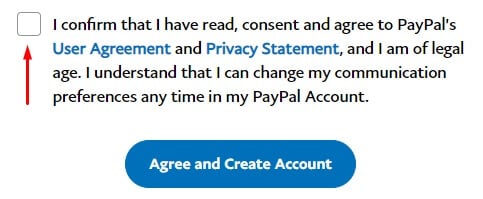 The clickwrap method makes your legal agreements more likely to be brought to your customer's attention and agreed to. It's the classic "I Agree to" checkbox.
Ensuring that your legal agreements are seen and read by your customers is the most important step to protecting yourself legally and making sure that your clauses stand up in court.
Second, ensure that your clauses are easy to read and understand and that any exclusion or limitation of liability clauses are either highlighted in red or written in bold text with capital letters.
This is important as if you don't bring the actual clauses specifically to your customer's attention, a Court may decide that the customer did not have a sufficient opportunity to see the clause and agree to it.
If you write your clause in all capital letters, as is common to do, be sure to break it up into short, easy-to-read paragraphs and simple sentences, so that you don't confuse your customers.
If your clauses are difficult to read or hidden amongst large tracts of text, it could be argued that your customers did not have an opportunity to read and understand the clause.
Third, carefully draft your clauses to make sure all different types of liability are clearly excluded, and that any limitation of liability caps are a reasonable dollar amount in the circumstances.
Remember that if you don't clearly state that a type of liability is excluded, a court may interpret your clause strictly (i.e. not in your favor). Dollar cap amounts should always reflect a reasonable proportion of the loss that could result if a breach was to occur.
Finally, be aware of types of liability that are not allowed to be excluded in your area, either by legislation or case law. Examples of exclusions from limitations of liability include but aren't limited to losses and damages resulting from breaches of confidentiality, refusal of services, willful misconduct, bodily injury, death, damage to physical property, violations of applicable laws and gross negligence.
With the above hints and tips, you should be able to make sure that your limitation of liability and exclusion of liability clauses are within the law.
Examples of Liability Clauses
Steris addresses the liability of both seller and customer in its clause, stating that neither party will be liable to the other for damages:

Stoneridge breaks down this clause into 3 parts to address the limitation of liability, exclusions to the limitations, and exceptions to the limitations.

Nest's EULA starts its clause by noting that nothing in the clause excludes any liability that is upheld by law: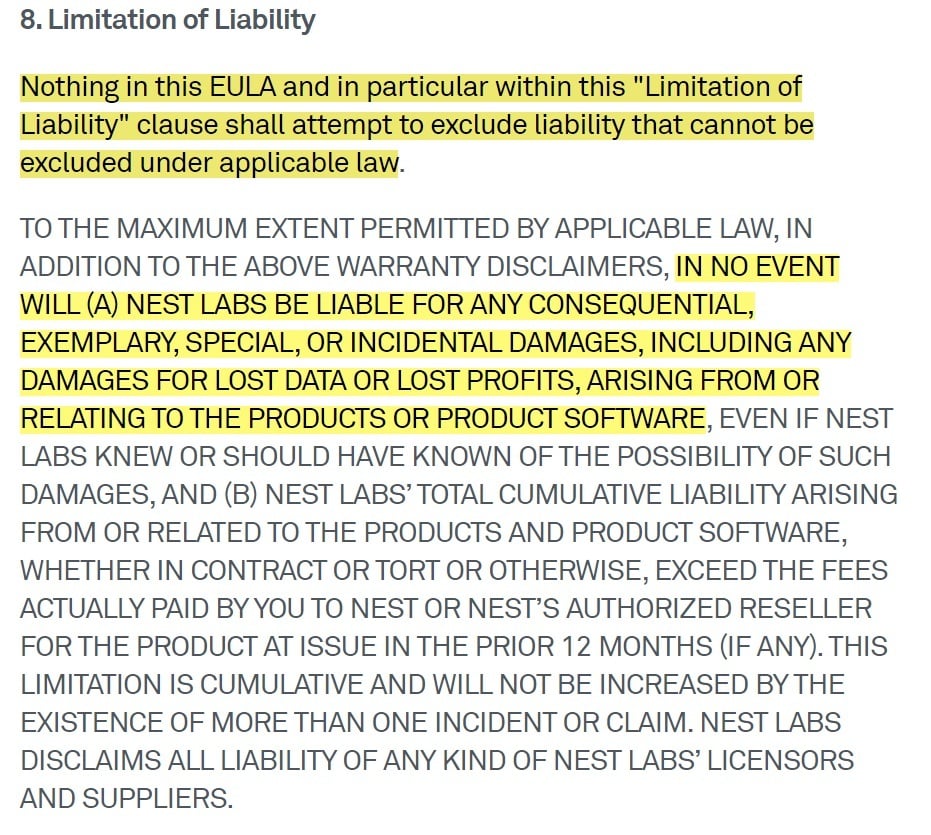 By making sure that they are drafted clearly, reasonably and precisely, incorporated into your contract, and brought to the attention of your customers via a clickwrap method, you can feel secure in knowing that they will not be overturned.