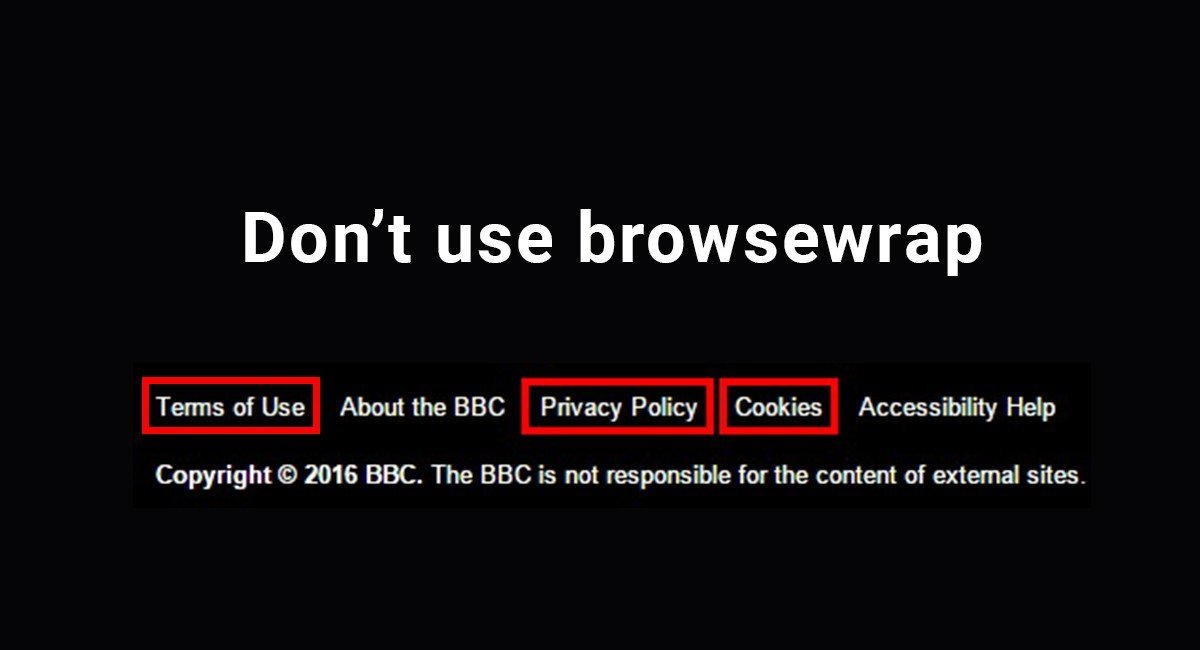 Browse-wrap used to be a common and valid method of assuming acceptance of a website/mobile app's Terms of Service and/or Privacy Policy agreements. However, these days browse-wrap is just not enough to establish actual agreement and consent to be bound to the terms of a website or mobile app.
More explicit and active consent is required from users. This is where click-wrap enters the game. All your legal agreements should be clickwrap agreements.
What is browse-wrap
Browse-wrap refers to a method of deeming acceptance of terms based simply on the fact that someone is using something - a web site, a mobile app, a piece of software, a service.
A link is located somewhere on a web site that takes a user to the Terms of Service (known as Terms & Conditions or Terms of Use) or Privacy Policy page.
In the agreement, there's usually one sentence or clause located within the Terms of Service that states something along the lines of, "By accessing or using the Service you agree to be bound by these Terms."
No overt action to acknowledge acceptance of terms is required, and nothing is done to prove that the user was even aware that these terms existed.
Here's an example from oDesk:
The Terms of Service of oDesk (named User Agreement), Privacy Policy, and Cookie Policy are all located in the footer of the web site.

Clicking on the Terms of Service link takes you to a page where you are told that "you understand that by using the site or site services, you agree to be bound by this agreement."

While this sort of discreet fine print requirement to be bound by an agreement you maybe never knew existed typically wouldn't pose a problem, it can be a huge issue if any disputes arise between the web site and a user who may be in alleged violation of the Terms of Service agreement she is supposed to be bound by and yet may have not even known about.
For an agreement - regardless if it's a Terms of Service agreement or a Privacy Policy agreement - to be legally binding, both parties must be aware of the agreement.
In cases of a browse-wrap assumption of acceptance of terms, you can see how a user could be unaware that simply by using a web site she has agreed to a specific set of terms and conditions and would wish to not be legally bound to adhere to them.
Businesses could run into trouble here by having a difficult time proving that there was an actual consent over their presented Terms of Service and Privacy Policies agreements.
Because of this ambiguity and lack of meeting of the minds under the browse-wrap method, both businesses/owners of web sites and mobile apps, as well as the people who use these websites/apps, should greatly be in favor of the click-wrap method.
What is Click-wrap
Click-wrap gives notice to a user that there are terms and conditions that go along with the web site or mobile app, and either requires a user to check or toggle an "I Agree" or "I Consent" box or button before having access to a web site, or at minimum makes it clear that by proceeding onward into the web site the user is accepting these terms and conditions.
Engine Yard makes a user click to agree to its Terms of Service before signing up or logging in, ensuring that everyone who uses the web site for its services has actively consented to agree and has access to these terms.

Facebook also makes it very clear to users that by signing up, users are agreeing to the Terms agreement Facebook, the Data Use Policy Facebook, and Cookies Policy of Facebook: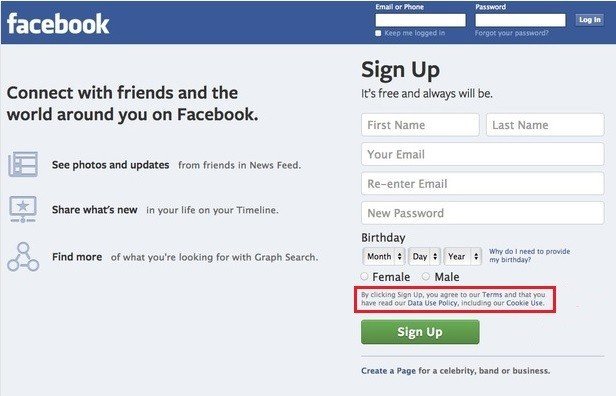 By requiring active clicking to show consent and acceptance of Terms and Conditions or a Privacy Policy, a web site or mobile app can better enforce its terms and rules and be protected against abuses by users.
Likewise, users will have a better idea of what exactly they are signing up for and committing to do or not do.
Keep users in the loop
One of the main downfalls of browse-wrap is that it really does little to keep your users in the loop of the policies and terms of your web site or mobile app.
Courts do not like this.
Consider the case of Harris v. Blockbuster, Inc. where Blockbuster's user agreement included the following language:
Blockbuster may at any time, and at its sole discretion, modify these Terms and Conditions of Use, including without limitation the Privacy Policy, with or without notice. Such modifications will be effective immediately upon posting. You agree to review these Terms and Conditions of Use periodically and your continued use of this Site following such modifications will indicate your acceptance of these modified Terms and Conditions of Use. If you do not agree to any modification these Terms and Conditions of Use, you must immediately stop using the Site.




The court found that this language made for portions of the agreement to be "illusory" because they really could be changed at any time and with no actual notice and no actual acceptance or agreement to the change.
This case showed that to really lock a user into the Terms of Service or Privacy Policy you dictate for your web site or mobile app, you absolutely need to give actual notice that you have terms, rules and policies and get an actual agreement to them.
If you change the terms of your Terms of Service agreement or your Privacy Policy agreement, you need to give notice to your users that the agreements have changed and get a new consent to your new terms of these legal agreements.
Recently, Ryanair was successful against PR Aviation in a case that involved PR Aviation violating the Terms of Use of the Ryanair web site.
PR Aviation was found to have been in violation of the terms because they were found to have actually agreed to be bound by these terms through a click-wrap method of acceptance, seen in the image below: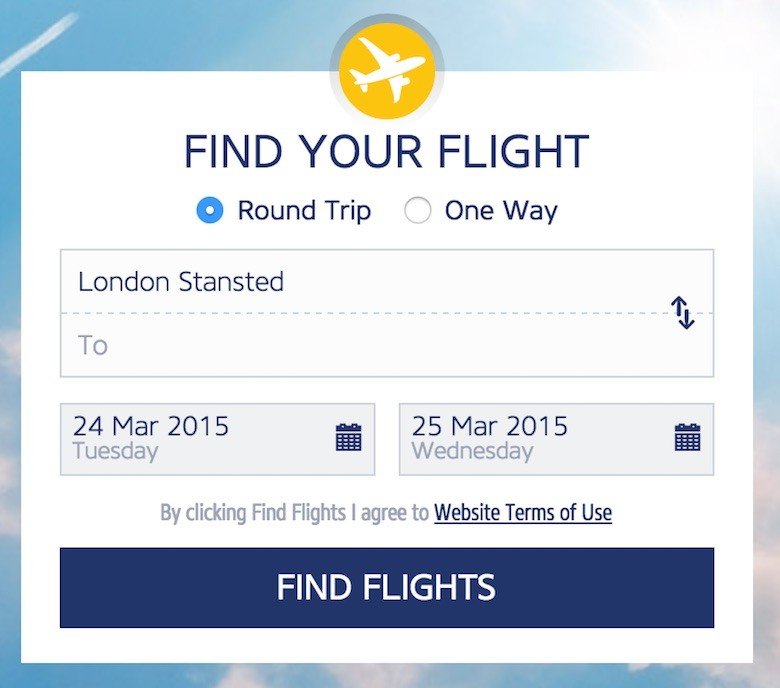 Tinder has also had recent success against Gap, Inc. when Gap ran a commercial advertising campaign on the Tinder platform, which is in violation of the Terms of Use of Tinder.
Whether you have a web site, mobile app, or desktop app/software program, always use the click-wrap method to obtain consent and agreement for your Terms of Service, Privacy Policy, Cookies Policy, or any other legal document that you wish to be able to enforce.
This method will ensure that your users are aware that you have such documents and will give them easy access to the documents. It will also ensure that your users will actually be in agreement with the documents should a dispute or issue ever arise.
For a web site to implement the click-wrap method, consider the examples above from Ryanair and Engine Yard. Both of these methods work very well.
Either have a user click a box that says the user agrees to the presented agreements, or simply put a line near the sign-up/register button that states that by signing up or registering, a user is agreeing to the terms of the web site as presented (linked).
For mobile apps, consider using a pop-up box that provides the terms, has a checkbox that users must actively click on, as well as an Accept and Decline button. This combination allows your users to view the information and consent in a way that is completely unambiguous.
The example below is from the Airbnb app and allows a user to either accept or decline before proceeding to the app.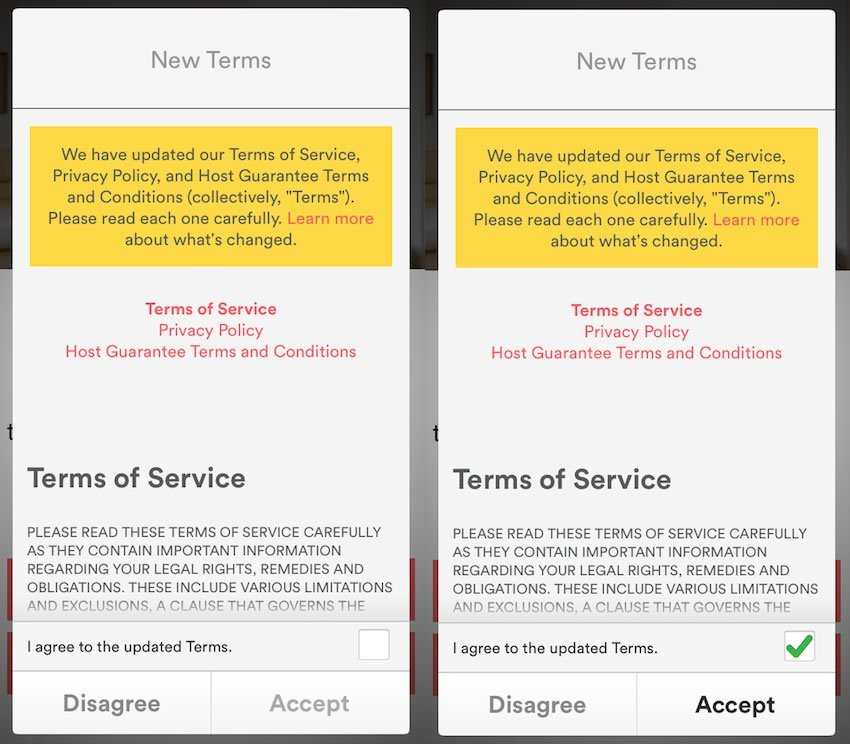 For desktop apps or software programs, a great way to get click-wrap style consent for your EULA agreement is to require multiple clicks to accept terms of use while installing the app or program.
As a user moves through the installation window, require the user to accept the terms before continuing with the installation, and then double-prompt the user to accept just to make sure the user is paying attention and not just clicking through each window to quickly complete the install.
Below is an example of Apple's Yosemite installation wizard and the way the program obtains consent by the user to be bound by the terms of its software agreement.
The more active and explicit you are when obtaining consent for your web site or mobile app's Terms of Service or Privacy Policy, the more your users will be informed and the more protected you will be against misuse of your web site or mobile app.