Like any other website or app, ecommerce stores carry risks. Consumers may decide to place more reliance on your product than appropriate or attempt to hold you liable for material from links provided on your website.
That is where Disclaimers offer you additional legal protection.
Disclaimers are statements that serve as warnings to users and to limit liability that arises from normal ecommerce activities.
Here is what distinguishes Disclaimers from online agreements and when to use them on your ecommerce site.
Disclaimers vs. other legal agreements
All ecommerce stores should include Terms & Conditions (T&C), a Privacy Policy, and Disclaimers. They all serve different purposes that help you with legal compliance and controlling liability against you.
Needed agreements
The T&C and Privacy Policy are online agreements. They inform users of the rules for accessing your site and how you transact business.
A Privacy Policy is required by law for any entity that collects personal information from users. Personal information, also called personally identifiable information, includes data that can identify a user. Full names, addresses, credit card or bank account information, and email addresses are all considered personal information.
Most jurisdictions have enacted privacy protection laws that make Privacy Policies a requirement. Even in the U.S., which does not have a federal privacy law, there are individual states passed their own requirements. It is best to assumed that if your website is accessible by users anywhere in the world, you need to post a Privacy Policy.
After all, it is impossible to complete an ecommerce transaction without requesting personal information from consumers. Most products require payment details and a shipping address to get to their new owners. Even if you only sell digital products that are downloaded after purchase, shipping addresses are often necessary to run payment through a debit or credit card.
Not only do laws require Privacy Policies, but a lot of ecommerce platforms require a Privacy Policy be included in its stores, such as Shopify's requirements
On the other hand, a T&C is not required by law.
However, if you run an ecommerce store without a T&C, you are taking on significant legal risk. A good ecommerce T&C will limit your exposure to liability, protect your intellectual property, and inform users of warranties and business practices, like preferred methods of shipping and when you authorize refunds and returns. It also states the rules for using your site so if a customer steals your intellectual property or reviews products in an unproductive or harassing manner, you have the grounds to remove them and suspend their account.
Like a T&C, Disclaimers are not required under law but they offer additional legal protection that could benefit your site.
Why Disclaimers?
Unlike the T&C and Privacy Policy, Disclaimers are not agreements. They are statements that place consumers on notice.
Disclaimers often appear as warnings to consumers. For example, health supplement websites frequently have disclaimers that inform users that the products are not substitutes for medical treatment or advice.
Disclaimers also limit liability. While they often contain provisions that are also included in a T&C, many websites prefer to give them their own pages as well.
This can be especially important if you are a distributor for products manufactured by someone else and you do not want to be held liable if that manufacturer passes on false information or faulty products. Also, some products, like outdoor gear, could be dangerous if a customer uses them incorrectly or they are faulty. Disclaimers can address that issue as well.
The types of disclaimers you choose depends on the products you sell and the level of user dependence on your website's information.
Types of Disclaimers
Disclaimers can be general to waive most liability or address a particular issue that could arise with your products. Many ecommerce stores do not post just one type of disclaimer; you can choose several and combine them on one web page.
General legal
General legal Disclaimers waive warranties and limit liability. They serve to reduce your legal burden in case information passed to you was not accurate or if you do not want to be held liable for defects beyond your control.
Climax Metal Products Co. distributes metal products. The descriptions on its ecommerce site depend on the information provided by the manufacturer. In its general Legal Disclaimer, it explains that while it makes a good effort to provide accurate information, it also does not guarantee that it will always be accurate.

This is also presented as a general Disclaimer of Warranties.
Ashop sells software products that ease the checkout process with ecommerce stores. Its online Disclaimer contains several sections, but it presents the Disclaimer of Warranties in all-caps to make it especially noticeable.

Most ecommerce stores should at least have this general Disclaimer of Warranties. While you likely have this language in your T&C as well, presenting the disclaimer separately makes it easier for users to receive notice of it. Make sure the disclaimer is consistent with your T&C and give it its own link, too.
Health and safety
Disclaimers are common with health products, including supplements. This particular type of product is subject to high expectations from consumers, and websites are wary of appearing misleading. If you're in this industry, you need a more specific disclaimer than the general examples shown above.
Generally, these disclaimers explain that the supplements have not been evaluated by a regulating agency and they do not replace medical treatment or advice. This a very specific waiver of liability that advises caution and alerts users that there may be limitations to the product.
Smart Drug Smarts has a detailed disclaimer that is explained in plain language. In addition to explaining limits, it also advises users to seek medical advice first.
iHerb takes a similar approach in this very detailed Disclaimer.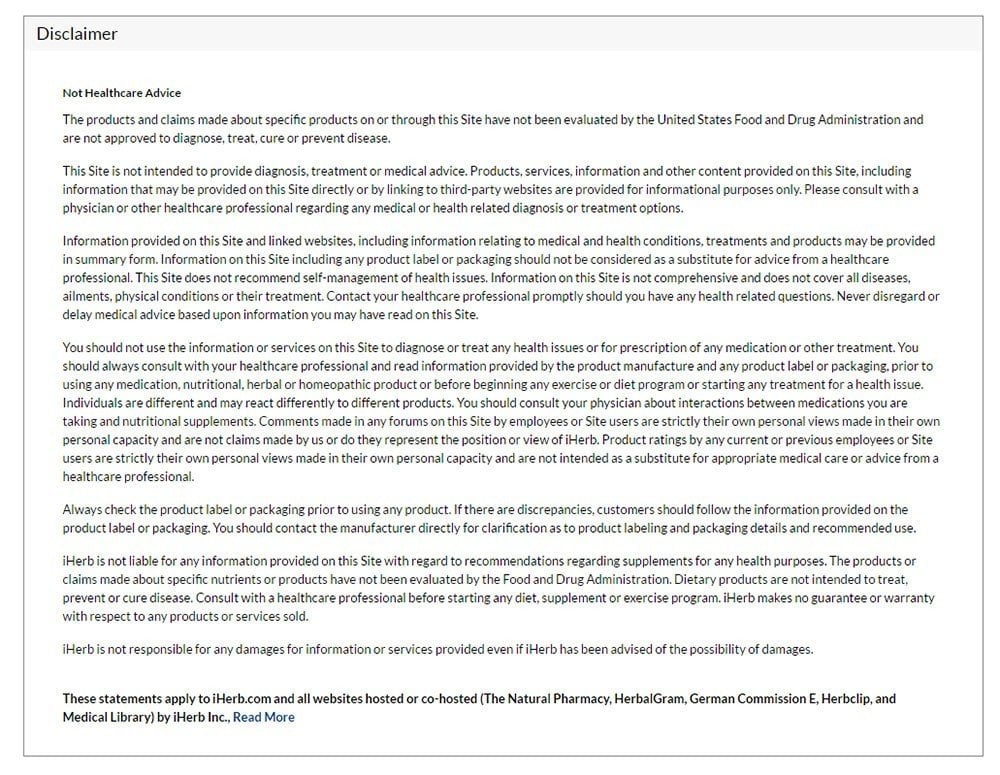 Both Smart Drugs Smart and iHerb post disclaimers separately and within their T&C. Joint Movement limits its disclaimer language to its Terms of Use where it sounds similar to the disclaimers shown above:

If you sell health products, it is a good idea to maintain a separate disclaimer page. While not all companies embrace this practice, the nature of these products is such that your disclaimers must be visible. Placing disclaimers in multiple spots and giving them their own page increases the chances of consumers seeing them.
Affiliate Disclaimers
Affiliate Disclaimers disclose affiliate relationships with other sites. For example, an Amazon Affiliate receives a small commission any time a user clicks an affiliate link and buys off the Amazon site.
These relationships are more common with blogging and advice websites that review products. They are not seen frequently on ecommerce sites.
However, if you sell products that generate a commission, you must have an Affiliate Disclaimer. The Federal Trade Commission requires that you disclose relationships that offer you a profit advantage--including anyone who pays a commission.
Ecommerce Momentum runs a podcast on ecommerce products for online stores. While it does not sell products directly, it endorses those that work well for ecommerce participants. It offers a good example of an Affiliate Disclaimer that could work for those who earn commissions.

You will more likely require this disclaimer if you sell your own products while endorsing others. However, if you are a distributor who receives payment on a commission basis (as opposed to buying inventory from a supplier), do not forget an Affiliate Disclaimer.
External links
Ecommerce shops with more technical products may link to descriptions and specification lists outside their websites. This may also include any links to download instruction manuals or videos.
If this is your practice, you likely need a disclaimer that addresses external links. This waives any responsibility for the content and makes it clear that you provide the link to share information--not endorse the product.
Ashop creates its own software products but also distributes for other companies. It includes this provision on its Disclaimer page.

Failing to include this disclaimer could expose you to liability if the third party provides inaccurate content or faces liability for their products.
Most ecommerce stores stop carrying products that are no longer guaranteed to work and quit sharing links when the information is not accurate. That is likely your practice, too. However, there could be a delay between discovering these circumstances and removing products and links from your store. This disclaimer can protect you during that lag time so any products purchased or information accessed before you are informed of their shortcomings will not result in liability against you.
Reviews
Finally, if you allow reviews of your products, it is a good idea to retain rights to those reviews and inform users of that intention. You want the right to use reviews for marketing and data collection purposes and that can be communicated in a T&C and a separate Disclaimer.
This is the reviews Disclaimer offered by Ashop.

If you use disclaimers, choose those that are appropriate for your products. You may only require a general waiver of liability. However, with products like health supplements, you likely want to be more specific. Also, do not forget to address affiliate relationships, external links, and any intentions you have for review content.
Disclaimers inform consumers. By providing them, you place consumers on notice regarding limitations, relationships, and your intentions to use review content submitted by them. This keeps your store from incurring liability when it is not appropriate and creates transparency between you and your customers.