Adding a disclaimer to your website is a simple yet effective way to communicate important information to your site visitors. Disclaimers can also help limit your legal liability in certain cases.
While not every website or blog will necessarily need a disclaimer, some certainly should have one.
Common types of websites that should definitely have a disclaimer include sites where:
Medical or health advice or information is shared
Financial or investment tips are offered
Instructions or step-by-step guides are made available
Products are sold
Personal opinions are shared
Affiliate links are embedded
For examples of common disclaimers and an explanation of the benefits of each, check out our article on Disclaimer Examples. For assistance creating your disclaimer, our Sample Disclaimer Template is a popular resource.
Once you have your disclaimer ready to be displayed, here's how you can add it to your WordPress site for maximum effectiveness. First, we'll show you how to create a disclaimer page, where the text of your disclaimer will go. Then we'll show you how to link that page to your WordPress site's footer or other menu area.
Adding a Disclaimer Page

Log in to your WordPress site and access your Dashboard:

Find the Pages option. Select Add New from within the Pages menu:

Name your page "Disclaimer" (or something more specific like "Affiliate Disclaimer"). Paste the body of your Disclaimer into the text field:

Click Publish and your Disclaimer page will be live:
Now you can add a link to your site that will take your users to the Disclaimer page. We'll show you how to add this link in a few easy steps.
Adding a Link to Your Disclaimer Page

You can manually add a link to your Disclaimer page in your website's footer or sidebar space by adding the link to the footer.php.file or the sidebar.php.file.
If your WordPress theme has widget functionality, you can add a link to your Disclaimer page to your site footer or sidebar by doing the following steps:
From the main Dashboard, find the Appearance option. Select Menus in the submenu:

Name your menu and click the box next to the Disclaimer page that you created in the last step. Click Add to Menu and then Save Menu:

Go back to the Appearance menu again and select Widgets.
In the Available Widgets section, find the Navigation Menu widget and drag it over to the Sidebar or Footer section (the Sidebar section here is highlighted, but you can place it wherever you prefer). Select the menu you just created in the Select Menu field:
Your WordPress website will now have a Disclaimer page and a link to this page in the area you selected.
On-Page and In-Post Disclaimers

Linking to your Disclaimer in a site footer or sidebar menu is a universal, smart way to make sure your disclaimer is noticeable and easily accessible. However, sometimes you may need or want to include your disclaimer directly in the text of a blog post, article or page on your blog.
For example, if you create a post that has affiliate links, you're required by the FTC to make sure that the post is clearly labeled as having affiliate links. One way to do this is to include a link directly within the post that goes to the Disclaimer page you just created.
Here's how Katie over at the Wellness Mama blog discloses that posts contain affiliate links. She adds this statement at the beginning of articles where they're sure to be noticed, and links off to her affiliate policy page: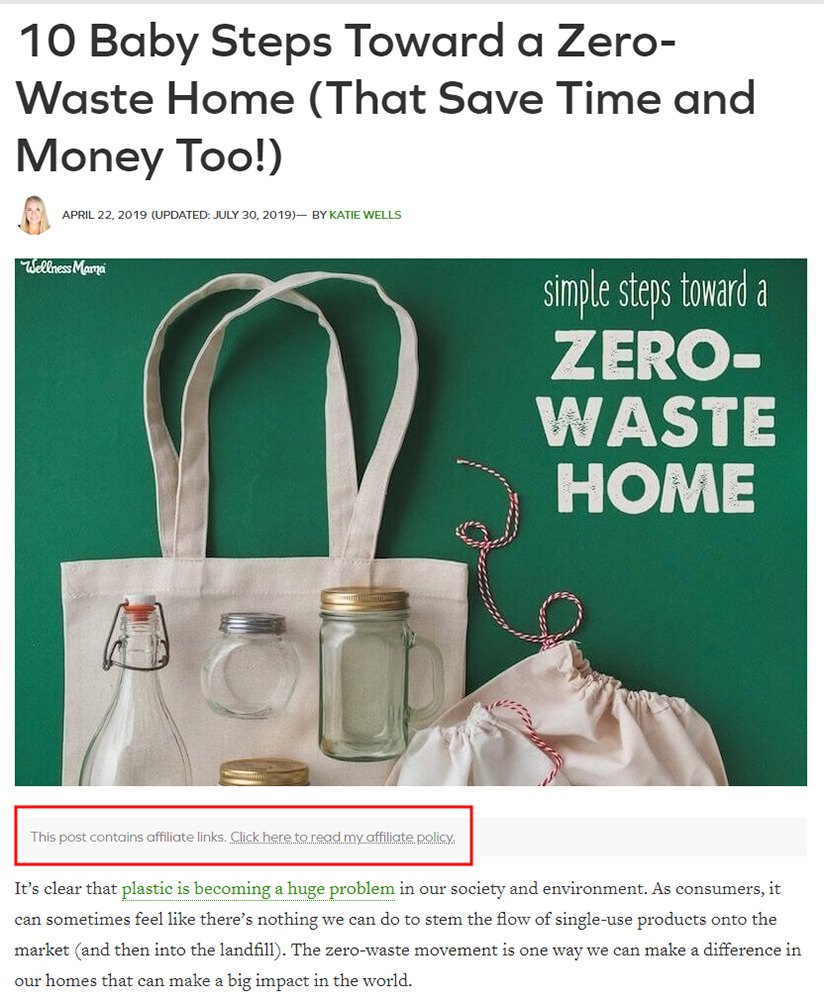 You could do something similar with your posts and link to the Disclaimer page you learned to create earlier in the article. This method works well regardless of what type of disclaimer you use.
After you create the Disclaimer or Disclaimers that you'd like (or need) on your WordPress website:
Create a Disclaimer page in your WordPress Dashboard
Link this page to a static area of your site (footer, sidebar, etc.) via your WordPress Dashboard
For added transparency, link your Disclaimer page within your individual posts or to other pages of your WordPress website