Disclaimers and Ecommerce Businesses
So far we've looked at three legal documents:
Privacy Policy - A legally mandatory statement about your data protection practices.

Terms and Conditions - An agreement between you and your customers which can protect you from legal claims and help you manage user actions.

Return and Refund Policy - An agreement between you and your customers which clearly sets out which products can be returned and on what terms.
We've also looked at two sorts of disclaimers so far:
A disclaimer of warranties - Ensures your company is not making implied promises about its services or products.

A limitation of liability clause - Allows you to manage the extent to which your company can be held legally liable for any losses that you cause your customers.
In this chapter, we'll be looking at other types of disclaimers for your ecommerce store.
Terms and Conditions and a Return and Refund Policy contain certain disclaimers that aren't a legal requirement. But other disclaimers are legally required for certain products.
Using any product carries some degree of risk, however small. Your customers take on some of this risk when they buy and use one of your products. And by selling the product, your company takes on some risk as well. A disclaimer is a way for you to manage your side of this risk.
Responsibilities of Different Types of Businesses
Before we look at the disclaimers that ecommerce stores can use to warn customers about the risks of using the products that they sell, let's consider how liability arises further up the supply chain.
Manufacturers
If someone is injured or suffers another loss as a result of using a dangerous product, the first person they will usually look to sue is the manufacturer. The main responsibility for ensuring product safety and warning customers about the potential risks of using a product falls on manufacturers.
Disclaimers are extremely important for manufacturers, but they can only go so far. A manufacturer has a responsibility not to put dangerous or illegal products onto the marketplace, and they can't simply negate this responsibility by providing a warning for consumers.
If your ecommerce store sells goods that your company has produced, this is an especially big responsibility. You need to know the rules of your industry, and the risks associated with your products.
Here's an example of a set of disclaimers and warnings added to a product label by the manufacturer: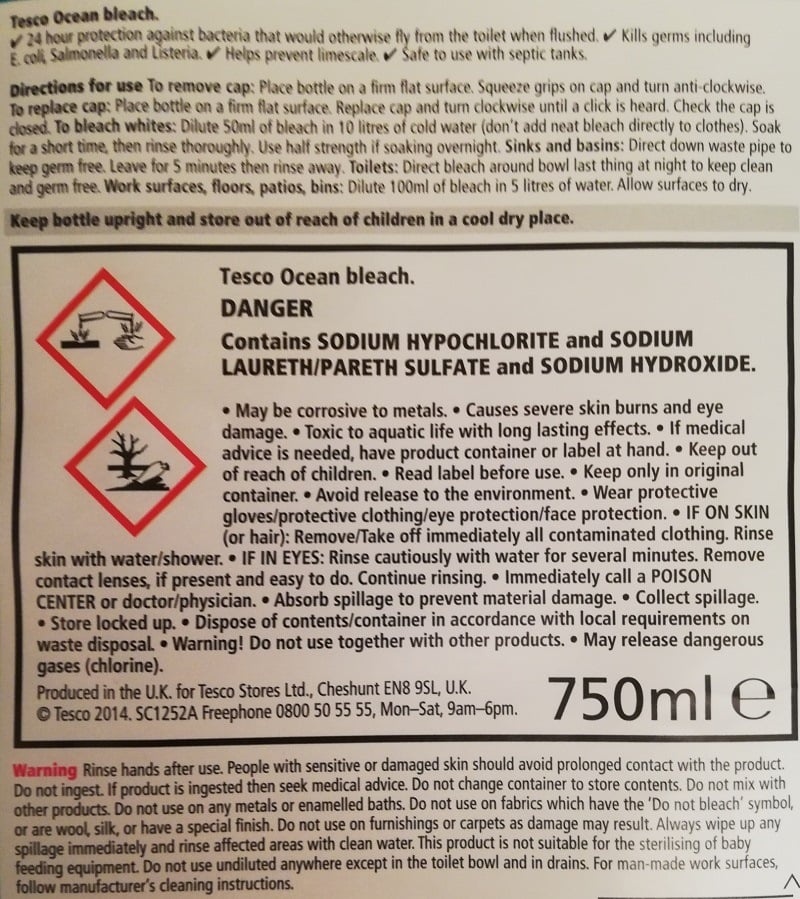 Importers
If a consumer is injured by a product made overseas, it's difficult or impossible for them to seek damages from the manufacturer. Therefore, there's a duty on importers to ensure that any product they bring into a market meets the health and safety standards of their market.
In the U.S., the responsibility of importers to ensure adequate product safety and labeling is set out across a number of federal laws - for example, the Federal Food, Drug and Cosmetic Act. And in the EU, under the General Product Safety Directive, importers have the same legal responsibility as manufacturers where a manufacturer isn't established in the EU.
Some products are legal in some states or countries and not others. Some will require additional warnings when sold in some places that they might not require in others.
If your ecommerce store sells imported products, you'll need to know the relevant laws and standards inside out. It's not enough to say that you weren't aware that a product contained a particular component or ingredient, or that you weren't familiar with a regulation that applies to that type of product. This could be considered an act of negligence on your part.
Companies that Customize or Service Products
A manufacturer or importer can't be blamed for all injuries that might arise from the use of their products, particularly if the danger originated elsewhere in the supply chain.
If your company customizes, services or otherwise modifies products, you're responsible for ensuring that you do this in a safe and legal way. You could be liable for any damages resulting from the changes you've made to the product.
As a retailer, you have a big responsibility to sell safe products and provide accurate information. However, unless you manufacture all of your products from scratch, you'll never be able to absolutely control everything about all of the products that you sell.
Let's take a look at some examples of the requirements and best practices around disclaimers for retailers.
General Legal Disclaimer
In addition to limiting liability and disclaiming warranties in their Terms and Conditions, some companies link to a disclaimer from their individual product description pages.
Here's how this can be done on a website, and for certain products:

Legal Disclaimer

Product packaging and material may contain more and/or different information from the website, including the product description, country of origin, nutrition, ingredient, allergen and other information. Always read labels, warnings, and directions and other information provided with the product before using or consuming a product. For additional information about a product, please contact the manufacturer. Information and statements regarding dietary supplements have not been evaluated by the Food and Drug Administration and are not intended to diagnose, treat, cure, or prevent any disease or health condition.
Potentially Dangerous Goods
If you're selling products that might lead to injury - either because they're generally used for risky activities, or because they are dangerous if misused - it's worth displaying a disclaimer.
Some companies do this in their Terms and Conditions. They might include clauses about:
How the customer agrees to use or not use a product
The risks inherent in using products of this sort
Liability for losses incurred by using a product
Here's how Powermonkey Fitness does this: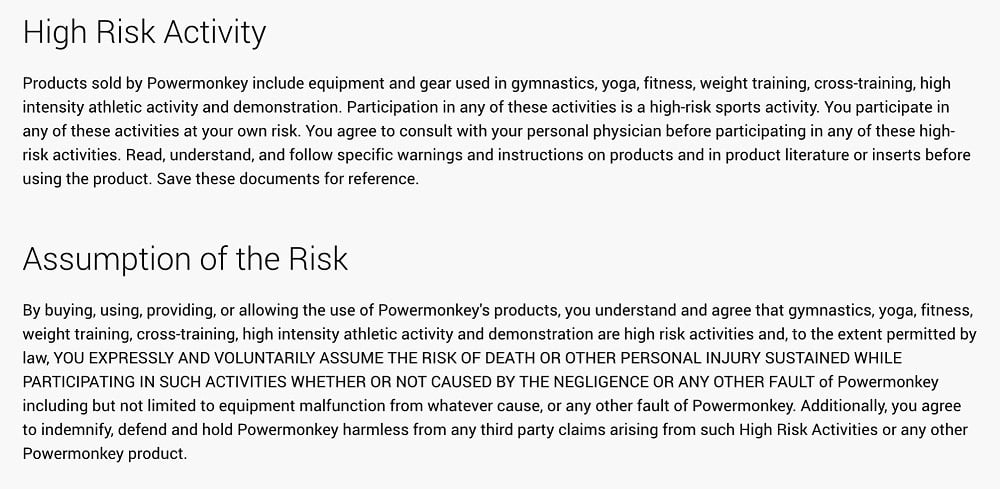 The disclaimer states that the customer agrees to consult with their doctor before participating in any of the fitness activities. There's a very strongly-worded exclusion of liability clause. It requires that the customer assumes (takes on) all of the risk associated with using Powermonkey's products and services.
As mentioned in previous chapters, the courts of many jurisdictions may hold that it is not possible for a company to exclude or even limit liability for causing death or personal injury through negligence.
Here's an example of a webpage that offers some guidance on the safe use of pesticides that a company sells: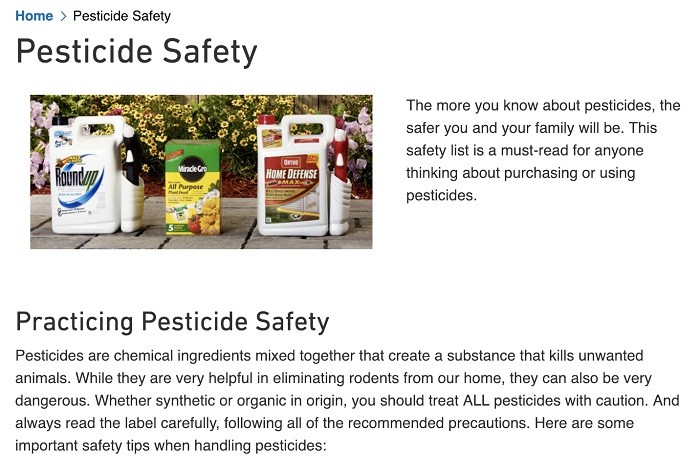 Responsible Use Warning
With some goods, there is a risk that the product might be used for illegal or irresponsible purposes, perhaps even inadvertently.
Here's a warning provided by Best Buy alongside the product description for a camera drone: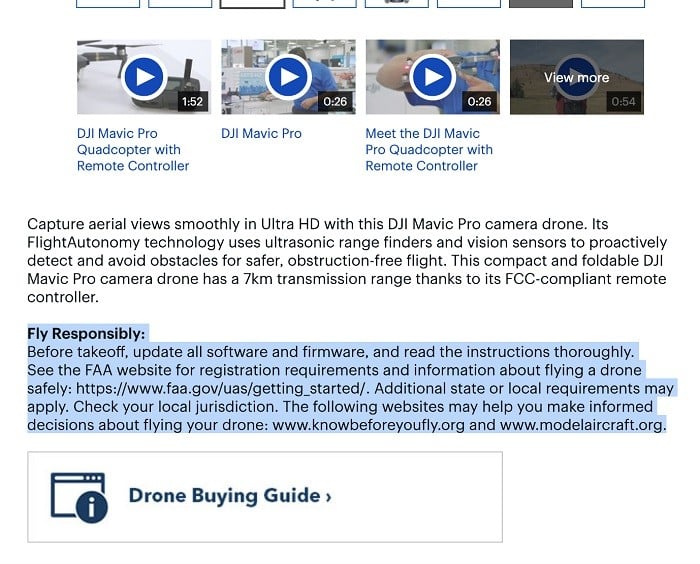 California's Proposition 65
California's Safe Drinking Water and Toxic Enforcement Act (known as Prop 65) requires retailers to give a "clear and reasonable warning" when selling products containing certain chemicals. There are over 900 chemicals on the Prop 65 list, some of which are contained in certain foods, drugs, cleaning products, and pesticides.
If you're shipping to California, it's important that you're aware of your obligations under this law. The fines for violating Prop 65 are up to $2,500 per violation per day.
Businesses with fewer than ten employees are exempt from providing such warnings.
Here's an example of a Prop 65 warning: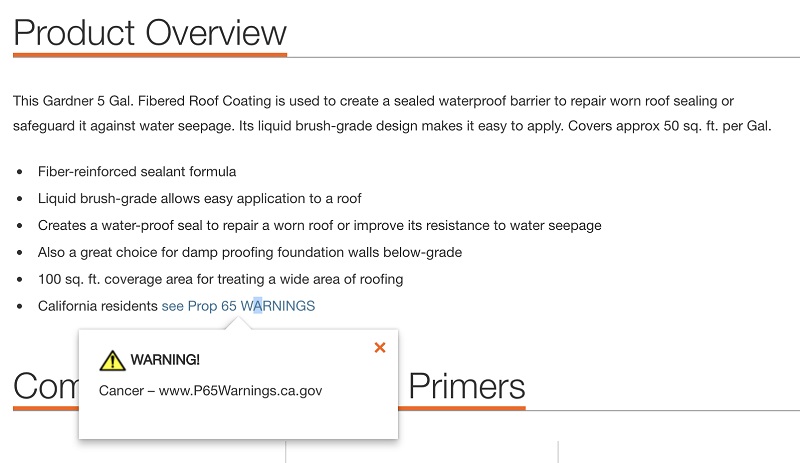 California's Office of Environmental Health Hazard Assessment provides some guidance on how retailers can comply with Prop 65, including that the warning must be written in a font "no smaller than the largest type size used for other consumer information on the product."
The demands on manufacturers and importers under Prop 65 are much higher than on retailers.
Pharmaceuticals and Alternative Medicines
Some medical products are only available through pharmacies. Pharmacists have their own regulations around the information they must provide consumers. Some "alternative" medicines are available from other retailers. These products are often regulated in different ways.
To emphasize the different expectations around pharmaceutical and alternative medicine, we'll look at examples of two types of weight loss pills.
First, here's a weight loss pill that's classed as a pharmaceutical product. Boots provides the following information about a weight loss product it sells called Hunger Buddy: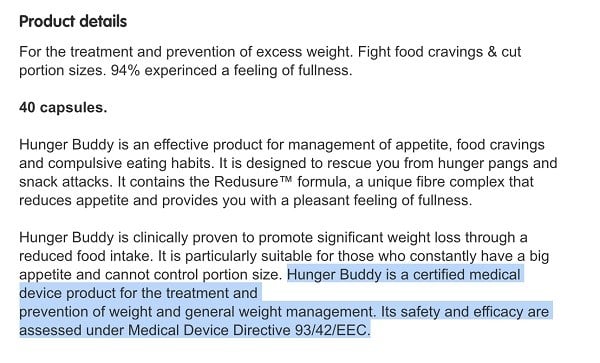 Here, Boots gives the law under which this product is regulated. This serves both as a disclaimer and a marketing tactic.
Boots then gives a lot of information and warnings about how to take the product, including this: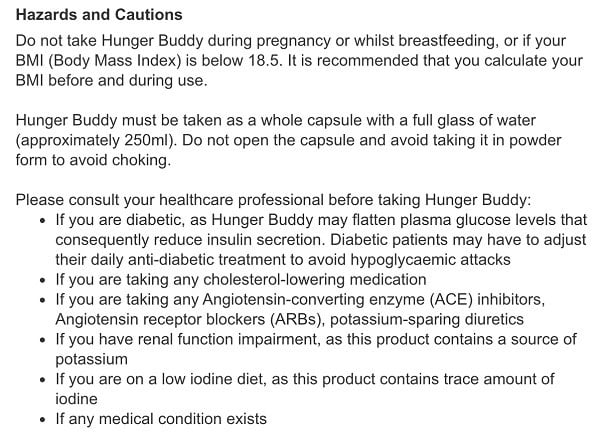 Alternative medicines, including alternative weight loss products, still require warnings and disclaimers.
In the U.S., the Federal Trade Commission (FTC) and Food and Drug Administration (FDA) rigorously enforce the law on advertising such products.
In the UK, the Advertising Standards Authority (ASA) regulates the alternative medicines market (and all advertising), enforcing laws such as the Consumer Protection from Unfair Trading Regulations and Food Safety Act. The agency has the power to issue fines against companies who breach the law.
When it comes to medical products or supplements, it's far better to make carefully-worded and honest claims than careless overstatements.
"Results Not Typical" Disclaimers
There are strict rules on using "before and after" pictures and "success stories" to promote your product. For example, in the US, FTC's Guides Concerning the Use of Endorsements and Testimonials in Advertising, simply including a "results not typical" disclaimer alongside a misleading testimonial is not sufficient to escape liability.
The effect of the new guidance is to require that where an atypical "success story" is used to promote the effectiveness of a product, it must be accompanied by an explanation of the product's typical effect.
Here's how the weight loss program Noom notes that individual results will vary depending on factors like your starting point, personal goals and effort.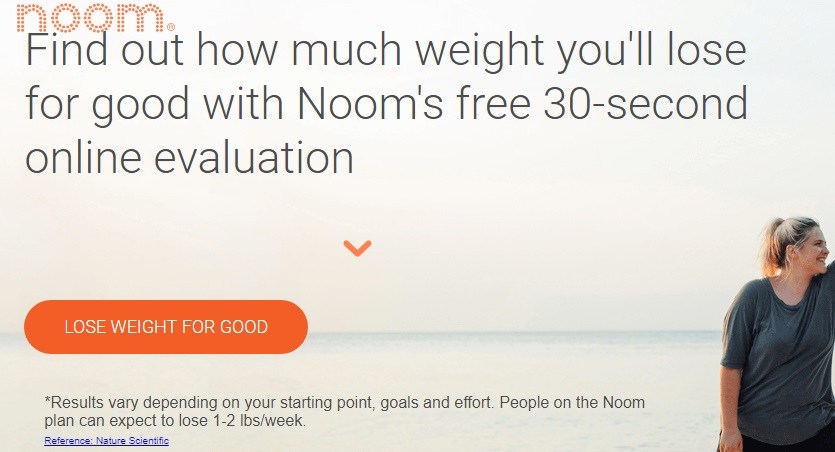 Sports Recovery
Some muscle-building supplements carry certain risks when overused, or when combined with other products.
Take a look at this disclaimer that covers a number of the different areas we've looked at so far:

WARNING:

Not for use by individuals under the age of 18 years.

Do not use if pregnant or nursing. Consult a physician before using this product.

Not intended to replace normal food. Watch out when stacking high vitamin or caffeine content supplements.

Contains 185 mg of caffeine per serving.
Cosmetics
As we've seen, different industries are often regulated by different government agencies and must comply with different laws. There should be no mistaking what kind of product you are selling. It's important that you and your customers are clear on exactly what your products are designed to do.
For example, cosmetics companies make claims about how their products can improve a person's appearance. Sometimes these claims might be mistaken for claims that their products can improve a person's health.
Here's an example of a disclaimer used to distinguish cosmetic products from health products:

This sort of disclaimer helps manage customer expectations and is also a way to ensure that you aren't falling under the remit of an inappropriate regulatory body. It's another example of how disclaimers can help you avoid accusations of false advertising.
Age-Restricted Items
You might sell some items which are only suitable for adults or people over a certain age.
Here's how Amazon UK handles this with alcohol products by providing a disclaimer about alcohol not being for sale to people under a certain age: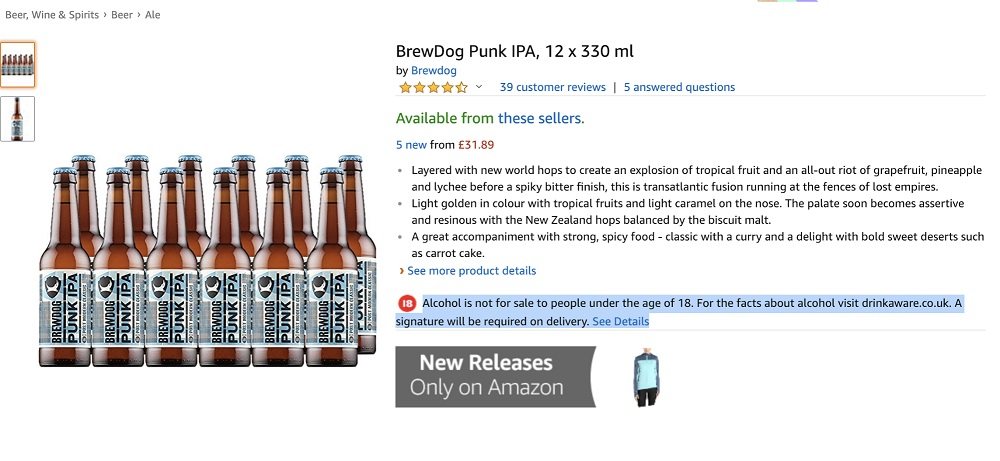 You'll notice that Amazon directs its customers to alcohol advice service Drinkaware. This is not a requirement in the UK, but is considered good practice for alcohol producers and retailers.
Of course, you'll have to take further steps to ensure that children aren't buying age-restricted products, such as requiring ID at purchase and/or delivery.
Offers and Promotions
Promotions and special offers are an essential part of bringing new customers to your ecommerce store. But you must be clear about what you're actually offering people. Misleading offers, such as ones that aren't actually as good as they appear, could damage your reputation and land you in legal trouble.
Here's an example from the UK. An ecommerce business called Rosee Fine Jewellery was advertising a necklace on Amazon. It advertised the price as follows:
"Price: £129.87: Sale: £17.87. You Save: £112.00 (86%)"
The Advertising Standards Authority investigated and could not find any examples of the necklace being sold for more than £25 in the previous 12 months. The offer was obviously misleading. The company was required to remove the ad.
"Money off" promotions need to represent a genuine saving, and any special conditions attached to a promotion must be made conspicuously clear.
Here's how AT∓T explains the conditions attached to an offer: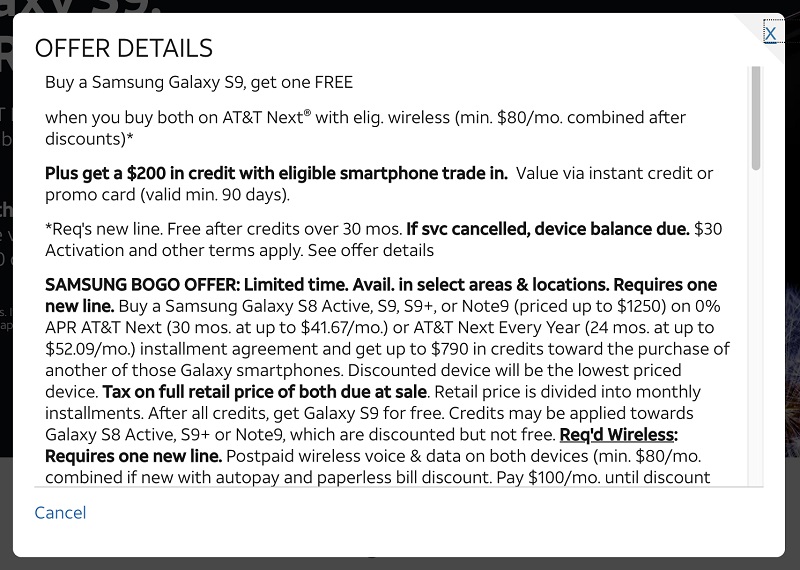 Restrictions on Normal Service
You also need to be clear where there are restrictions on what your ecommerce store normally offers customers. If your customers have grown to expect a particular service or are subscribing in order to receive certain features, it's important that you let them know about any changes.
To put this in context, here's an example of Amazon informing its Prime customers about an exception to its usual one-day delivery option:

Affiliate Link Disclaimers
If you engage in affiliate marketing, the FTC in the U.S. requires you to include a disclaimer about this. The disclaimer can be short and simply, as long as it discloses that you will earn a commission or some sort of material compensation when someone makes a purchase via your affiliate link.
Many ecommerce stores that have a blog component will engage in affiliate marketing and promote different affiliate products through blog articles. But this isn't the only time you'll see these links.
Here's an example of a short and sweet affiliate disclaimer at the top of a blog entry that will link to products for sale:

Your affiliate disclaimer can also be much longer and more detailed, such as it is here: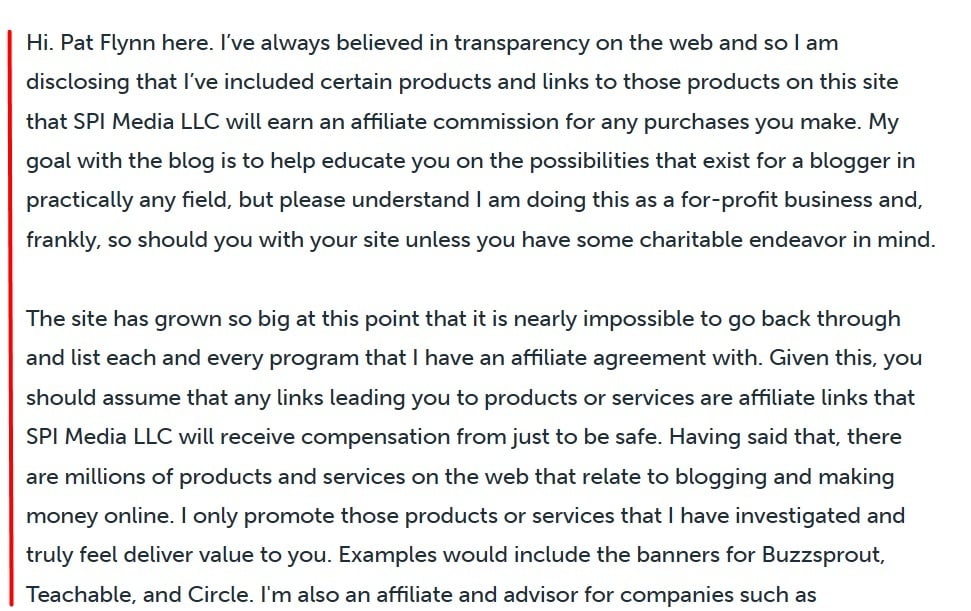 The best approach is to have a short disclaimer as in the first example and place it close to the affiliate links themselves, and also have a longer disclaimer as in the second example as well. The shorter one can even link to the longer one.
Here's an example of combining both styles. This statement would go at the beginning of a post:

Results Not Typical Disclaimers
If your ecommerce store sells any product or service that the public can perceive as promising certain results, you can protect yourself from legal liability by including a "results not typical" disclaimer. This is also known as a "results may vary" disclaimer.
This disclaimer will make it clear to shoppers that their own results may differ from the results of others, and that you make no promise that individual results will be consistent. For example, if you sell weight loss products, this type of disclaimer helps ensure that people can't hold you accountable if they take your product and still don't lose any weight, or only lose a small amount of it.
Here's an example in action: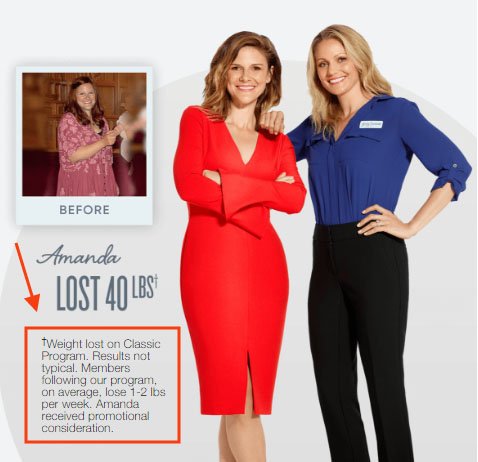 Consider if any of your products or services could benefit from having this type of disclaimer.
Where to Display Your Disclaimers
You should make sure your customers see any disclaimers before they buy your products. It's no longer common or acceptable practice for business to add disclaimers in the "small print." You need to be clear and transparent or you run the risk of your disclaimers failing to take legal effect.
Where you're selling goods that carry a particular risk, make that risk clear to your customers in your product description.
Here's an example of this: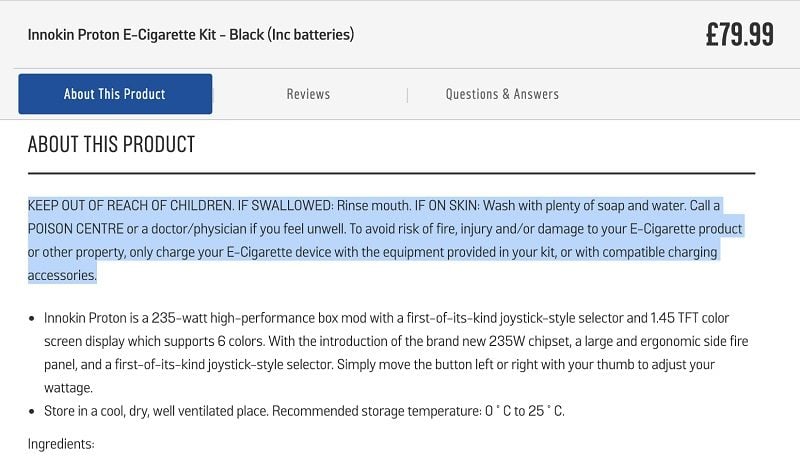 And here's a legal disclaimer that Amazon displays on its mobile app under the product description of all medical products and supplements: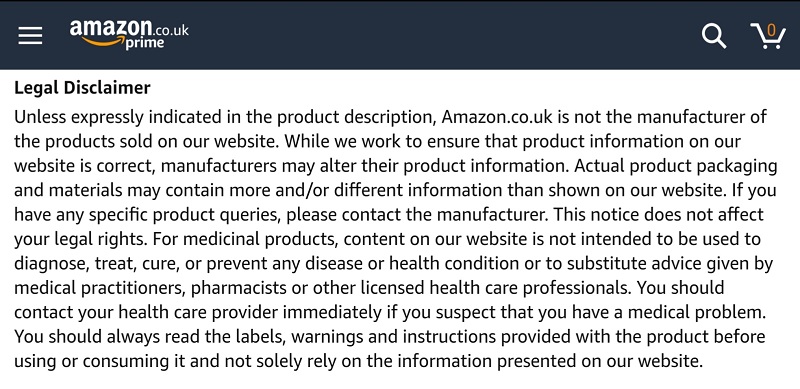 Here's how Verizon provides a disclaimer for one of its promotions. First, the customer sees the "headline" promotion with some basic information about the deal: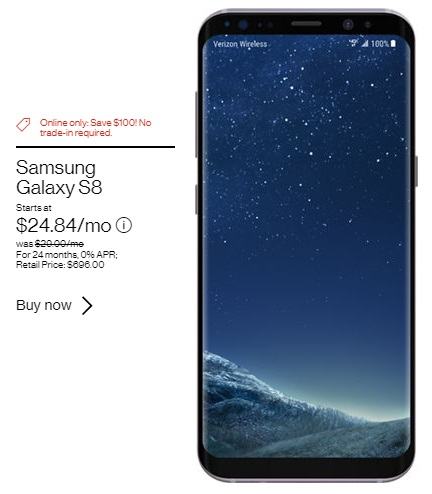 The small circled "i" lets the shopper know that there is additional important information about the deal. Hovering over it reveals the disclaimer and additional information: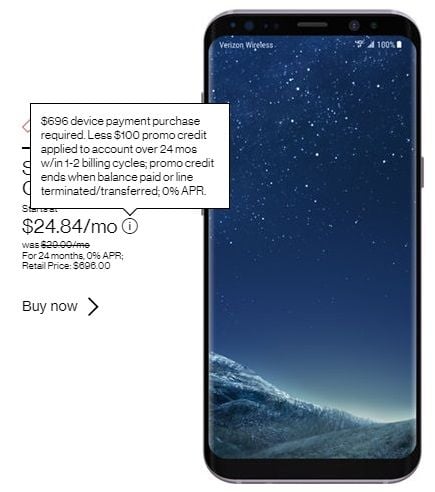 Case Study
Happiness Herbs is an ecommerce store based in the U.S. that sells essential oils, cosmetics and aromatherapy goods. Its products are not regulated as pharmaceutical products. It ships to the U.S. and Canada.
Happiness Herbs should:
Display a general legal disclaimer that sets out the risks associated with using its products

Disclose any potentially dangerous ingredients in its products, particularly if they are covered by California's Prop 65 law

Be careful about any claims it makes about the effectiveness of its products

When citing any customers' testimonials or "success stories," Henry's Herbs must be careful to explain that the results are not typical, and cite the source for any claims
Henry's Herbs must be clear that its products are not medical products and not intended to improve the health of its customers

Display warnings about how to safely use its products, including:

Advising its customers to consult with their doctor where necessary
Making note of any age restrictions
Disclosing any health considerations that might be relevant to using these products

Ensure any discounts are genuine savings based on the actual normal price of the product