Written by
Widener University School of Law graduate, Managing Legal Editor at TermsFeed.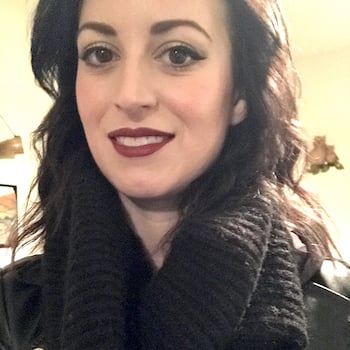 Earlier this year, the Federal Trade Commission (FTC) updated some of its recommendations set forth in its "Guides Concerning the Use of Endorsements and Testimonials" guide.
This was the first update to the Guide since 2009, and many modern additions that focus on appropriate methods of disclosures for endorsements and compensation have been added. The FTC update provides adequate guidance to individuals who deal with issues of disclosing endorsements on websites or mobile apps.
We've also created a Legal Checklist for Businesses Using Social Media Influencers to help you use endorsements in a legally-compliant way.
What customers say about TermsFeed:
This really is the most incredible service that most website owners should consider using.

Easy to generate custom policies in minutes & having the peace of mind & protection these policies can offer is priceless. Will definitely recommend it to others. Thank you.

- Bluesky's review for TermsFeed. Read all our testimonials here.
With TermsFeed, you can generate:
Here's what you need to know when it comes to properly disclosing endorsements.
A good rule of thumb is to assume that a disclaimer is needed if there is a connection between the endorsement and the company that a consumer would be interested in knowing, or that would change the perception of the consumer if known.
For example, if every reviewer of a product gets $100, and a website boasts many reviews for that product to prove the popularity of the product, there should be a disclosure letting users know that the reviews were solicited and paid for.
Some of the most important highlights of the updates include the following topics that have been frequently presented to the FTC:
1. Employees Need to Disclose Employment
If an employee of a company posts something that promotes the company or a product or service of the company on social media, the employment must be disclosed somewhere in the promotional post.
Shareholders and investors must also include a disclaimer when promoting the products or brands they have a financial interest in.
Owners of companies have an obligation to make a policy that states this, and share it with the employees, shareholders and investors.
The example below is a tweet from famous basketball player Kobe Bryant that promotes a product he has invested in. Because of his financial interest in the product doing well and selling, he should have included a hashtag that said #ad or #advertisement to make this tweet satisfy FTC Guidelines updates regarding disclosure: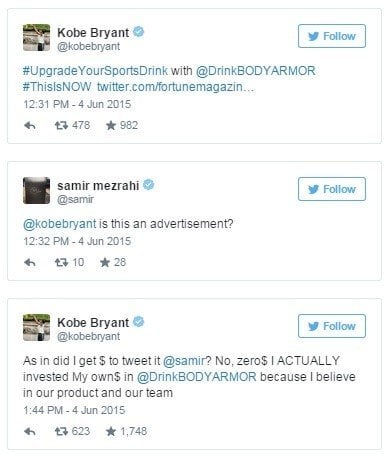 2. Pictures/Images Constitute Endorsements
With the rise in popularity of social media that centers around image sharing, such as Instagram, the FTC considers images or pictures to be enough to constitute an endorsement.
Similar to the text-only Twitter example above, image-focused endorsements will also need to be disclosed.
For example, if you own a clothing company and you request that people post pictures of themselves wearing a shirt with your logo on it as part of a promotional campaign, these pictures can be considered endorsements for your clothing company and a disclosure included is a must.
Consider the 2015 incident with Lord & Taylor where 50 fashion bloggers were given a free dress and an undisclosed amount of money in exchange for them posting a picture of themselves wearing the dress on social media. The dress sold out immediately, but the FTC had a major issue: not one single blogger had made it known that they were given the dress for free and paid to post.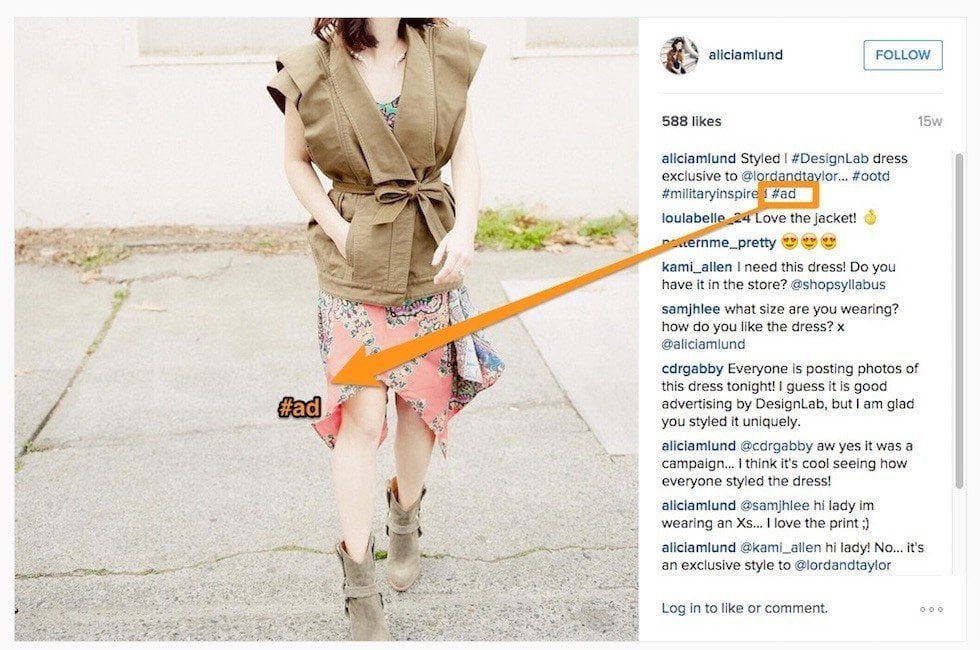 When promoting your campaign, request that people who take and post these pictures include a simple disclosure with the picture, such as #ad or #advertisement or #promotionalcampaign.
3. Don't Encourage Arbitrary Facebook "Likes"
The FTC has stated that if people who have no experience with your product or service are encouraged to "like" your business' Facebook page, this could potentially be deemed as a deceptive practice and could elicit legal action.
Even if the FTC wasn't getting involved here, Facebook itself is banning the incentivizing of their "Like" feature. As of November of 2015, you can no longer give rewards or special access to users who use the "Like" feature. The nature of the "Like" feature is that users are supposed to organically share their preferences with their friends, and by creating incentives, deceptive and false advertising can result.
There is no way to add a disclaimer that you have been compensated for your Facebook "like" and potential customers will see a large amount of "likes" and not be aware that many of them were obtained through some sort of exchange of consideration. Instead, they will assume that your product or service is just that popular on its own.
Below is an example of a promotion that gives a monetary incentive to people to "like" the Facebook page. This should be avoided and is discouraged by the FTC.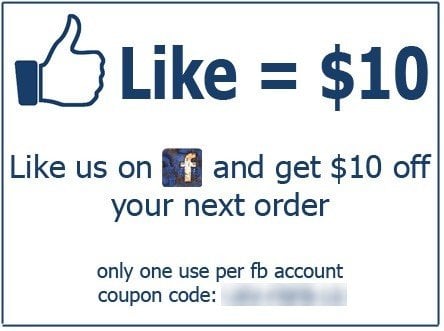 This issue is similar to point #5 later in this article about striving for only real reviews to avoid deceptive practices. While you can disclose in a review or on a review page that compensation was given or received for the review, as mentioned above, this disclosure is not possible with Facebook 'likes."
4. Disclose All Forms of Compensation
You must disclose any benefit you receive from a company when you then promote or endorse the company as a result of the benefit.
For example, if you receive a free product from a company for you to review on your blog, as well as a gift card and future discounts, each of these benefits must be disclosed in the review article on the blog.
Include disclosure and disclaimer information early on in your review article to ensure that it is noticed by your readers as quickly as possible.
Below is an example of an attention-grabbing banner from Mom Does Reviews that clearly indicates that it is a disclaimer and that the product being reviewed was provided to the reviewer for free.

5. Strive for "Real" Reviews Only
The FTC places an emphasis on the idea that disclosures and disclaimers are needed if a connection exists between the endorsement and the company that a consumer would be interested in knowing, or that would potentially change the perception of the consumer if the customer was previously aware of it.
Customers place great emphasis on reviews left by other customers.
Because of this, the FTC recommends that businesses strive only for actual reviews and avoid soliciting reviews traded for compensation.
If a business does somehow compensate users for reviews, the existence of this compensation must be disclosed on the review page in a way that lets people know that this compensation occurred.
Including the disclaimer at the top of every review page, or, if possible, next to every individually compensated review, is an acceptable way of letting people know about the compensated reviews.
Below is a way that Transport Reviews has strived to address the issue of compensated reviewers in accordance with FTC guidelines. The Compensated Reviewer icon is eye-catching and a good way to quickly put readers on notice that a reviewer has been compensated for the review.

6. When someone has atypical results and shares these results
If an endorsement describes any atypical or uncommon results, there must be a disclosure that tells consumers that these results aren't typical. This disclaimer will keep others from expecting the atypical result, and avoid misleading information being given to potential future customers.
Include the disclosure on the page where the atypical endorsement can be viewed to make sure customers who notice that review also notice the disclaimer.
See below for an example of how a "Results not typical" disclaimer should be incorporated into endorsements: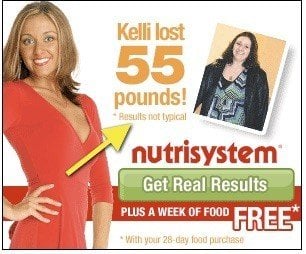 7. When you are an affiliate marketer and paid
You need a disclaimer if you are an affiliate marketer for a product and get paid a commission for each product purchased through a link you provide to the public.
Disclose this somewhere near the link to where the product can be purchased. Tell people that you make a commission if they use that link to purchase. Have fun with this, though, and stay confident. People will appreciate your honesty and not think you're trying to just make money off of them.
Here are a few examples of really good affiliate disclaimers provided from The Affiliate Resource Center of iThemes that make it clear that the person will make money, but also makes it clear that making money isn't all that it's about.

Note how the disclosure lets readers know that only products the writer uses and loves are ever recommended. That's a big endorsement in itself for any affiliate links.
The following includes an emoticon to keep things even more light-hearted and fun, as it should be.

8. Disclose Sweepstakes and Contests Appropriately
Using hashtags is a great way to disclose an ad or sweepstakes (#ad or #sweepstakes is sufficient). These hashtags can be used on all social media outlets, from Instagram to Twitter and Facebook.
Companies that run sweepstakes or contests that require some sort of media posting by entrants should require that all entrants disclose in their postings that the postings are part of a #sweepstakes or #contest entry.
Below is an example of an effective sweepstakes posting on Twitter by Chase. Hashtags need to be clear to be effective.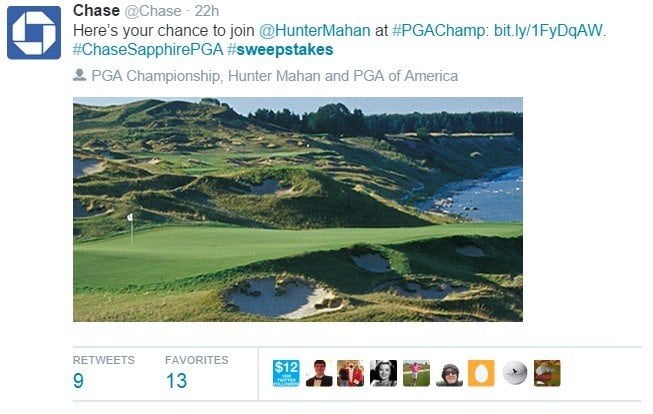 The FTC has stated that while #ad is an appropriate abbreviation for #advertisement, #sweeps is not an acceptable abbreviation for #sweepstakes because #sweeps is not a common word used in this context.
It's not adequate to simply include general disclosure language in your legal agreements, such as Privacy Policy and Terms of Service and consider that to be adequate notice of compensation for endorsements.
Disclaimers have to be posted very frequently and conspicuously so that they will absolutely not be missed by visitors to the website or viewers of the social media posts.
For example, every single review article on a compensated review blog must begin with a disclaimer/disclosure that compensation has been received in exchange for writing the article.
The main theme to take away from the FTC guidance is that any act or practice that could possibly be considered to be deceptive or unfair should be avoided.
If you are given any form of consideration and think people may wish to know, let them know. Your customers will appreciate your honesty, and you will stay out of trouble with the FTC.