Flurry Analytics is a feature of Flurry that lets app publishers track analytical information about how an app is being used.
Platforms like Flurry collect non-personally-identifying information about users like what model and type of device a user is accessing the app on, what language, date and time the app is set to, and what operating system is being used.
However, when ads are tailored or interest-based (this is called remarketing), more personal types of information will be collected, such as information about what other apps a user has downloaded, how exactly he's using the app, age, gender, and other facts about a user.
Because Flurry allows tailored, or interest-based ads to be shown that are based on information collected about users of apps, there are certain requirements for a Privacy Policy that app publishers must consider before using Flurry to show tailored ads on their apps.
Flurry's Terms of Service page has a breakdown of each of the Terms of Service, including a separate Flurry Analytics Terms of Service page and a Flurry for Publishers Network Terms of Service page.
Both of these legal agreements include a section titled Privacy and Information Collection where the requirements for using Flurry are described, including the requirement to have a Privacy Policy.

If you use either Flurry Analytics or Flurry for Publishers, you need to post and adhere to a Privacy Policy.
Our Privacy Policy Generator makes it easy to create a Privacy Policy for your business. Just follow these steps:
At Step 1, select the Website option or App option or both.

Answer some questions about your website or app.

Answer some questions about your business.

Enter the email address where you'd like the Privacy Policy delivered and click "Generate."

You'll be able to instantly access and download your new Privacy Policy.
Your Privacy Policy must:
Let users know that you're Flurry using technology (tracking pixels, etc.) that will collect, store, use and share data about how users are using your app

Provide users with easy to find information about how users can opt out of Flurry's tracking technology.

This can be accomplished by including a link to the Flurry Privacy Policy page, by clearly describing how a user can opt-out, or by providing links to other opt-out resources available, such as NAI or DAA opt-out pages.
Flurry's Privacy Policy page, which is actually the Yahoo's Privacy Policy, has a section on Cookies & Similar Technologies.
In this section, users are informed that cookies may be placed on a user's device and that other company that shows advertisements can also set and access cookies on a user's device. The use of web beacons is mentioned.
Flurry also lets users know that companies that advertise through Flurry are subject to their own privacy policies, which helps users understand that they may have to visit the advertiser's website to find out how a specific advertiser is collecting, using, storing and sharing personal data from app users.
A link is provided to the Yahoo! Ad Interest Manager, which is where users can opt out of allowing Yahoo! to place cookies on their devices.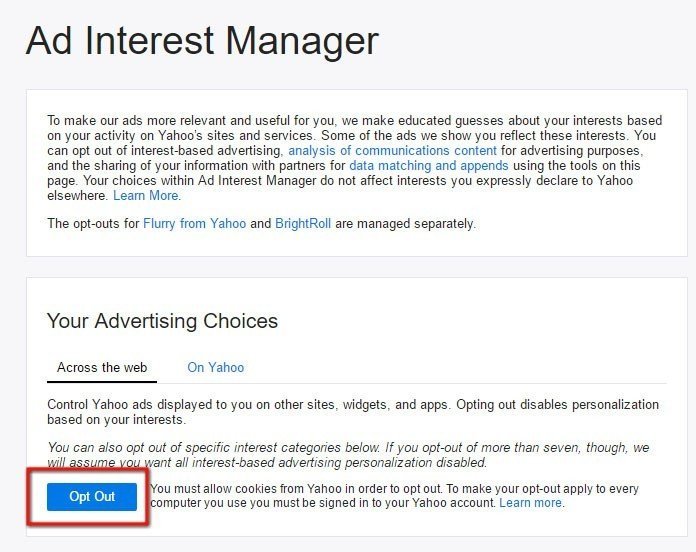 Note that the top section lets users know that the opt-out link for Flurry from Yahoo is a separately managed thing.

When a user clicks on that link, she will be taken to a Flurry-specific opt-out page: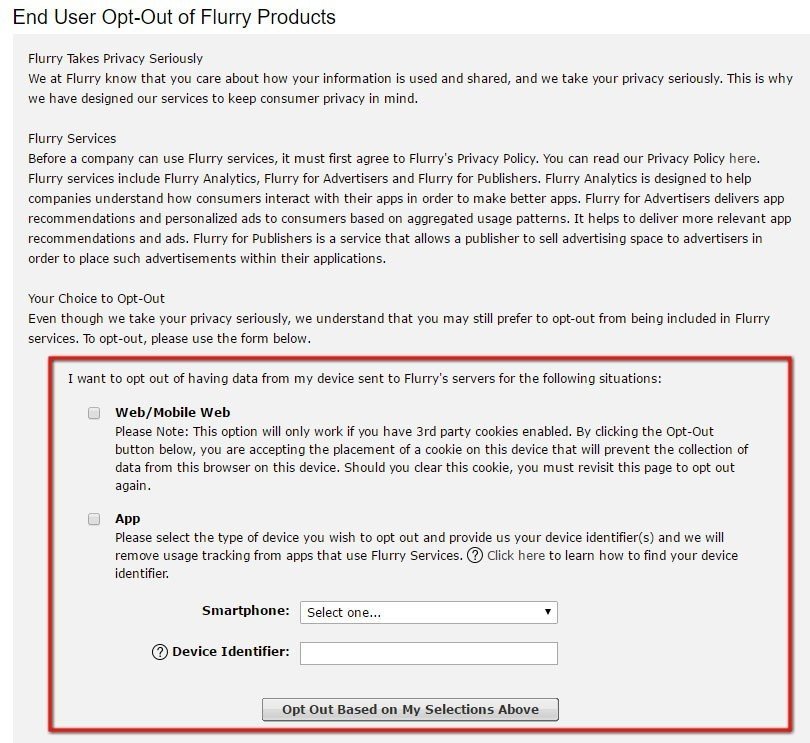 Here are a few examples of how some clients who use Flurry have updated their Privacy Policies to reflect the Flurry requirements of informing users about tracking, and providing an opt-out method.
Ebates
Ebates links its Privacy Policy in the footer of the website:

Ebates' Privacy Policy has a menu where each subtopic is hyperlinked, making it very easy for a user to jump to a specific area of concern she may have, such as the "Cookies and other technologies" section: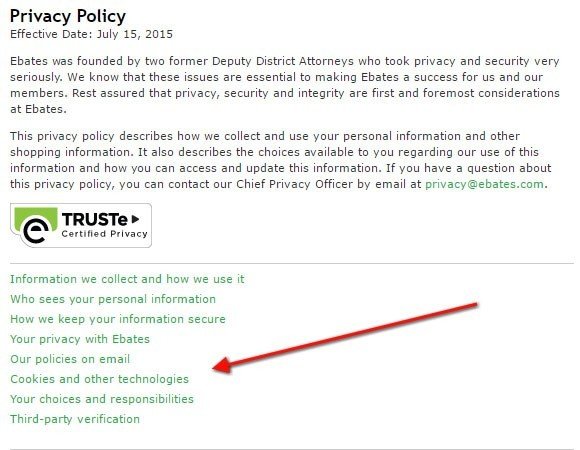 In this section, Ebates lets users know that cookies, beacons, tags, and scripts are used by Ebates and Ebates' vendors for purposes of analyzing and tracking users' movements around the website, as well as for other things like order tracking and authentication.
The "Behavioral Targeting" has its own paragraph within this section where users are informed that cookies may be used to gather user information in order to provide advertising based on a user's individual interests and browsing habits.
The opt-out link is provided here: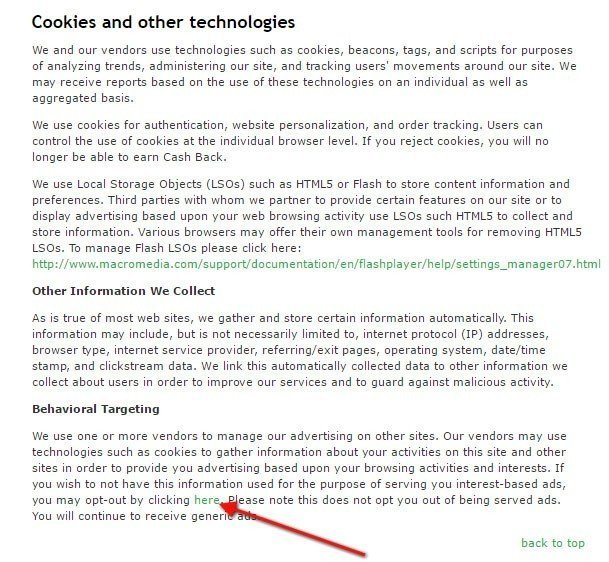 Target
Target includes links to both its Privacy Policy page and Interest-Based Ads page at the bottom of the website's pages:

While the interest-based ads information is included within the Target's Privacy Policy, this separate link adds clarity for users and helps make them aware that interest-based ads are definitely being used on Target's website: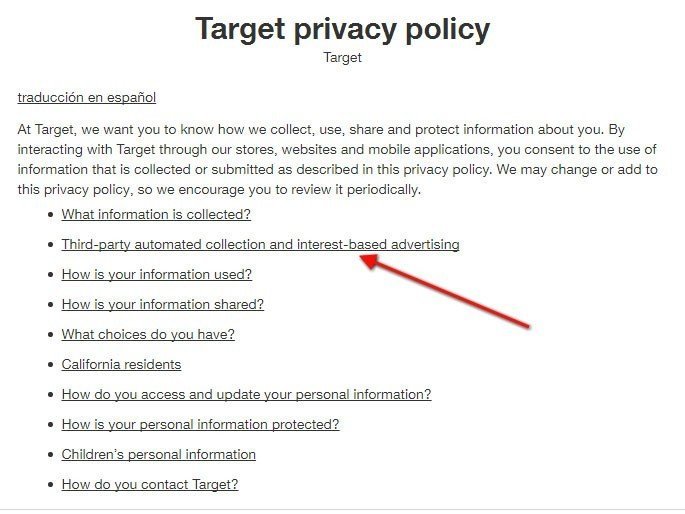 Target informs users about what types of tracking technologies it uses, including web beacons and cookies, to collect both personal and non-personally-identifiable information from users.
The policy lets users know that the information is then used to:
serve ads for Target products or services or for the products or services of other companies when you visit this website or other websites.
While Target doesn't respond to a browser's "do not track" signals, it does provide links for users to opt out of the interest-based advertising through the Network Advertising Initiative website and the Digital Advertising Alliance website.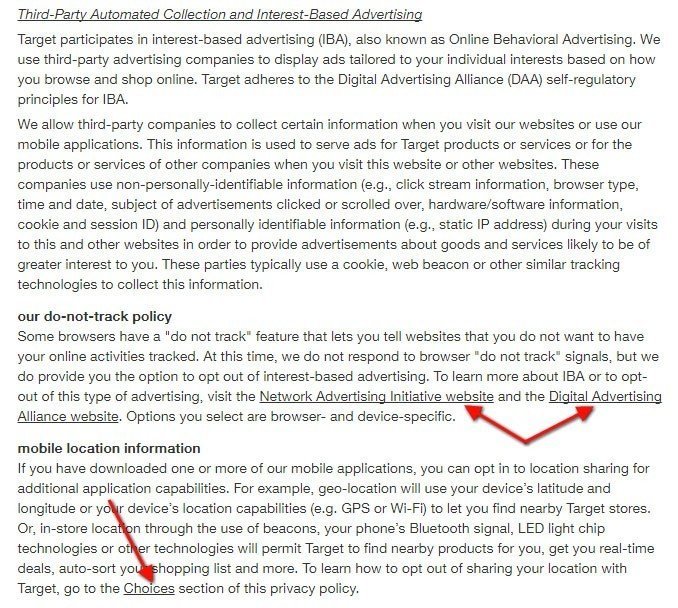 Here's an example of the NAI consumer opt-out page. Users can access all of the member companies and opt out from any or all of them easily and conveniently.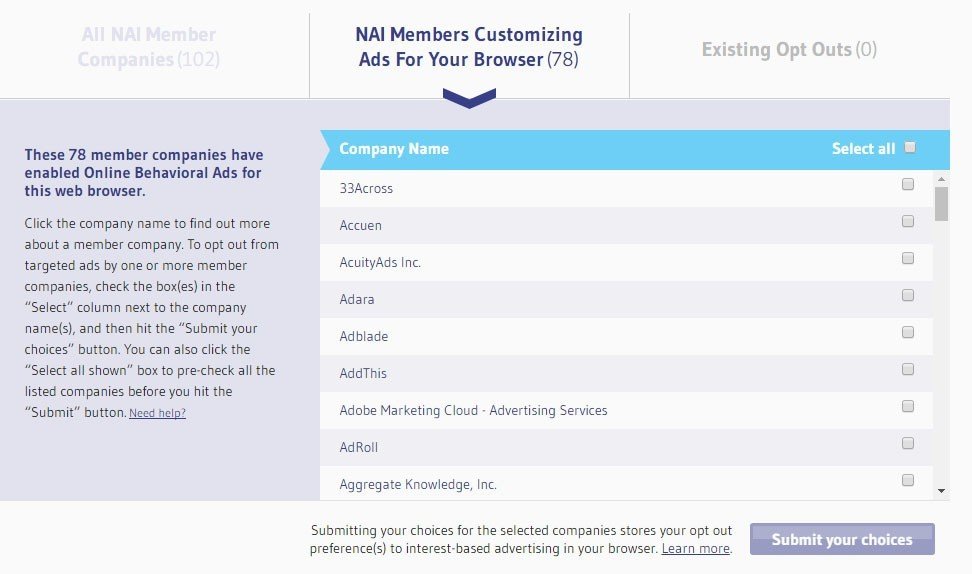 The DAA's Consumer Choice page is similar: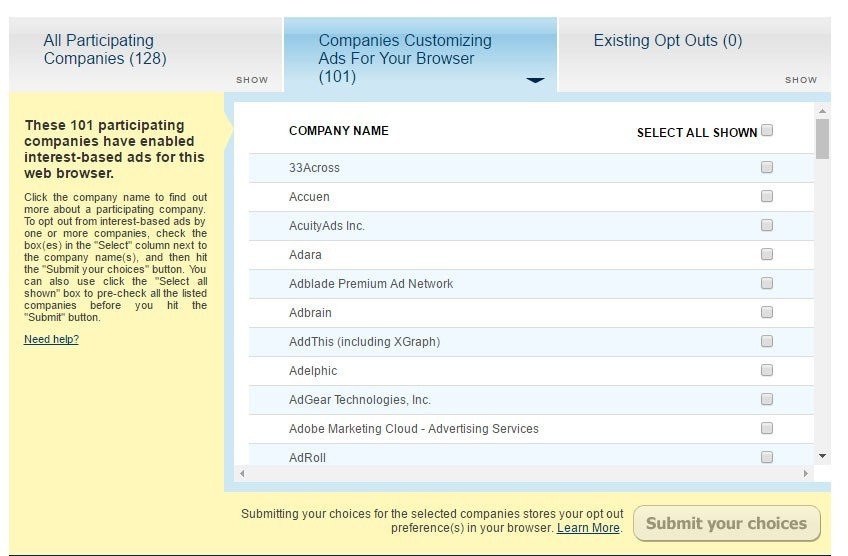 Purch
Purch includes a link to its Privacy Policy page in the website footer:

Purch's Privacy Policy mentions the collection of personal data and the use of it for advertising purposes in a number of different spots.
In the "Collected Information" section, cookies are included in the list and Purch states that "cookies may also track where you travel on any of our Websites, what advertisements and content you look at, and where you go after you leave one of our websites."

In the "How We Use Personal Information and Collected Information" section, Purch informs users that personal information is collected "to customize the advertising and content you see."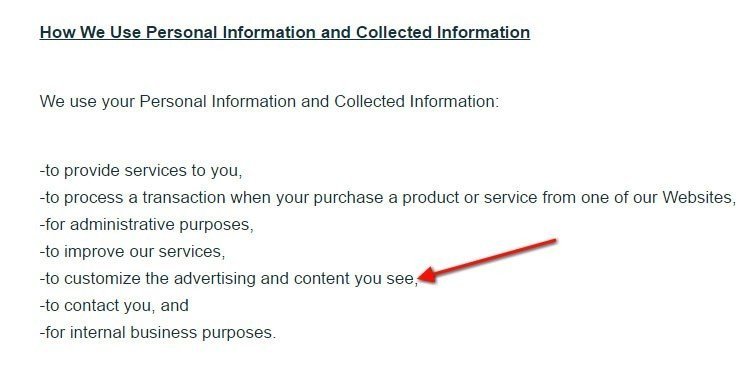 In the "How We Share the Information We Collect" section, Purch tells users that their personal and/or collected information may be shared with certain third parties in order to "determine your interests regarding our products and services, [and] create marketing programs for you and others." These all allude to targeted and interest-based advertising.

Later in Purch's Privacy Policy, there's a separate section for "Behavioral Advertising". Here, Purch outlines to users that third parties may be used to analyze traffic and serve advertisements that are targeted for users based on their individual interests: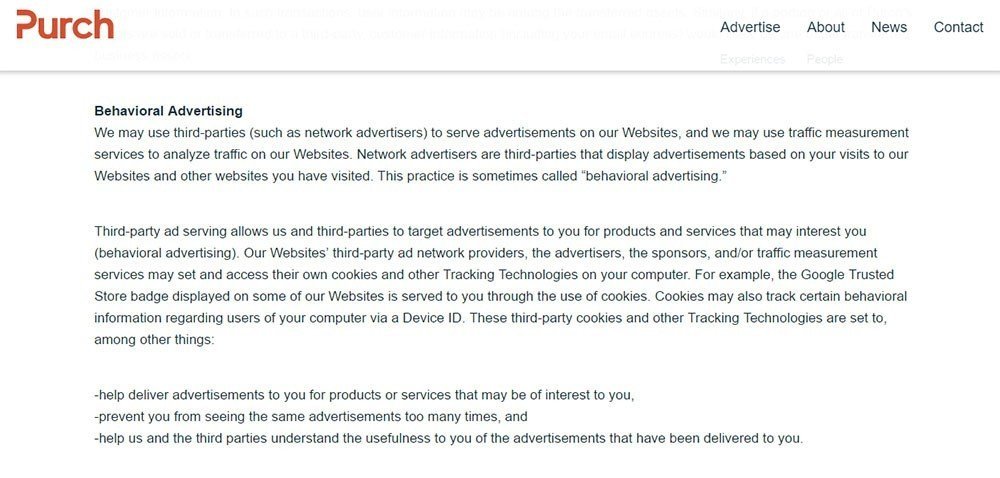 Purch then provides 5 different links to resources for users who wish to learn more about behavioral advertising and how to opt-out.

These links include 2 informative links where users can get more information before choosing to opt out of behavior advertising:
There are also three different opt-out methods provided:
OLA Cabs
OLA Cabs has a link to its Privacy Policy page in the footer of its website:

OLA Cabs' Privacy Policy outlines what information is collected from users including geographic locational data and usage information from cookies.
A separate section outlines what information is collected by mobile apps, including basic information about the mobile device such as operating systems and make and model of the device:

The only place there is a specific mention of targeted advertising in this policy is at the very bottom of the Use of Information Collected section where OLA states that it "may use the information collected from you for targeted advertising.":

There's no information there about how to a user can opt-out of this data collection.
Out of curiosity, and hoping to find this important opt-out information, I checked the OLA Terms and Conditions for Customers document and still found nothing.
This lack of opt-out information makes users essentially helpless if they aren't familiar with their rights when it comes to being able to opt out of this targeted advertising and aren't familiar with the NAI and DAA websites.
If you're using either Flurry Analytics, Flurry for Publishers, or both, remember that you need to post a Privacy Policy that does the following:
Lets users know that you're using technology (tracking pixels, etc.) that will collect, store, use and share data about how they are using your app, and
Provides users with easy to find information about how they can opt out of this tracking technology.You can include a link to the Flurry's Privacy Policy page, clearly describe the Flurry opt-out method, or provide other effective means of opting out, such as the NAI/DAA opt-out page links.
While you don't have to specifically mention Flurry, you do need to provide a way for users to block tracking, web beacons, cookies, and other methods that platforms such as Flurry and others use to be effective.

Comprehensive compliance starts with a Privacy Policy.
Comply with the law with our agreements, policies, and consent banners. Everything is included.