User Generated Content is everywhere. It has become an integral part of what the internet is about. Platforms like YouTube, Wikipedia, and Facebook - whose entire purpose involves around hosting User Generated Content - have become the giants of the web.
User Generated Content is a great way for your company to build brand awareness, interact with your customer base, and improve your website's search engine ranking. Allowing visitors to add their unique content and and creations to your website or social media pages adds real value to your company's online presence.
However, letting people have their say on your online pages comes with certain risks attached.
Without taking the appropriate precautions, you may find that you are held liable for things other people have said or done on your website. That's why it's extremely important to have a robust set of Terms and Conditions that sets out exactly what users contributing to your pages may and may not do.
(Note that a Terms and Conditions is also known as a Terms of Use or Terms of Service.)
This article will address some common legal issues that may arise when you allow User Generated Content and how you can help prevent the issues.
Our Terms and Conditions Generator makes it easy to create a Terms and Conditions agreement for your business. Just follow these steps:
At Step 1, select the Website option or the App option or both.

Answer some questions about your website or app.

Answer some questions about your business.

Enter the email address where you'd like the T&C delivered and click "Generate."

You'll be able to instantly access and download the Terms & Conditions agreement.
Types of User Generated Content
You need to consider your legal position if you allow any of the following on your website:
Forum or message board posts (like websites such as Reddit)
Chat streams or social media posts (like Facebook or Twitter)
Comments (such as appear under articles on news websites or blogs)
Articles or blog posts created by users (such as on Wikipedia or LiveJournal)
User reviews (such as on Amazon)
User-contributed media (such as on Youtube, Instagram, Flickr or SoundCloud)
Anything that a visitor puts on your website or social media pages could be classed as User Generated Content. The same considerations apply to third-party content your company has chosen to share, such as guest blog posts.
How to Avoid Legal Issues Related to User Generated Content
The case of Kraft v Anheuser-Busch LLC (complaint filed in 2017) shows the risks associated with allowing User Generated Content on your company's pages.
In 2014, brewing company Anheuser-Busch asked its social media followers to submit photos for an ad campaign. The company ended up with a photo of North Carolina native Kayla Kraft wearing a fake mustache and drinking a bottle of its beer. Anheuser-Busch used the photo on posters and coasters. Kayla Kraft was unhappy with this, claiming that she only posted the picture on her own Facebook page and had not intended for the brewery to use it in its promotional materials.
Kraft pursued a lawsuit against Anheuser-Busch, claiming that the company infringed her right of publicity and violated her privacy by using her picture for its own commercial gain.
Anheuser-Busch strongly denied the validity of Kraft's complaint.
You're surely starting to get a sense of what a legal minefield this area can be, and that there can be some significant implications for companies who wish to use User Generated Content in their public campaigns.
Luckily, it's possible to easily guard against all of this in your Terms and Conditions agreement.
Preventing Unlawful or Undesirable Content

Allowing User Generated Content on your website usually means that anyone can contribute. This means that if your website gets popular enough, there's a good chance that someone will submit objectionable or unlawful content.
Copyrighted or Trademarked Content
Even if you didn't share copyrighted content or share trademark-infringing content yourself, you may be held responsible if other people do so on your website.
YouTube has to be very vigilant about policing the content of its site. Its Terms of Service expressly forbids its users from submitted material that is subject to a third party's copyright:

The Digital Millennium Copyright Act (DMCA) requires U.S.-based websites to take down content that allegedly infringes copyright. If someone believes that your website contains their copyrighted material - whether uploaded by you, or one of your users - they can make a direct request to you that it is taken down.
If your website responds in an "expeditious" (reasonably speedy) way, then you can avoid being prosecuted (thanks to the Section 512 "Safe Harbor" provision).
You should explain how people can make a DMCA request in your Terms and Conditions, or on a separate webpage that you link to your Terms and Conditions.
Here's how Dropbox explains its DMCA policy: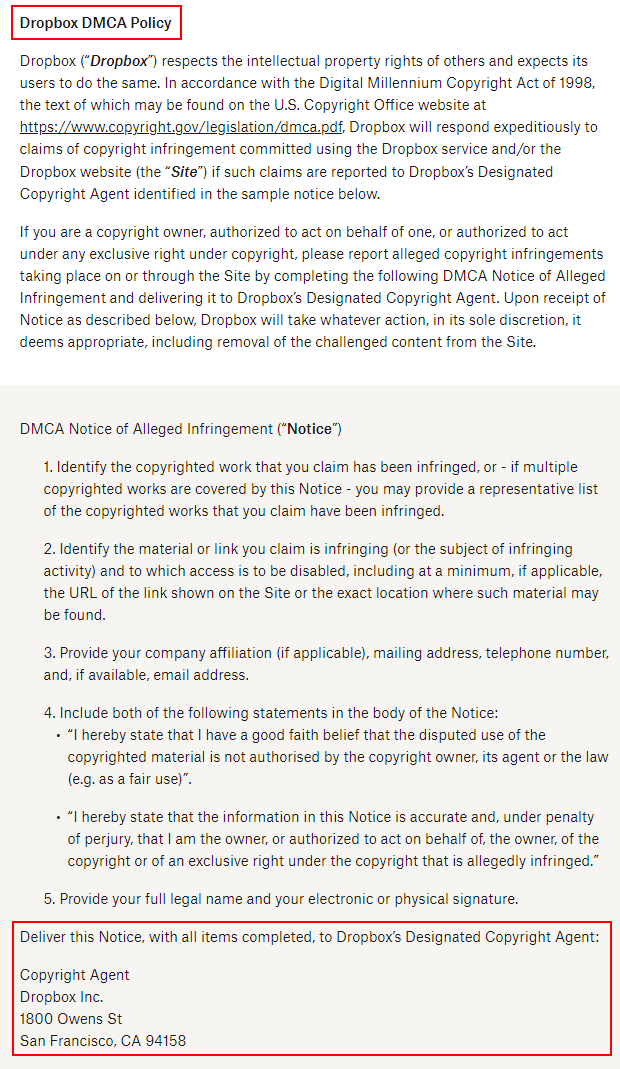 If your website isn't based in the U.S., you should still include a similar policy to the one above, without reference to the DMCA. Or, you can include some other mechanism by which copyright concerns can be reported.
Defamatory Content
The extent to which defamatory User Generated Content might potentially be an issue for your website will depend, among other things, on where you are based.
In the U.S., website owners can be protected from liability arising out of defamatory content posted by their users by law, providing certain conditions that distance them from the content are met.
In the UK, website owners can escape liability for defamatory User Generated Content under Section 5 of the Defamation Act 2013, but only if the user can be identified. This means that UK-based websites should seriously consider forbidding anonymous User Generated Content from being posted.
In Europe more generally, a decision (Delfi AS v Estonia) by the European Court of Human Rights (ECHR) saw a news website deemed liable for defamatory user comments despite having removed them.
Wherever your website is based, you should include a clause in your Terms and Conditions which forbids users from posting defamatory content.
Here's how the New York Times does this: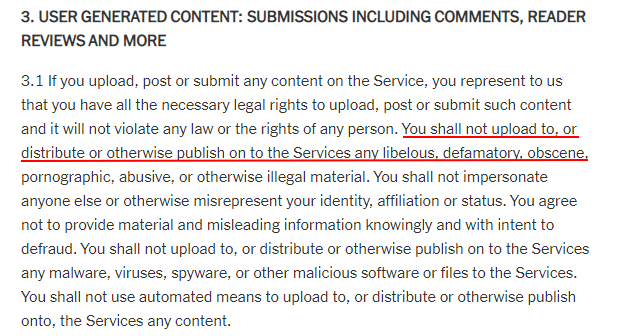 Obscene or Offensive Content and Bullying
To some extent, what you allow your users to contribute to your pages depends on what sort of community you wish to create. It's always a good idea to tell your users what is and is not acceptable content for your website.
This is not only for practical reasons. If your website is used as a vehicle for hate speech, harassment, bullying or stalking, you could be held legally liable.
Many websites produce separate Community Guidelines or an Acceptable Use Policy which sets out what sort of content they will accept.
Here's an example from Instagram: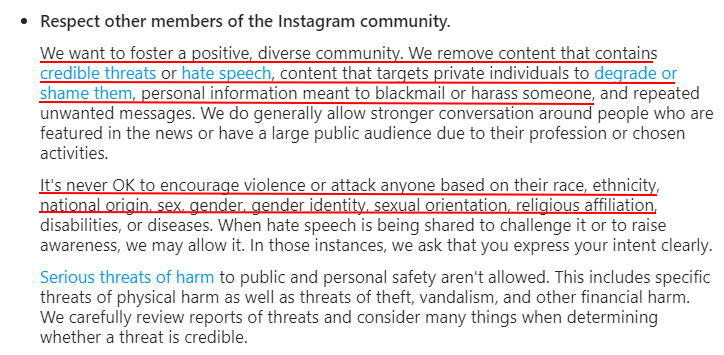 If you're planning to present your Community Guidelines or Acceptable Use Policy as a separate document, you should state in your Terms and Conditions that this policy is incorporated - i.e., by agreeing to your Terms, your users are also agreeing with your Content Policy.
Here's how Reddit incorporates its Content Policy into its terms (which it calls its User Agreement):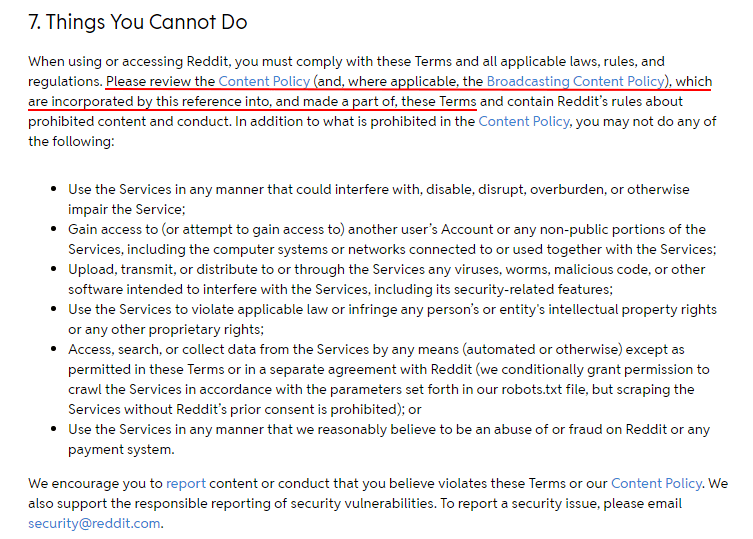 Report Function
Adding a "report" function alongside any User Generated Content is an important way of preventing legal issues arising.
This is Facebook's method: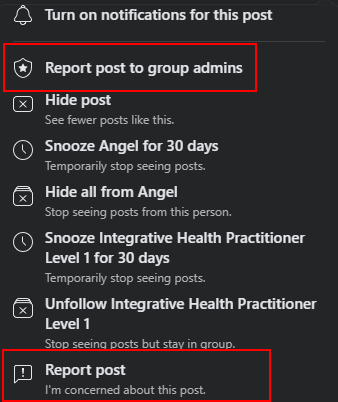 Each post comes with a menu option that includes an option to "Give feedback on this post." When clicked on, a screen opens up where you can choose feedback options including "harassment," "spam," and "violence."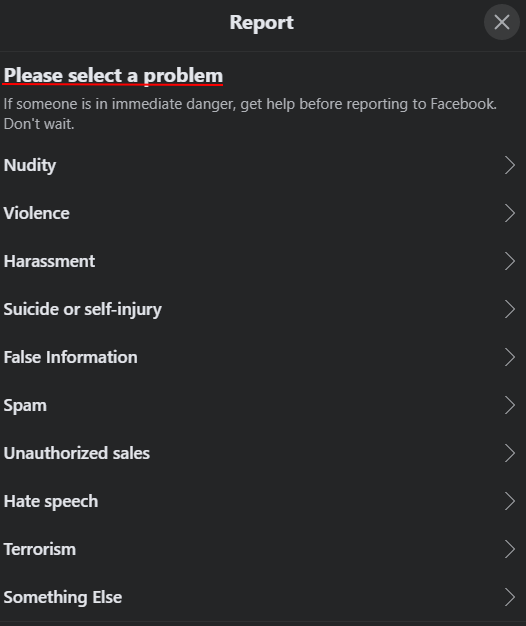 Account Termination or Suspension
You should include a clause in your Terms and Conditions which tells your users the reasons for which you can terminate their account. If you have a separate set of Community Guidelines, you can simply state that breaching these guidelines will result in account termination.
Here's how Facebook tells its users this: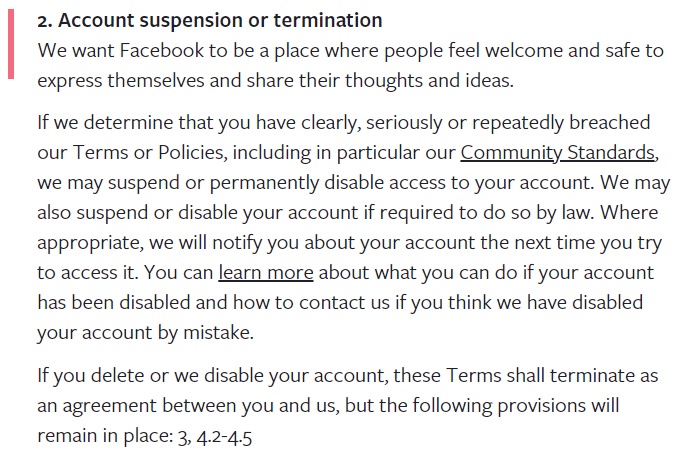 Avoiding Issues Around Users' Intellectual Property

The users contributing content to your site will, by default, own the copyright to that content. They don't need to register a copyright - copyright is automatic. This is explained by the U.S. Copyright Office:

So what gives you, the website owner, the right to display that content on your website, and profit from it?
Let's see how GitHub explains its rights in its Terms of Service: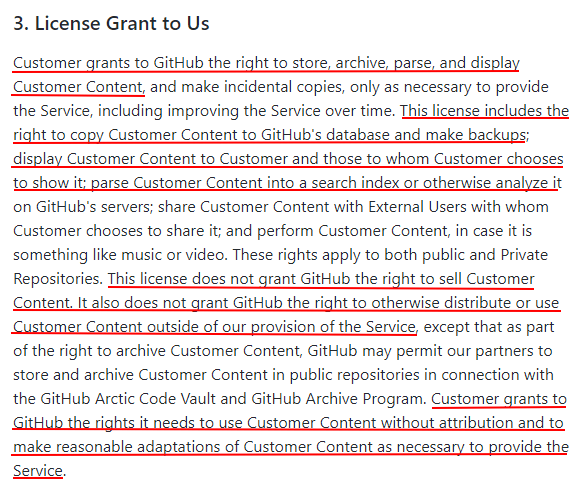 This means that users aren't giving up their Intellectual Property rights when they submit their content to GitHub. However, they are agreeing to grant GitHub certain rights to publish and share their content. Therefore, users who submit content through GitHub can't sue GitHub for copyright violation when GitHub publishes that content.
Derivative Works
In some media, users generate content by modifying a product that is already copyrighted. This is the case with video games, where users create "mods" (modifications) of the source material. This is a developing and uncertain area of Intellectual Property law.
In the case of Micro Star v FormGen, Micro Star created and sold custom maps for the video game Duke Nukem 3D. FormGen, the creators of Duke Nukem 3D, said that this was a breach of its copyright. The court decided that Micro Star's custom maps were derivative works. They depended too heavily on FormGen's original game, and so were an violation of FormGen's copyright.
It's not always clear whether a mod will represent original or derivative works. Some video game creators even encourage the commercial use of modifications and set this out clearly in their terms.
If you're planning to let your users create modified versions of your content, it will be wise for you to clearly address the issue of modification in your Terms and Conditions.
Let's look at how Minecraft explains this to its users in its Commercial Guidelines:

This means that Minecraft actually allows its users to profit commercially from their modifications of the game.
Regardless of what your stance is on this, make it clear in your Terms agreement what you allow or disallow.
Protecting Against Liability

You may feel you aren't responsible for what people say or do on your pages. Whilst you may not be able to control exactly what goes on, you may hold legal liability for anything displayed on your website.
One way of protecting yourself against any legal issues your users bring about is by including an indemnity clause in your Terms and Conditions.
To help explain what is meant by this, let's look at an example of such a clause from clothing retailer Simon's Terms of Use for User Generated Content Policy:

Here's another example from news website The Guardian:

This means that if a user breaches the website's Terms (breaks the rules of the website), and this breach results in legal action being taken against the website's owners, the user is responsible for any and all costs incurred by the website's owners.
Protecting Users' Privacy

If your website involves User Generated Content, you'll be processing your users' personal data. This means you should publish a Privacy Policy.
The requirements around what a Privacy Policy should contain will vary depending on where you're based, and who's using your website.
If you plan on accepting content from EU citizens, you'll need a Privacy Policy that complies with the General Data Protection Regulation (GDPR).
If you want to be able to accept content from California residents, your Privacy Policy must comply with the California Online Privacy Protection Act (CalOPPA).
Generally speaking, your Privacy Policy should be written in plain language, and include information about:
What personal data you collect (this could be any information that can be used to identify an individual)
How your website uses cookies
Why you need it
What you plan to do with it
How you store it and how long you'll be storing it for
Who you might share it with (e.g. whoever provides your online store)
How your users can ask that their personal data be deleted or changed
What procedures you have in place to keep your users' personal data safe
When your Privacy Policy took effect, and how you will notify users of changes
Embracing User Generated Content
Despite all the risks associated with User Generated Content, allowing your customers to get more involved in your website or brand is too good an opportunity to miss.
Just make sure that you have a well-constructed set of Terms and Conditions that does the following:
Forbids your users from posting copyrighted or trademarked content that they do not own
Explains how concerns about copyright infringement can be reported to you

This should comply with the DMCA if your website is based in the U.S.

Forbids your users from posting any material you don't want on your website or social media pages, particularly if it involves:

Hate speech
Threats
Harassment and bullying

Explains how such material can be reported to you
Sets out the reasons that users' accounts might be suspended or terminated, or their content might be removed
Forbids your users from posting defamatory content

You may wish to consider preventing your users from posting anonymously, particularly if you're based in the UK

Grants you the right to use your users' Intellectual Property.

If your users are creating content derivative of your own copyrighted material, set out the terms on which they may use that content

Contains a clause protecting or indemnifying you from any liability for your users' content
Directs users to your legally compliant Privacy Policy

Comprehensive compliance starts with a Privacy Policy.
Comply with the law with our agreements, policies, and consent banners. Everything is included.