An "All Sales Final" Policy is a policy that declares that you do not accept returns and don't issue refunds. In essence, all sales are final. While it's possible to have an "All Sales Final" Policy that does not allow refunds or returns, all over the world put limits on these policies that keep them from applying to all situations.
This article will give you an overview of laws that affect "All Sales Final" Policies and how to draft one that is fair to customers and meets all legal standards.
Use our Return & Refund Policy Generator to generate a Return and Refund Policy for your store. Just follow these steps:
At Step 1, select where your Return & Refund Policy will be used.

At Step 2, add information about your website/app and business.

Answer some questions about your business practices.

Enter an email address where you'd like to receive your Return and Refund Policy and click "Generate."

Done! You'll be able to instantly access and download your new Return and Refund Policy.
What is an "All Sales Final" Policy?

An "All Sales Final" Policy is a very limited Return and Refund Policy. It is often used when merchants sell items at a loss (like in clearance sales) or make custom goods. Retailers also post them if they sell items that are known to be defective but alert customers to that fact.
These policies state that refunds and returns are not possible--meaning once a customer buys a product, they have no remedy to return it for a replacement or refund. Sometimes, merchants will accept returns and issue refunds if damage occurs in shipping or if a product was given as a gift and the recipient prefers something else.
Once they purchase an item under an All Sales Final Policy, customers have no remedies if they change their mind or find it does not fit their purposes. However, if the product is defective, they may have a remedy under the law, depending on where they live.
Relevant Laws for "All Sales Final" Policy
There are no laws in the world that require a liberal Return and Refund Policy. Merchants can limit these practices as much as they desire. However, there are limits to what they can refuse for a return or refund.
"All Sales Final" Policy in the U.S.

All Sales Final Policies are not prohibited under federal or any state law. As long as the policy is clear and in writing, retailers do not have to issue a return or refund except when a product is defective.
If a merchant has an All Sales Final Policy, it must be in a clear and conspicuous place in a storefront or website. Placing the limitation on receipts or invoices is not conspicuous enough, especially since customers will not see the prohibition until after their purchase.
Common practices include large signs posted at cash registers or if on a website, larger and more colorful fonts to bring attention to the issue.
Here's how a store can let customers know that all sales are final with a sign near the registers.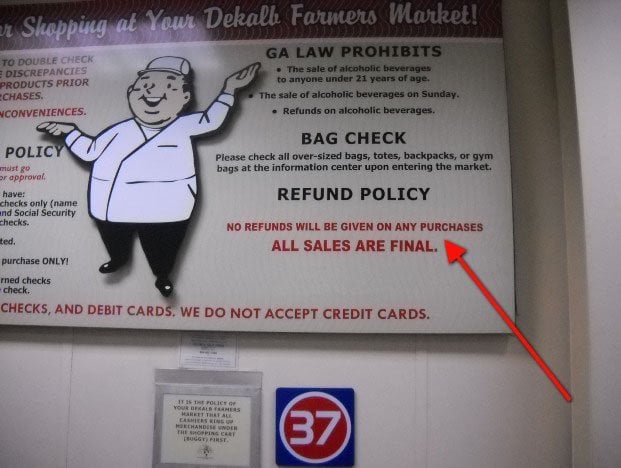 Here's an example of how a final sale policy can be communicated to customers using bright colors, large font and clear language.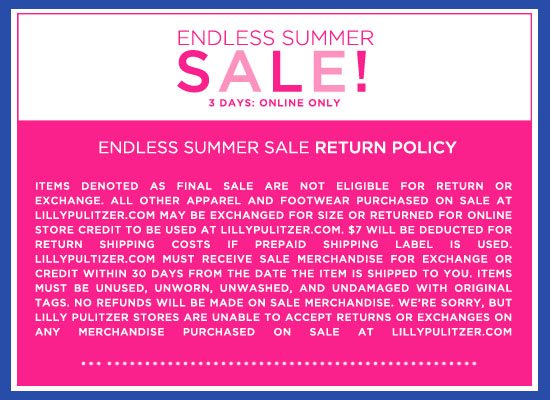 California has more detailed consumer protection laws than other states. In California, any retailer with a All Sales Final Policy must display a conspicuous sign. This goes for all return and refund limitations. If a merchant fails to follow this rule, they must honor all return, exchange and refund requests.
"All Sales Final" Policy in the U.K.

All Sales Final Policies are allowed in U.K. stores because a Return Policy is not required. If this is the case with your storefront or website, you must communicate limits clearly to your customers through signage or a clear policy on your website.
Even if you have an All Sales Final Policy and post it conspicuously, you cannot apply it to all cases. Stores must allow returns or refunds in the following situations:
If the item is defective,
If the item does not match its description, or
If the item fails to perform as described
If you face any of these situations, you may have to honor the refund or return request.
However, if a customer changes her mind or clothing fails to fit because a customer picked a wrong size, you can enforce your All Sales Final Policy.
Also, you can face fines if you misrepresent consumers' rights. The best way to avoid that is to post something like "All Sales Final. This policy is offered in addition to your legal rights."
"All Sales Final" Policy in Australia

In Australia, merchants are not allowed to enforce All Sales Final Policies in all cases. While one can be enforced if a consumer changes his mind or finds the item at a lower price somewhere else, it does not apply if a product or service has problems or defects.
Even if you sell an item at a loss, you must at the least offer to repair or replace it, even if you post a conspicuous All Sales Final Policy. Failure to make good on defective items and ban returns and refunds no matter the situation is illegal in Australia.
"All Sales Final" Policy in Canada

Like the other jurisdictions, Canada does not require that merchants accept returns or issue refunds under all circumstances. If you have an All Sales Final Policy, it must be posted so customers see it before they buy.
Any retailer may face the situation where a customer requests a return or refund due to a flawed item. Unlike the other jurisdictions listed here, merchants in Canada are not required to honor these return or exchange requests, even when the products are damaged through no fault of the consumer. However, many retailers allow these exchanges anyway because it preserves goodwill with their customers.
Displaying an "All Sales Final" Policy
If you decide to enact an All Sales Final Policy, you need to put it where customers can find it. Consumers are accustomed to seeing this information in your Returns Policy. If you provide a clear link to that policy, chances are they will learn about your All Sales Final approach.
Papichulo Style has a link to its Refund Policy in its website footer: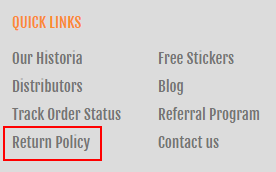 Starting your Refund Policy off with any All Sales Final Policy information is the most prudent course of action as this may be the most important piece of information for your customers, as Papichulo Style does.
Brick and mortar storefronts keep it brief because people do not have time to read pages of policy while waiting to pay for an item. Signs at cash registers are common and communicate the idea well.
This example was posted on a Yelp review: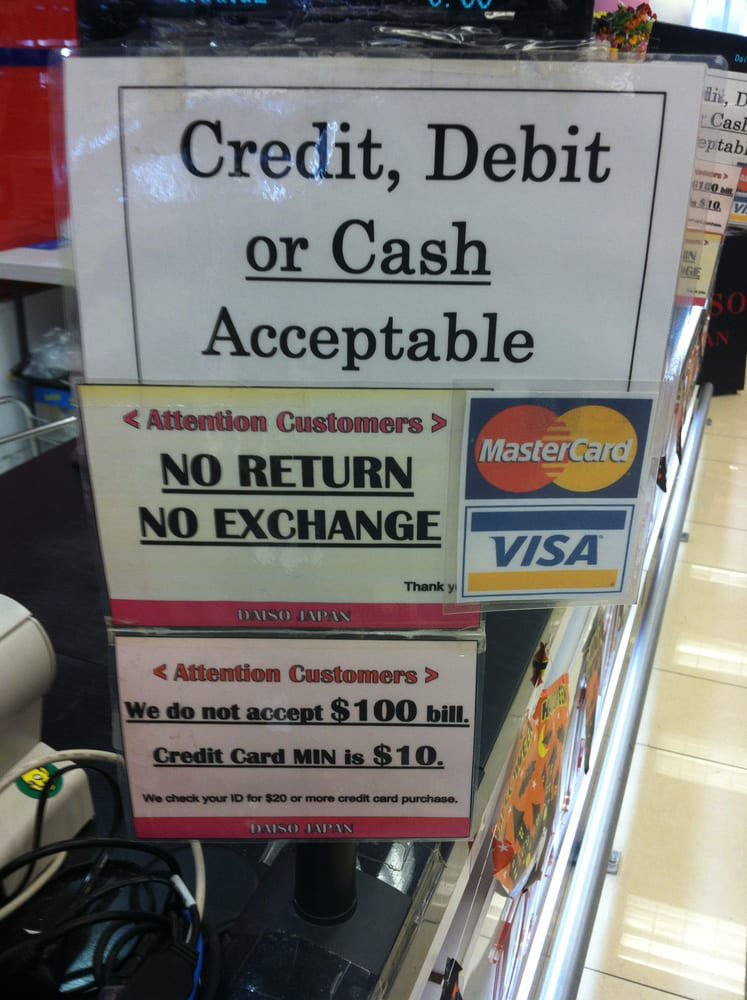 Far more detailed All Sales Final Policies are found in online stores. Online purchases are more sensitive than in-store ones. Customers rely on an online description and often make an educated guess as to whether a product works for them. Also, they are unable to inspect items on site for defects, unlike when shopping at a storefront.
That is why an All Sales Final Policy in a storefront can be as brief as "All Sales are Final." Online Return Policies require more detail, especially if your jurisdiction is strict about how you communicate this.
Me Boutique has an All Sales Final Policy, but it also has further details about special, specific situations where refunds or exchanges may be offered.
It starts off by saying that all sales are final, and to please be sure about any purchases you place:

It then goes into how refunds and exchanges will be handled, stating its requirements and timeframes:

Any refunds must be approved before issued. This helps the business keep full control over any refunds it may issue, right up to the point of deciding to approve one or not:

If you find an All Sales Final Policy works best for your business, this can be a good example to follow that allows for flexibility while also giving you full authority to not issue refunds.
Summary
If you decide to not offer refunds and have an All Sales Final Policy in place, you can do so. You just need to make sure you include all the important information and display your policy appropriately, where your users can easily find it.
An All Sales Final Policy becomes enforceable through communication. You can enforce it if you make allowances for defective products and you inform customers before they purchase. Your policy is not enforceable if your customers can never find it.
That makes visibility the key to these policies. By making your All Sales Final Policy conspicuous, you are not only able to enforce it under most circumstances but the clear communication is appreciated by your customers.

Comprehensive compliance starts with a Privacy Policy.
Comply with the law with our agreements, policies, and consent banners. Everything is included.