The use of all capital letters (All-Caps) in legal agreements is a time-honored tradition that extends into the digital age. Once it became accepted as a means to make important contract language conspicuous, it became commonplace and even with new formatting options, it is still used today.
While you may wish to use All-Caps in your online agreements, you can take new approaches too. The important part is to make your terms clear, especially if they adversely affect the rights of your users. Here is how All-Caps is used on online agreements as well as some drafting tips on making terms conspicuous.
Why All-Caps?
The use of All-Caps in contracts arises from legal interpretation, typesetting abilities, and tradition. Even though some of the circumstances that made it necessary no longer exist today, All-Caps continues to prevail.
Law
During the 20th century, the United States looked to promote uniform laws. National bar associations pursued this goal by publishing books of suggested laws. These were referred to as uniform codes and one of them was the Uniform Commercial Code or UCC.
The UCC was first published in 1952 with updates following every five to 10 years. It continues to be updated today with the latest update issued in 2012. The code is considered a standard for state laws addressing commercial transactions, including their contracts.
When states started passing their own versions of the UCC, court cases regarding contract interpretation became common. One issue included conspicuous contract language.
In its definition section, the UCC defines conspicuous as follows:

The sub (A) in this definition was taken literally. Attorneys argued and courts agreed that using All-Caps on important provisions made it conspicuous. It became common practice to draft important contract provisions in All-Caps to meet this standard.
Typesetting limits
The preference to All-Caps also had a technical reason. In 1952, document formating was limited and word processing technology changed little until the mid-1980's. Not only was All-Caps specifically mentioned by the UCC but it was actually the easiest way to make provisions conspicuous.
IBM Selectric typewriters increased productivity but their abilities were limited. While some models had the ability to underline, using All-Caps was an easier way to present contract provisions. All-Caps involved less labor and did not reduce typing speed as much as the several steps required for other formatting options.
Options expanded since the introduction of word processing and HTML. In addition to All-Caps, there is now bold, italic, and color font available in any word processing platform. While All-Caps remains a standby for specific provisions, it is not uncommon to see developers draft agreements using other ways to emphasize language.
Even with options, All-Caps is likely here to stay. It is easier to stick with previous formats when updating agreements. However, since the UCC, contract law, and privacy regulations only emphasize conspicuous language, there are deviations from this tradition.
All-Caps provisions in online agreements
A tradition that started with limited technology still arises with online agreements, including Privacy Policies, Terms & Conditions (T&C), and End User License Agreements (EULA). These are examples of language where users find All-Caps.
Privacy Policy
Unlike other online agreements, Privacy Policies are required by law. Developers, web site owners, and retainers must have a Privacy Policy and make it accessible to users if they personal information. Terms are accepted with clickwrap when users create an account or make a purchase.
Despite this being an important online agreement, it is uncommon to see any provisions in All-Caps. When it does happen, it is done for emphasis. The language that gets emphasized depends on the preferences of developers.
Niantic, creator of Pokemon GO, provides an example of this practice. As its games contain a large user base and updates are frequent, the company decided to emphasize the possibility of revisions to its Privacy Policy.
It starts off on this idea at the beginning of its policy and using All-Caps:

You may have similar preferences, especially if you run a website or app that handles especially sensitive personal information. However, rest assured that this is only a preference and not a requirement.
Terms & Conditions
All-Caps arises more frequently in Terms & Conditions (T&C), which may also be called Terms of Service or Terms of Use. You find it most commonly with limitation of liability and warranty disclaimer provisions, although other terms may use it as well.
General emphasis
Much like with the Privacy Policy example above, developers frequently choose to emphasize only specific portions of their T&C. Once again, preference comes into consideration.
The Canadian Association of Public Schools--International uses All-Caps to remind users to read the T&C. All-Caps and bolded text draw attention to this:

Pandora lists allowable uses in its T&C but places this statement in All-Caps:

Sometimes provisions are emphasized because a website or app presents a unique risk. OKCupid is a dating site and devotes a section to personal safety. It uses All-Caps and color text to warn users: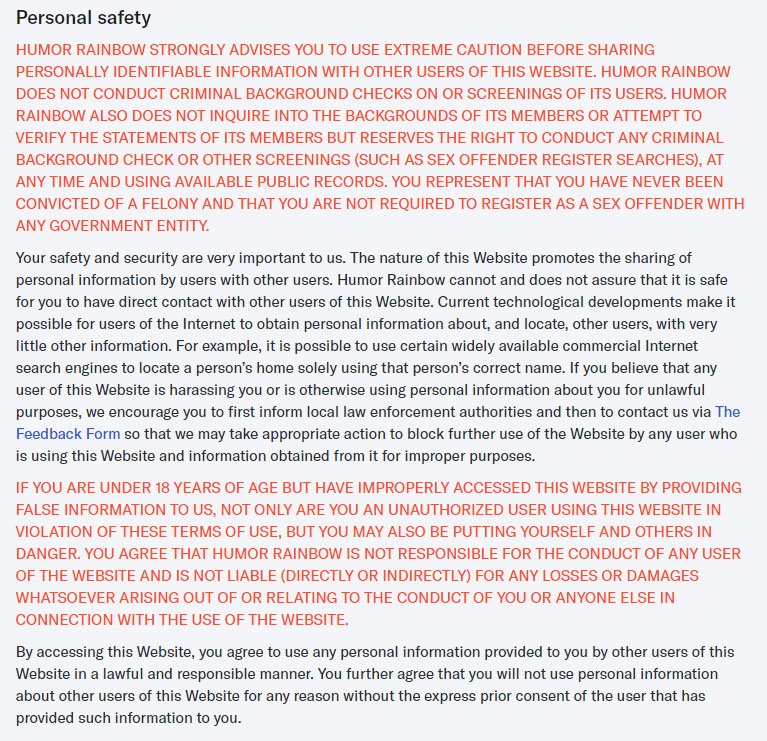 The same practice is also an option with your T&C.
Limitation of liability and warranty disclaimer
Developers add limitation of liability and warranty disclaimer language because the online world is full of uncertainty. Without these clauses, developers risk paying damages to users if their systems shut down, functions fail or other users misuse the website or app.
The general limitation of liability provision is frequently presented in All-Caps. It addresses cases of system failure and other circumstance beyond a developer's or website owner's control. The Guardian has this provision in its T&C and keeps it in All-Caps:
Warranty disclaimers are usually in All-Caps too. Facebook places its warranty disclaimer in a section in its T&C about disputes. While the section is not entirely in All-Caps, the language involving warranty disclaimers is: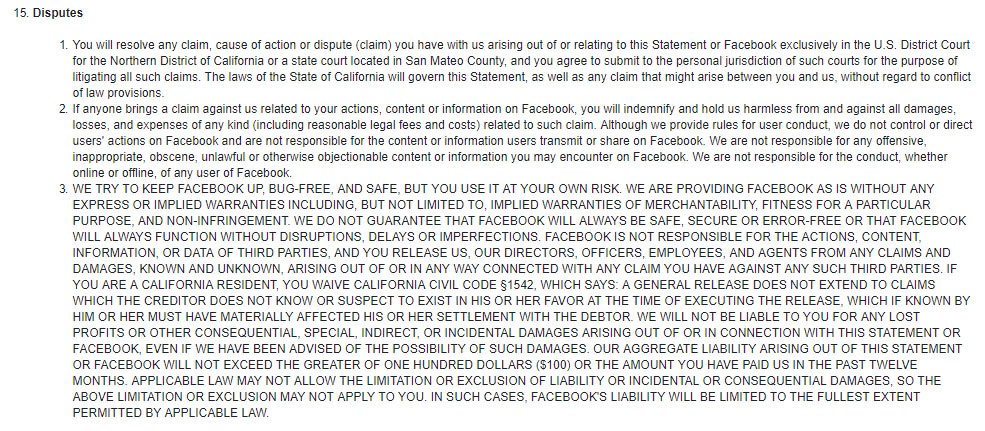 Twitter takes the same approach. Using standard All-Caps limitations of liability is a common practice with social media platforms although Twitter also includes a monetary damages limit: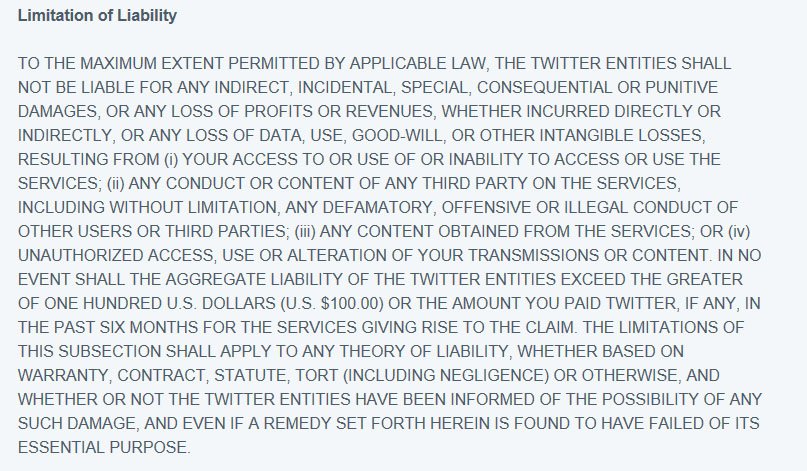 The same is true with its warranty disclaimer, although like Facebook, it only uses All-Caps for the disclaimer language: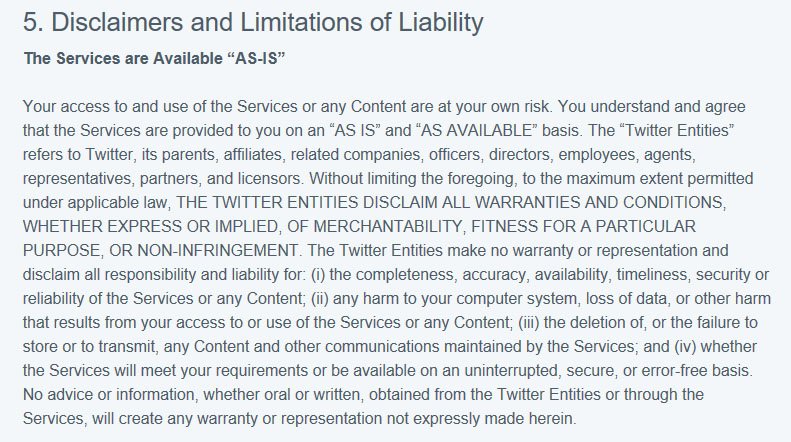 Since limitations of liability and warranty disclaimers limit user rights and can result in liability if they are not conspicuous, All-Caps is the prudent choice. Users are used to important language being capitalized and businesses do it because it works for communication and holds up against legal challenges.
End User License Agreement (EULA)
All-Caps language appears in EULAs for the same reason as in T&C. Like the T&C, it reflects developer preference and a desire to avoid liability.
General emphasis
Obtaining acceptance of the EULA is a common reason to rely on All-Caps. McAfee does this at the beginning of its EULA:
Rovio, the creator of Angry Birds, takes a similar approach. It mentions that the games are licensed, not sold, and clarifies that installing the games accepts the terms of the EULA:

It is also possible to find All-Caps used because a particular developer found the language important. One example is Rovio's no-refund policy:

Rovio also emphasizes its dispute resolution and contact information language: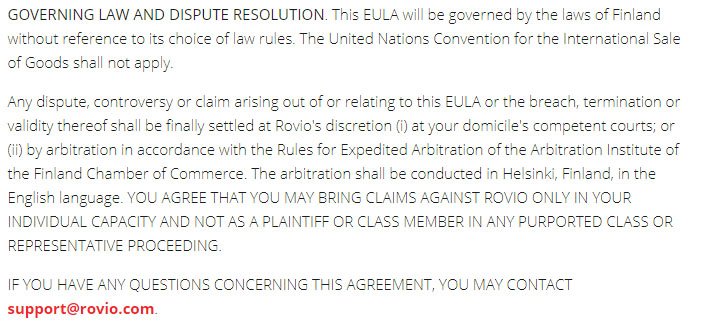 It is likely you will also have similar preferences for All-Caps. However, many developers reserve it for protecting themselves from liability.
Limitations of liability and warranty disclaimers
As with the T&C, it is difficult to enforce limitations on liability and warranty disclaimers unless the language is conspicuous in your agreement. All-Caps is one way to assure that your language is conspicuous.
Rovio takes this approach on its warranty disclaimer: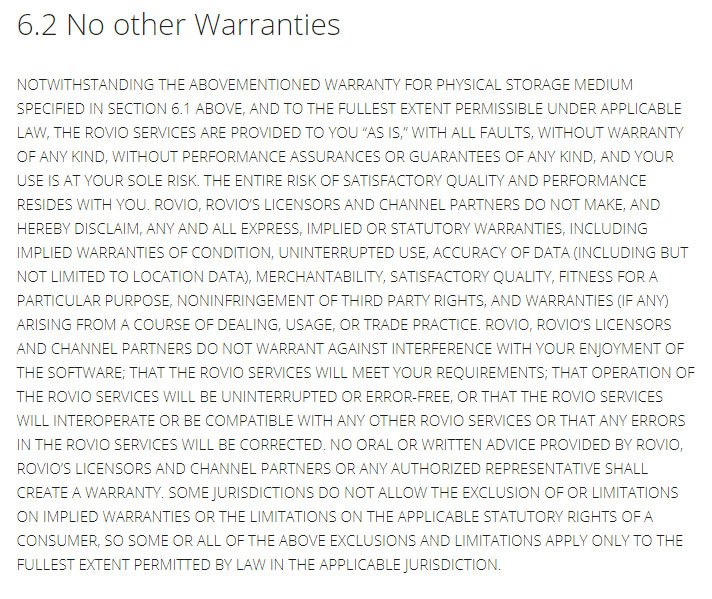 The same is true with Rovio and its limitations of liability: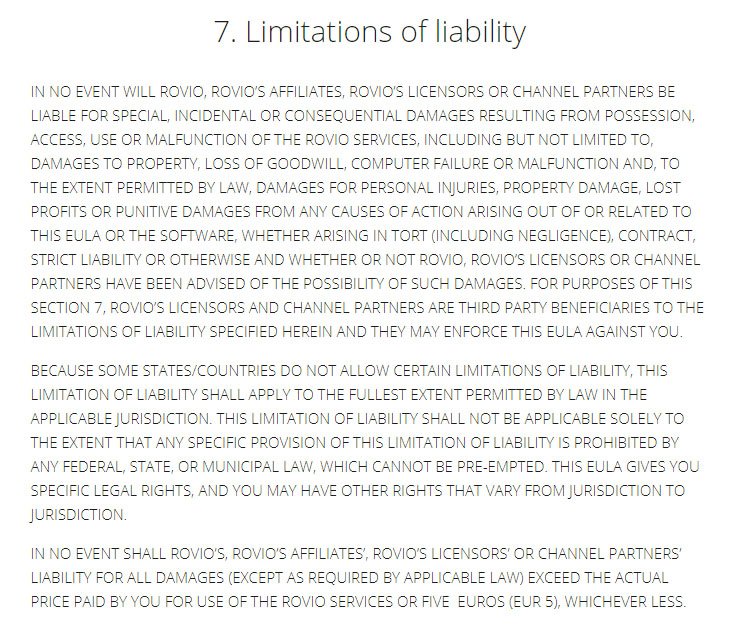 Rovio uses general disclaimers and limitations, but other developers look for more specificity. McAfee, a distributer of virus scanning software, understands that users rely on its products heavily and that the world of computer viruses is always changing. This situation gives rise to many opportunities for McAfee to be liable for damages.
So, it addresses this issue more specifically. It uses All-Caps to disclaim warranties and limit its liability, but also describes possible risks: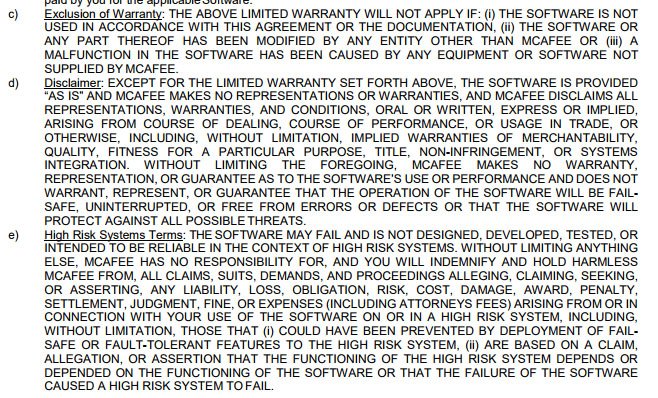 One unique attribute of McAfee's software is that it can work differently on each user's system. This is another specific limitation that receives the All-Caps treatment:

When an EULA is involved it is because users download the software to their devices. That creates greater reliance on its functions which requires heightened liability protection. If you have an EULA instead of a T&C, feel free to use All-Caps liberally when discussing liability and warranty limits.
Possible alternatives
While All-Caps are standard, there are other ways companies make their agreements more conspicuous. This is becoming more common as most online agreements are made to be read online rather than printed.
This is a welcomed development since in many cases language is easier to locate and some developers add summary statements to help users understand. It makes it much more difficult for users to question whether language is conspicuous.
Twitter adopts this method with its Privacy Policy. It features colored fonts, the use of bold headings, and a quick summary note so a user can find this section quickly: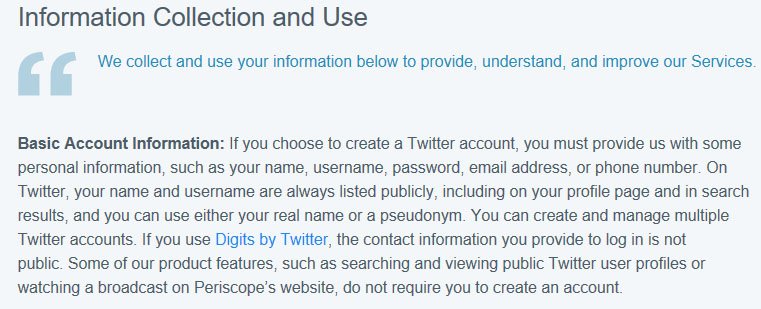 WordPress is also creative with its presentation. In its T&C, bold headings and highlighted text emphasizes these important provisions: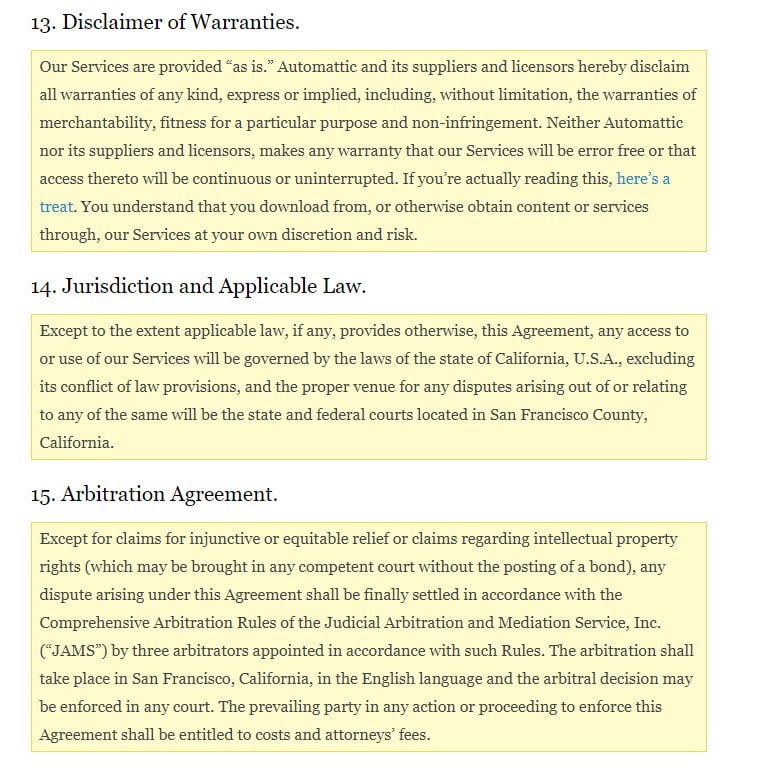 Sometimes, a developer opts for the simple approach. Pandora does not use color or All-Caps in its Privacy Policy, but it emphasizes important sections in bold. This is also very noticeable to users: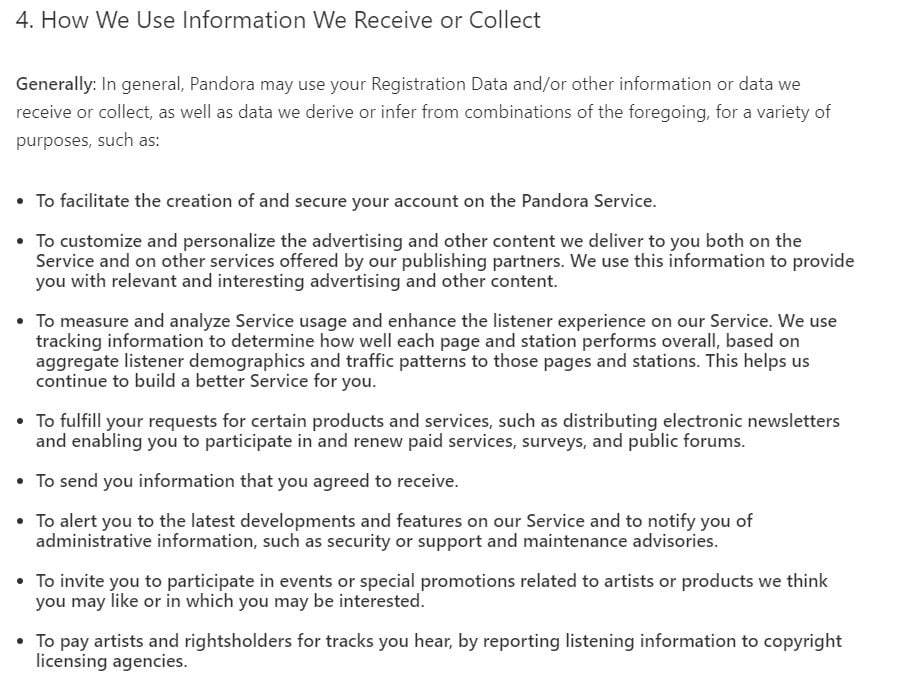 While All-Caps is a traditional way of emphasizing conspicuous language, and continues today through habit and easier updating, you still have options. If you are drafting a fresh agreement instead of changing a previous one, it is only important that provisions stand out. Colored fonts and highlighting are effective, but if you wish to rely on a old standby, All-Caps remains a viable option.