Written by
Widener University School of Law graduate, Managing Legal Editor at TermsFeed.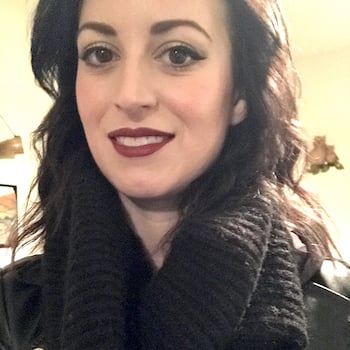 If you develop software applications, an EULA (End-User License Agreement) will be a very important and advantageous legal agreement for you to include with the distribution of your software app.
An EULA is essentially a contract between the software developer or publisher (the company creating the application), and the end-user (the user using the application). A similar type of agreement can be found for websites, but it's called Terms & Conditions (also known as Terms of Use or Terms of Service) instead.
This kind of legal agreement grants a user a license to use the app and presents important terms, restrictions on use, limits on liability of the software developer to the end-user, and other useful clauses.
Our EULA Generator makes it easy to create an EULA. Just follow these steps:
At Step 1, select the Desktop app option and click "Next step":

Answer some questions about your app.

Answer some questions about your business.

Enter the email address where you'd like to receive the EULA document and click "Generate."

You'll be able to instantly access and download your new EULA.
The user must agree to the terms of the EULA before being able to install or access the software. This example from the Adobe Flash Player application shows how desktop apps commonly force users to accept the EULA before installing or updating the software application.
The user must check the box that marks that a user has read and agrees to the terms of the agreement before the "Install" button becomes active and installation can occur. This ensures that users are held to be in agreement with the terms of the presented EULA before they are allowed to continue installing the Adobe Flash Player software: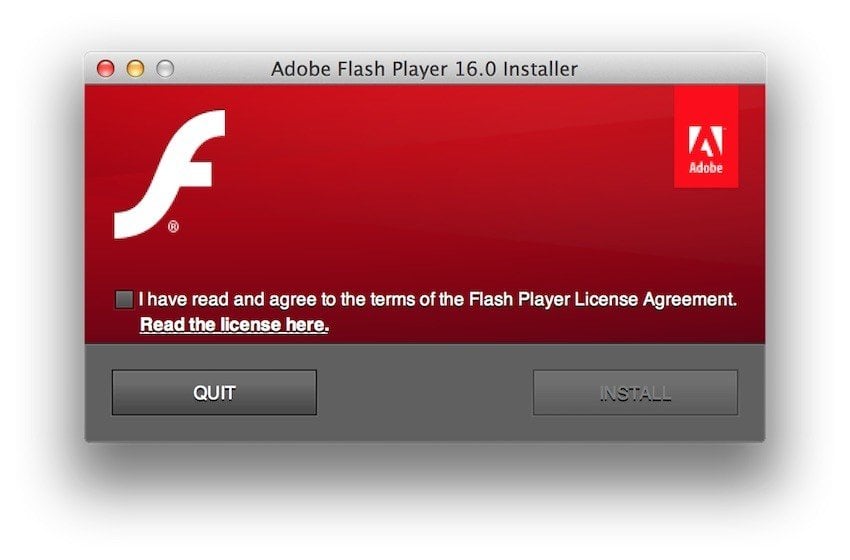 Mobile apps also use EULAs. Below is an example from the BullGuard Mobile Backup app. Before installing and using the backup software, a user must tap "Accept" on her mobile device to accept the terms of the legal agreement.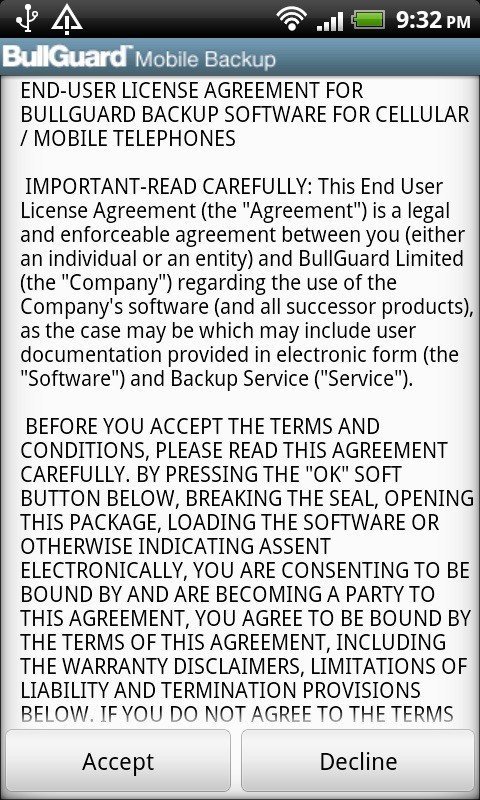 There are a number of main advantages to software developers when it comes to having this legal agreement with your software app.
Here are 5 main advantages that will demonstrate why you really do need an EULA with your software app, regardless if it's a desktop app or a mobile app.
The EULA licenses your app to the user but doesn't sell the app to the user
Providing a license to your users that allows them to use your app according to your limits and restrictions rather than providing them with full ownership of the app allows you to maintain far more control over the distribution and use of your app.
This is very important for enforcing other terms and conditions you may wish to include with the use of your app, as you are setting the stage for how a user will be able to interact with your app by granting them a license that comes with terms of use.
In the example below from Apple, the very first sentence states that "the Products transacted through the Service are licensed, not sold, to You for use only under the terms of this license..."
This lets a user know that a license to use is all that is being granted and that the license must be used according to the terms of the rest of the agreement.

Here's another example of a "License Grant" clause in a standard EULA. The clause states clearly that a revocable and limited right to install and use the app is granted:

An EULA restricts certain abusive uses of your app
One of the main advantages to any sort of legal agreement, such as a Terms and Conditions or EULA, is that you can use these agreements to restrict undesirable uses of your app.
For example, you can explicitly say that your app cannot be used for activities that are illegal, or that involve spamming other users, hacking servers, screen scraping, reverse engineering, or other undesirable activities.
You are also able to maintain the right to revoke the granted license if a user is found to be violating your legal agreements by engaging in any of your restricted uses.
Below is an example of a "Restrictions on Use" clause in another standard EULA. This clause is where you can include all of the restrictions for using your app.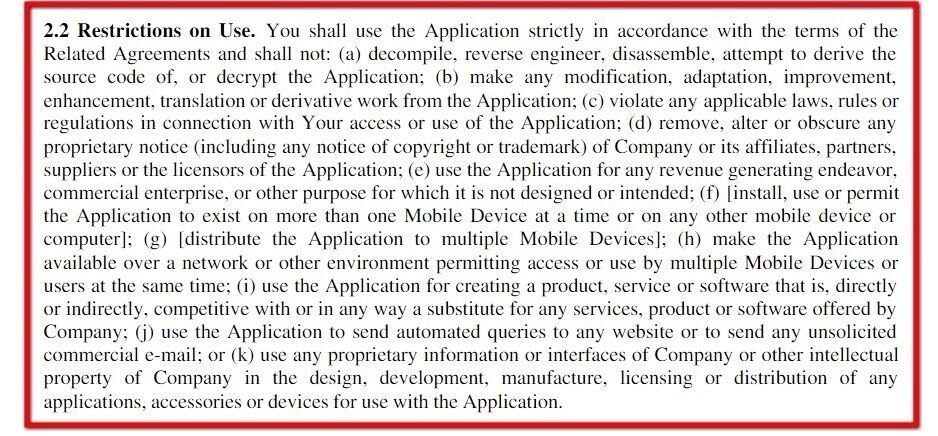 An EULA allows you to limit your liability
As a software developer, limiting your liability is very important. If you don't do so, you're potentially opening yourself and your business up to lawsuits, many of which may be frivolous but still time-consuming and financially burdening.
For example, if someone installs your mobile app and her mobile device crashes because of the installation, she potentially may try to sue you to replace or repair the device.
By explicitly limiting your liability in your legal agreements (or any in other legal agreements) where applicable, the woman in the above example wouldn't be able to sue you for the damage caused to her mobile device because when she agreed to your EULA before installation of your app, she essentially assumed the risk that came with installation.
Below is an example of a general "Limitation of Liability" clause.
Note how it's very broad and limits the liability of the company, affiliates, partners, suppliers, licensors, etc., and covers "indirect, incidental, consequential, special or exemplary damages arising out of or connection with" use of the app.

An EULA allows you to disclaim warranties
When someone installs your app, that user may have expectations that you will not actually be able to meet, such as 100% up-time, or zero bugs in the coding of the app.
A "Disclaimer of Warranties clause in your EULA allows you to provide your app license and app on an "As Is" and "As Available" basis, and places the general risk and discretion of use on your users.
For example, if you have a business intelligence software app that tracks sales for a company and your servers are down for a period of time and sales cannot be tracked, a disclaimer of warranties will prohibit a company from holding you responsible for lost data or lost sales.
Below is an example of a general "Disclaimer of Warranties clause. Note how the "As Is" language is included, and how it is made clear that there is no warranty that "the application or third-party content and services will meet your requirements."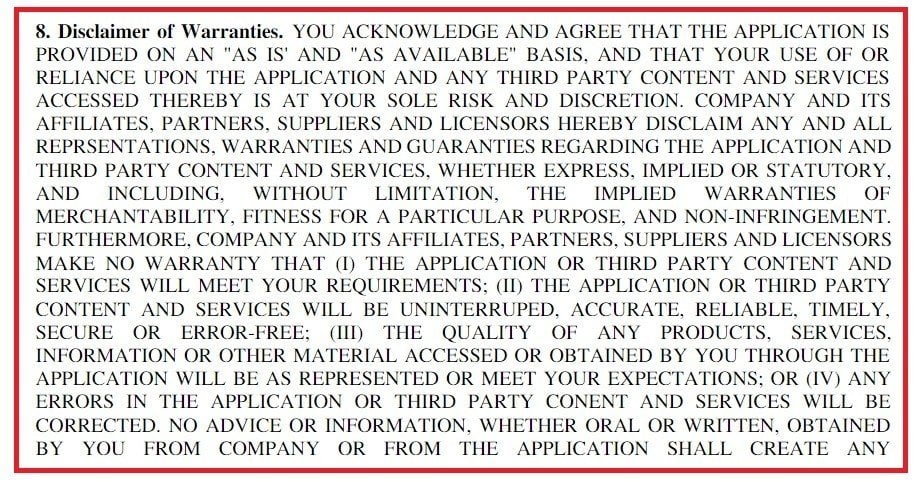 Including this kind of clause in your legal agreement for your software application will help to protect you in the likely and realistic event that your software app isn't 100% perfect, 100% of the time.
An EULA can protect your right to terminate licenses or stop operating without repercussion
While an EULA is put in place for granting licenses, these agreements are also great for maintaining your right to revoke licenses.
A clause in this kind of legal agreements that states that you may, at any time and for any reason, suspend or terminate licenses and associated rights works to maintain your full control over your app and let users know that they're not guaranteed to have unlimited and endless access to your licenses and will be a clause you can simply point to in the event a dispute arises about a revoked license.
Below is an example of a short but complete "Termination" clause in another standard EULA. It maintains your rights to revoke a license at any time and for any reason and provides that a user will cease use of the app and remove the app from his device.
Having an EULA provides many advantages for a software developer who wishes to distribute licenses to use an app and yet still maintain control over the app and be legally safeguarded against most lawsuits.