Amazon Associates is a popular program with bloggers and small businesses. It allows the payment of referral fees through providing links to Amazon products. This is often an easy income stream for those who desire visibility and desire a benefit from reviewing products and services.
If you participate in this program, you must follow the operating agreement or risk being terminated. Also, laws require particular disclosures so you maintain a transparent relationship with users and avoid fines.
Here are the policies you need on your website if you join Amazon Associates.
Requirements for Amazon Associates
You have two sets of requirements to follow.
The first is provided by Amazon Associates, and the second includes legal requirements enforced by the Federal Trade Commision (FTC).
By Amazon
The Amazon Associates Program Operating Agreement was updated on January 1, 2018. It reads like most sites' Terms and Conditions. It explains the program, its duties to you as an associate, and the requirements for your participation.
This is not a document to overlook. If you fail to follow the requirements discussed in it, Amazon Associates may remove you from the program and you will no longer be entitled to earnings:

Section two above not only indicates that your associate account may be terminated, but also states Amazon's first two requirements.
The first requirement is that you comply with the agreement and the other program policies that include payment of fees, participation requirements, and guidelines regarding the use of Amazon's intellectual property. Most of these policies do not apply to most associates but it is a good idea to review them.
The second requirement is to prepare to prove your compliance if Amazon requests it. In these instances, the company seeks specific information or documentation. If you face this situation, your best course of action is to cooperate and fix any shortcomings as soon as possible.
The most important requirement is located in section 5. This section deals with how you identify yourself as an Amazon Associate. Often referred to as the Amazon Associate Disclosure, the operating agreement offers the exact language needed to communicate this effectively:

This requirement maintains your membership with Amazon Associates but it also serves another purpose. It maintains your compliance with U.S. Federal Trade Commission (FTC) consumer protection guidelines.
By the law
When the Internet became a primary medium for products and services, the FTC passed guidelines to encourage honest advertising. If your site is available to American citizens, you need to be aware of these rules.
One area with the potential to be misleading to consumers was affiliate marketing. If website owners earned fees with each use of an affiliate link, there was a chance that a review of a product may not be entirely accurate. So, the FTC recommended affiliate disclosures so users know there is a relationship between the website owner and the product developer.
If you require an affiliate disclosure, the FTC requires that they are clear and conspicuous. You should place them near your reviews and affiliate links. Use bold text to make them stand out and even consider giving them their own page with a clear link.
A good example is provided by Wellness Mama:

You can also include your Amazon Associate disclosure with the general FTC one. Wellness Mama places its Amazon disclosure right under its general affiliate disclosure:

Adopting the same format will keep you in good standing with the FTC and Amazon. However, there are other adequate approaches to these disclaimers, and you can't forget about other essential agreements as well.
Policies you need for your site
Amazon directly requires the associates disclosure but only requires additional policies through subtle references.
Maintaining the following three policies helps you maintain compliance with Amazon's operating agreement and the law.
Disclaimers for Amazon Associates
As discussed, affiliate disclaimers and disclosures are required by the law and Amazon.
Ultimate IT Guys offers a good example of an Amazon Associates disclosure. The site maintains multiple affiliate relationships and all relevant disclosures have their own links in the site footer:

The Amazon Associates disclosure adopts nearly identical language to that described in the operating agreement:

Blog operators often take the same approach.
Karissa's Vegan Kitchen adds a link to an affiliate disclosure in the footer along with the other legal agreements for the website:

When a user follows the link, they find a general disclosure regarding affiliate links and an Amazon Affiliate Disclaimer: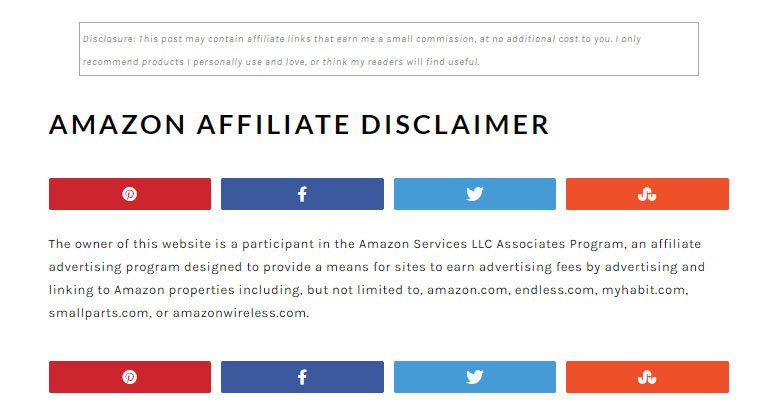 Hello Peaceful Mind labels its disclosure as an "Amazon Affiliate Disclosure" but it starts with general affiliate language to cover other relationships: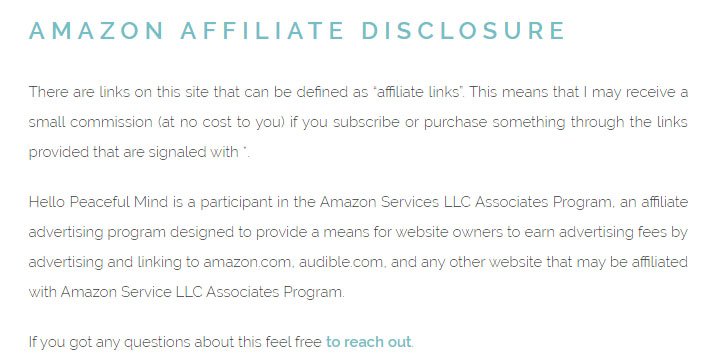 This disclosure is the most important one when it comes to preserving your relationship with Amazon and ensuring legal compliance. Treat it with the same seriousness as you would other online agreements by making it conspicuous and readily available to your users.
Privacy Policy for Amazon Associates
The operating agreement contains a provision where you promise to follow all applicable laws:
This broad provision is frequently interpreted to include privacy protection laws throughout the world.
A Privacy Policy is required in most jurisdictions. Even in the U.S. where there is no federal law on this matter, many states adopted their own laws requiring website operators to provide a Privacy Policy if they collect personal information from users.
The requirement for a Privacy Policy is more subtle. While the operating agreement does not directly require a Privacy Policy, you must follow applicable laws--including the privacy protection ones. Running counter to these laws could end your Amazon Associates arrangement.
Once you draft your Privacy Policy, there are specific provisions to consider.
Hello Peaceful Mind includes a section identifying advertising partners, including Amazon. This section also includes a link to a document that guides users to each of these entities Privacy Policies: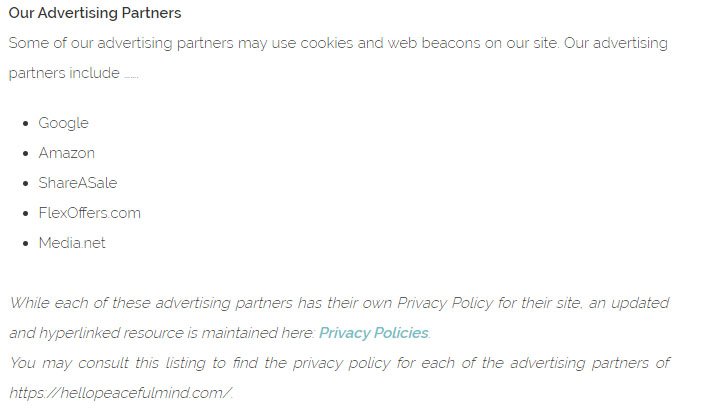 There is a reason why Hello Peaceful Mind encourages this review. Once users leave the site, they are subject to those policies--not the ones on Hello Peaceful Mind.
So, the website owner advices users that they should review these policies: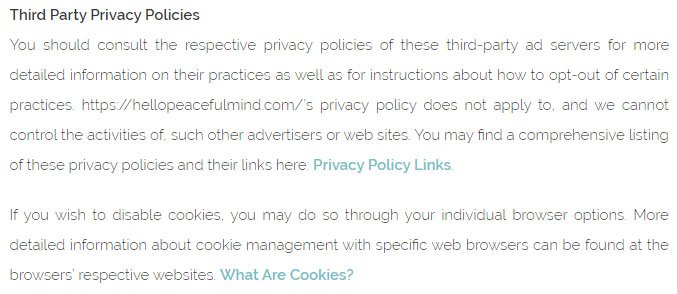 Including a clause like this also waives any responsibility you may face if a user suffers a privacy breach after following a link you provide to an affiliate website.
Karissa's Vegan Kitchen advises that it does not have control over affiliate websites and the risk shifts to the user when they follow these links:

Affiliate relationships are often profitable for smaller websites and blog owners, but you do not want to bear the damages of any data irregularities when a user visits an affiliate link. Protect the privacy of your users and ensure your own legal compliance by using your Privacy Policy as a way to limit liability.
Terms and Conditions for Amazon Associates
The Terms and Conditions agreement (T&C) may also be called the Terms of Use or Terms of Service. This agreement includes rules for users when they access your site. Terms also include a description of services and any duties you may owe to users.
Not all sites have this agreement. It's not required by law like Privacy Policies. Hello Peaceful Mind, for example, does not have a T&C because it is more a site for users to read with no opportunities for interaction. Any issues arising from the use of that site are covered by disclaimers.
Amazon Associates does not require its participates to maintain a T&C. However, if you maintain one for other purposes, you should also address affiliates in it.
Start by extending the T&C to affiliates. Ultimate IT Guys starts by defining affiliates to include advertisers:

One provision in its T&C is the protection of intellectual property, including trademarks and copyrighted material. This protection extends to Amazon trademarks and copyrights as well as its own:
This offers protection for you as well as Amazon. If your users infringe on Amazon's intellectual property, a clause like this gives you grounds to terminate that user's account. It also establishes that you were not a party to the infringement and made efforts to prevent it. That makes it less likely that Amazon will pursue you for damages should this incident occur.
The T&C also includes warranty disclaimers. Extend this protection to your affiliates as well: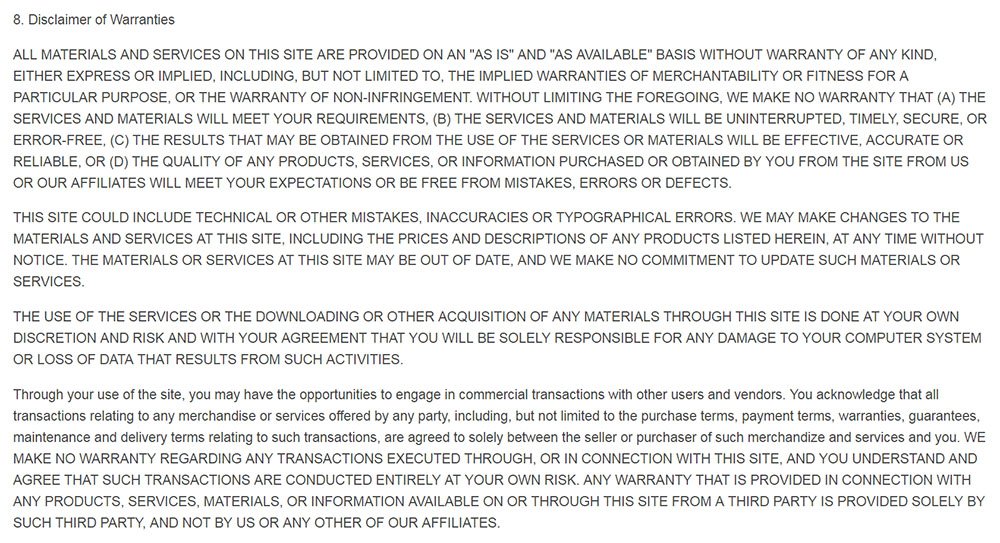 You will want to do the same with your Limitation of Liability:

Offering this protection may seem like excessive responsibility, but it works well to your benefit. If a user pursued Amazon for damages, Amazon could hold you liable if you did not offer the appropriate limitations and waives. You are not only taking responsibility for Amazon's interests, but you are extending liability protection to your own website as well.
The Amazon Affiliate program is an excellent way to make websites and blogs more profitable. However, it is a contractual relationship where Amazon extends an opportunity, and you must meet requirements to continue receiving a benefit.
If you maintain the correct disclaimers, a Privacy Policy, and T&C, you are more likely to enjoy a continued affiliate arrangement with Amazon and avoid legal violations that can disrupt the operation of your website.