A Terms & Conditions (T&C) agreement is an important agreement for all businesses, including small businesses. It dictates the rules for your products and services and lays out expectations for you and your customers.
It is difficult for a new business owner to spend time on a T&C when when there is product development, marketing and other tasks to complete, but rest assured, the time spent on a T&C is worth it. Once complete, you will have an agreement capable of protecting your interests and your bottom line.
Here's how that works.
The necessity of a T&C
Unlike the T&C often attached to a website or app, the T&C between a small business and its customers is much more personal. It is the contract that sets out rules for the relationship. While it may contain general guidelines applicable to all customers, it may present details more specific to a particular customer--like prices and deadlines.
You make a written T&C available to your customers for two main reasons:
To assure your cash flow, and
To encourage mutual understanding
Assure cash flow
The area where a T&C is most vital is with payment policies. Terms indicate important details such as when a customer pays, how much, any late payment penalties, and collection costs if the matter escalates.
It is an unfortunate reality that when it comes to bill paying, smaller businesses end up at the bottom of the pile. You can strengthen your position with the right payment terms in your T&C.
This can include prepayment deposits, monthly subscription costs, and even interest on late payments. Without these items being addressed in a T&C, you cannot enforce these terms and may end up working hard or providing products without a guarantee of payment.
Mutual understanding
Misunderstanding is possible in all contractual relationships. Imagine the disaster if you expect to receive payment for materials before building a product but the customer believes payment is not due until delivery. If you do not have the prepayment terms in writing, it makes it difficult to enforce terms to your best interest.
The same is true with service or product quality, deadlines for completion or delivery, and returns and refunds. If a client can review these terms before purchasing your product or service, everyone enters the transaction informed. This prevents the misunderstandings that can lead to dispute resolution procedures later.
Check out our Terms and Conditions FAQ for more information about these important agreements.
Drafting the T&C
Here are the essential provisions you want to include and how to make them available to your customers.
Essential provisions
Not all of the following provisions may be relevant to your business, but they are a good place to start when considering what you need for your T&C. Examples here include a sample from a freelancing website and one of the few small business T&C agreements available online.
Clear description of products or services
Every T&C between a small business and its customers must include a description of the products and services. It can also include services that are not provided with a contract.
Elance offers T&C templates for freelancers. These are helpful when creating the same for small businesses since freelancers take many of the same risks.
Here is how the freelancer T&C template suggests describing products and services:

Muv Fitness is a regional fitness chain in the northwest United States. Its T&C is available through the online signup process as well as in their individual fitness studios.
The business is generally known for its fitness facilities. Yet, it offers other services that patrons may see as part of their memberships. Also, a failure to use a club does not discharge payment responsibilities. Therefore, its service description focuses on limitations:

Generally, the smaller your business, the more specific you want to make your service or product descriptions. Besides giving the customer a good idea of what you will provide you also avoid being taken advantage of by a customer demanding additional services or products with the fees they paid. Avoiding this scenario is also beneficial to your bottom line.
Payment terms
Your payment terms should include prices, terms of payment, interest or fees on late payments, returned check charges, and the cost of shipping, handling, freight, and returns.
The Elance suggestion starts with a firm price and then describes payment terms: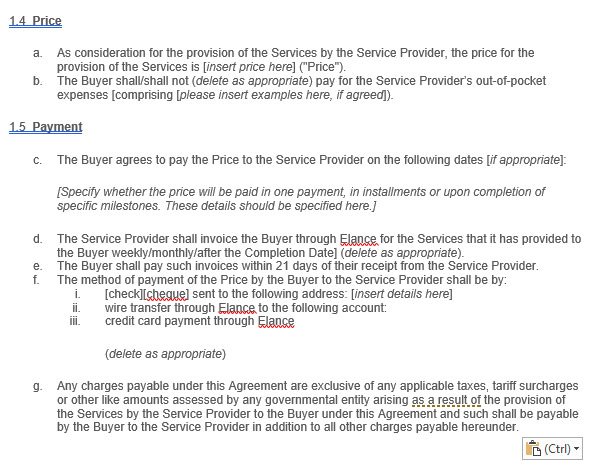 Muv payment terms are littered throughout its T&C rather under one section--which is not recommended. There are no prices listed as it wants the flexibility to change amounts. It also focuses on pre-authorized bank transfers and automatic renewal:

There's a separate section with a border around it to help it stand out where the details for preauthorized payments is set out: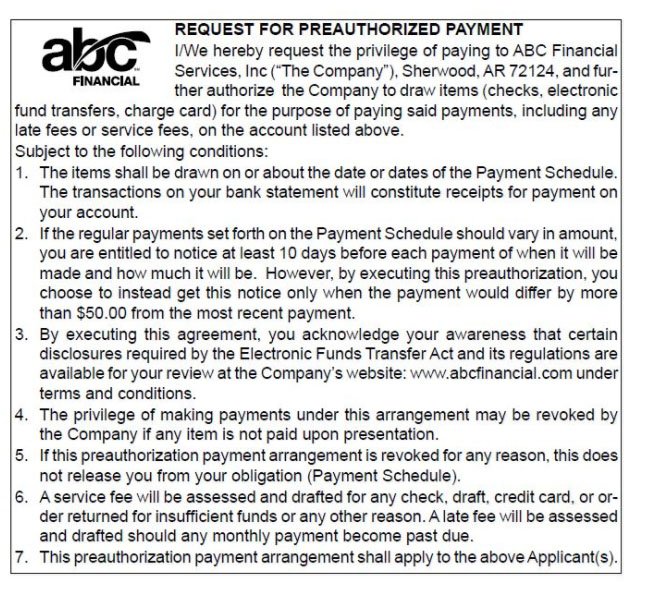 Near the end of its Terms and Conditions agreement, ABC Financial addresses payment default: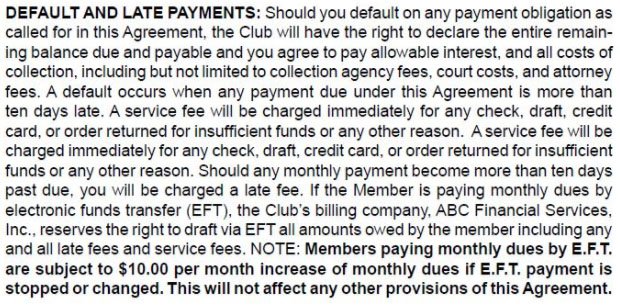 You want to be specific in this section because how you write and enforce it will be a major determiner of your cash flow.
Warranties or guarantees
A warranty or guarantee on your work offers reassurance, even if it is broad. If you are able to be specific on what is considered quality, note that in your T&C.
Warranties and guarantees should also contain time limits. You do not want a refund request five years after providing a product or service. Choose a timeline reasonable for your industry, like 30 days or even 12 months.
For services, Elance offers a general approach to warranties. Since many freelance services include writing, there is also reassurance that the worker did not plagiarize the material:

It is also acceptable to waive warranties which can be addressed in a liability limitation.
Liability limitations
It is not always appropriate to offer a warranty or guarantee. Industries where the chance of facing liability is high may decide not to include those terms.
Instead they will disclaim warranties or limit liability. The Muv T&C contains a waiver and release where it is explained that the club does not issue medical treatment and all customers must understand that there is a risk when using exercise equipment: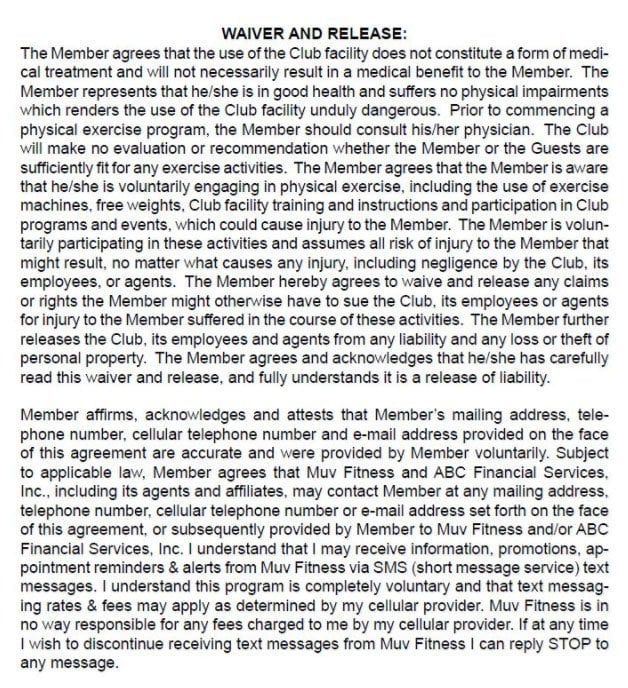 It is also possible to limit liability and offer a guarantee. If a product fails, it is only reasonable to provide a replacement or refund. However, if you do not properly advise of risks or take reasonable precautions to keep people from getting hurt, it is unlikely a liability limitation will work in your favor. So, make the effort to have policies to back it up.
Refund or return policies
Retail establishments normally maintain separate return or refund policies. Ecommerce sites usually give this policy its own webpage.
If you sell products online, you can place these policies in your T&C too.
Sometimes a return or return policy indicates that these are not options. You find this more often with service contracts.
Muv indicates in its T&C that some fees associated with membership are not refundable:

If you decide to duplicate your return or refund policy in your T&C, just make sure you portray it accurately. Courts will decide against you if your separate return and refund policy contradicts the same indicated in your T&C.
You can use the TermsFeed Return and Refund Policy Generator to create your own policy.
Delivery timelines
Timelines will depend on the nature of your product. Services have deadlines and goods have expected dates of delivery.
The Elance sample T&C lists delivery of services right under price provisions:
If your customer insists on a deadline, be careful that you agree on one that you will actually meet. Never choose an unreasonable deadline or delivery time that is impossible with your resources.
Privacy statement
If you handle personally identifiable information, you need a Privacy Policy in addition to your T&C. It is still recommended and helpful to reference privacy or confidentiality in your T&C, but you'll still need a separate Privacy Policy as well.
Privacy considerations also arise when you deal with sensitive information that may not necessarily belong to the user. The Elance T&C sample addresses this as "confidentiality":

This section does not have to be long. At the very least, provide a link to your Privacy Policy or refer to it if your agreement is not provided online.
Remedies in case of breach
Agreement breaches include everything from failure to pay for products or services to low quality and workmanship. The payment default provisions above offer remedies for breaches involving failure to pay. Return and refund procedures offer assistance if a product or service is below expectations.
Remedies also include preferred dispute resolution. It is in the best interest of a small business to avoid costly litigation and pursue alternative dispute resolution.
For example, the Muv T&C requires all disputes to go through arbitration and customers waive their rights to a jury trial. There is even a mention of the location of the arbitration and the applicable rules:
Most small businesses limit dispute resolution processes to mediation or arbitration. Doing the same in your T&C can save you money in case a customer ever takes issue with your product or service.
Terminating the agreement
Termination clauses describe how the relationship outlined in the T&C may end. It generally states this occurs by mutual agreement or if one party gives notice of termination, usually 30 days before it becomes effective.
Some companies have exact procedures in place for how a termination will occur. Muv allows cancellation of its contracts but only if notice arrives at the right place:

Including termination clauses allows you to prepare for when a contract ends. This way you know to find more customers and make up for the shortfall that results when you lose one.
Governing law
Putting a statement in your T&C about governing law is a good idea if your product or service is not limited by location. For example, if you sell a product that you ship across the country or even overseas. It is likely you want disputes settled close to home. The only way to guarantee this is to limit the jurisdiction where customers can bring complaints.
This is often presented as a footnote, in the dispute resolution section or even a "miscellaneous" section. The Elance T&C sample goes with "miscellaneous":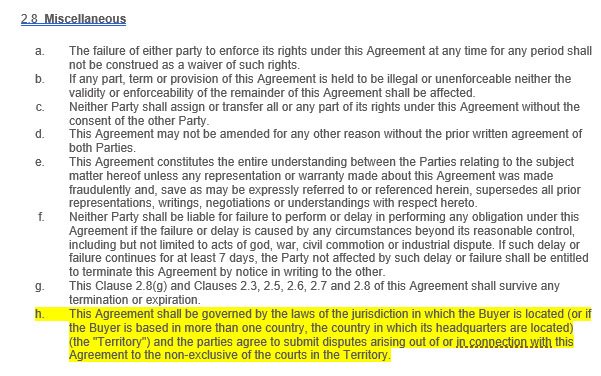 While the Elance sample chooses the jurisdiction of the buyer/customer, most individuals and companies choose their own home jurisdiction. That is preferred as it can save costs if a dispute arises.
Providing it to customers
Where you provide access to your T&C depends on whether your business is online, mainly offline or a combination of both.
If you run a bricks and mortar business with a website existing for exposure, but customers cannot purchase products or services through it, you do not need to include your T&C online. You can provide it when clients or customers visit or keep it posted conspicuously at your store or office.
If you give the option to schedule services or order products through your website, present the T&C as part of that process.
Muv allows members to sign up online or in one of their gyms. Their sign up page starts off with a form requesting information: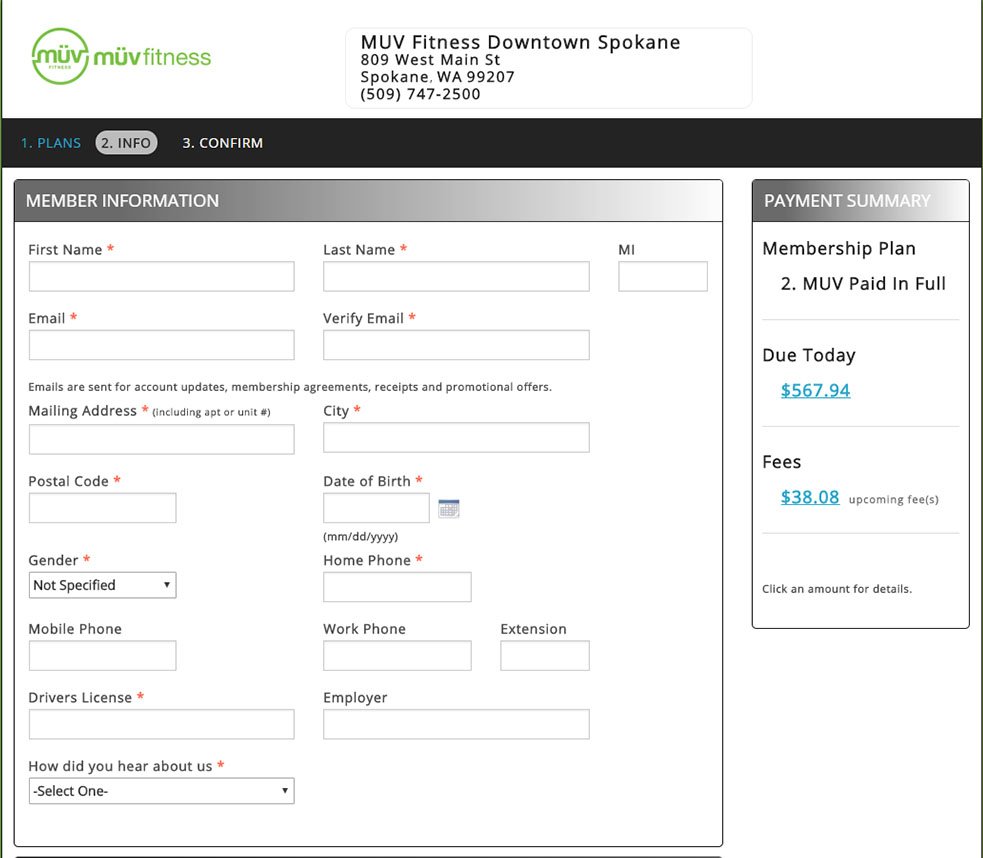 Once the customer finishes the form, they must accept the T&C to move forward with the process: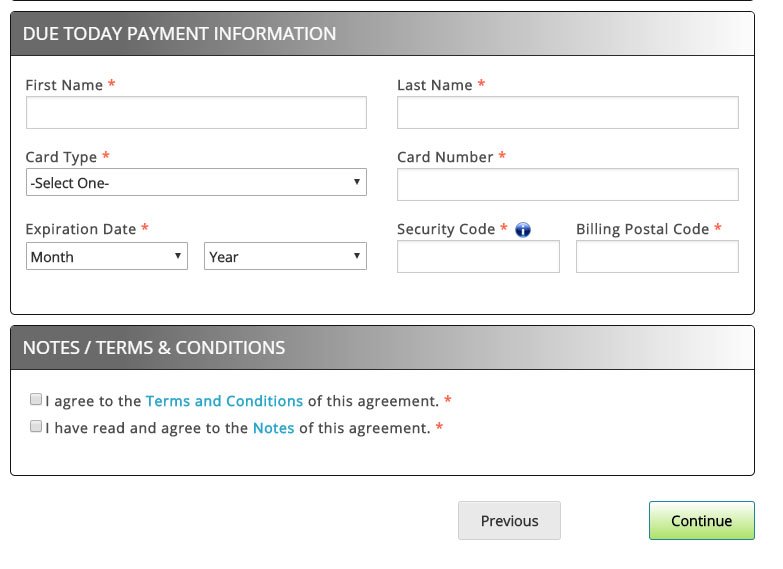 If the customer clicks the "Terms and Conditions" link, they see a pop-up containing the agreement: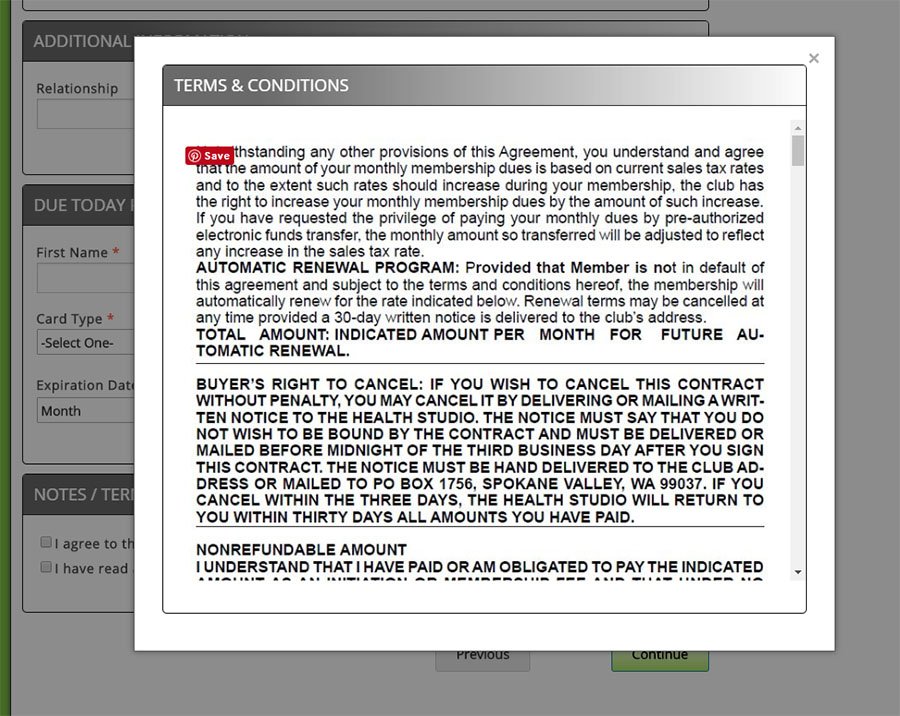 This is known as clickwrap and it is a popular way of assuring acceptance of agreements with web sites and apps. It works well for these purposes too if you allow people to purchase your product or service online.
Drafting tips
When you draft a T&C for your small business, you need the correct provisions but also the right mindset. This agreement exists to preserve your business under the worst developments. You need to draft it to offer that protection.
You can do that by following these tips:
Never assume "one size fits all." If you run a clothing boutique and your friend maintains a fitness studio, is it unlikely their T&C will work for you. You need to go beyond cut and paste or borrowing another agreement and customize this for you. It is okay to use other T&C agreements as templates if you need help getting started but never assume that what works for someone else will work for you.
Imagine the worst case scenario. Think of the worst customer and anything that can possibly go wrong. Draft your T&C to deal with those situations.
Be presentable. Avoid small fonts and use paragraphs rather than long blocks of solid text. Even if this makes your T&C several pages long, at least it will be easy to read. Use simple vocabulary and avoid complex legal jargon. An incomprehensible T&C will not endear you to your customers.
Get feedback. Put yourself in the position of your customer and read the T&C from their viewpoint. Have a friend or other layperson review the T&C to see if they understand it clearly. This helps you draft a clear agreement.
Be consistent. If your industry depends on key commercial and trade terms, use them. If they are obscure or technical, define them in your agreement. That will actually place you in a stronger position as it reduces misunderstanding.
A good T&C is the best time investment you can make for your small business. Give this task time and serious consideration so you secure the best legal protection possible.