In June 2013, Twitter released a suite of tools that allows marketers to add photos, videos, and all sorts of rich media to tweets.
Dubbed as Twitter Cards, these tools add a lot of value to each post you create on Twitter. Imagine being able to read excerpts or download apps straight from a tweet?
There are currently eight Twitter Cards available:
Summary Card
Summary Card with Large Image
Photo Card
Gallery Card
App Card
Player Card
Product Card
Twitter for Business also has Lead Generation Card (LGC) and as the name suggests, it allows you to collect leads directly from a tweet.
The LGC (Lead Generation Card) also eliminates the need for users to fill out tedious subscription forms because their name, email address and Twitter handle are pulled out by the Card as soon as they hit "Submit" on a tweet's call to action.
Lead Generation cards generate inbound interest from users by allowing them to easily share their information with you from within a Tweet. Lead Generation cards automatically capture the user's name, username, and email address and let them send this to you with one click.
In a nutshell, it's a tool that enables users to directly and securely provide their information in exchange for your offerings.
While Lead Generation Card does not collect leads that are as detailed as collecting it the traditional way, it is nevertheless a very effective way to collect leads.
Below is how an LGC looks like in a tweet, courtesy of Twitter. See that Join the club call-to-action?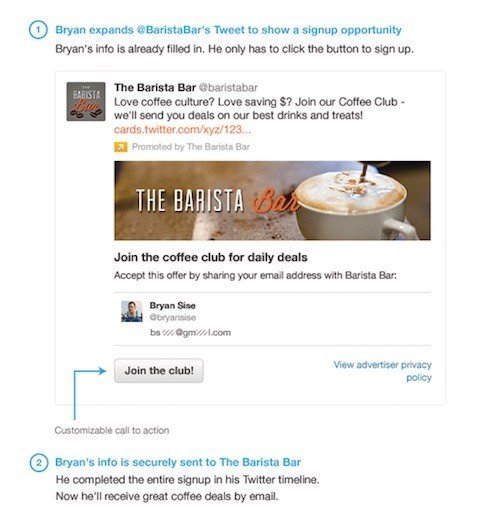 Why use a Lead Generation Card (LGC)
There are many marketing suites that can effectively generate leads but here are reasons why you should go for Twitter's Lead Generation Card:
Lead Generation Card streamlines otherwise cumbersome process of collecting user information.
It drives low cost-per-lead compared to other marketing suites
You can target precise interests and @usernames
Since providing information to your card has never been this easy, you can expect more people to bite into your offerings
Very simple set up. It only takes minutes.
You can view and modify important metrics within Twitter Ads Cards manager
In-app conversion rates actually translates to more conversion rates
Lead Generation Card is a really exciting feature that enables you to collect names and email addresses with just one click. You can drive more users down into your marketing funnel if you make it incredibly easy for them to provide information.
Below are some tips on how you can use the full potential of Twitter's Lead Generation Card:
Keep your description short but impactful
Highlight all the good things about your offering. Think of this as your landing page title.
Visuals are as important as ever
People are visual creatures. You have to always provide an image that your bottom lines cannot resist to click.
But take note of the limitations, though: file size has to be 1 MB max, 4:1 aspect ratio minimum, and at least 600px wide.
Make your Call-to-action compelling
The text you specify on the CTA box has to be compact, action-oriented and communicates your offering (e.g. download your ebook here, send me a sample).
You have to be precise with what you can offer in exchange for their information.
Start lead nurturing campaigns
Lead Generation Card does not really extract a lot of information; just names, email addresses and Twitter handles.
You need to do lead nurturing campaigns to acquire more information from your leads.
Here are the instructions to setup a Lead Generation Card:
Step 1: Log in to your Twitter Ads account.
Step 2: Click the Creatives logo on the upper left corner of the screen and go to Cards to Create your first Lead Generation card.

Step 3: Fill out all the boxes

Step 4: Check the box next to By creating this Lead Generation card, I agree that I have read and I abide by Twitter's data use policy before you hit Create Card.

Step 5: Once your card is set up, click Compose Tweets and draft your message.

Step 6: Click the Attach Card button just below the message box to select the LGC you want to add.

Step 7: Send out your tweet.
Privacy Policy URL for Lead Generation Card
Before you sign up to use Twitter's Lead Generation Card, make sure you have your website's Privacy Policy page ready.
It's an inconvenient requirement but Twitter wants to ensure that your users know who you are, what data you're collecting and how you're going to use that data.
Twitter's Data Use Policy states that:
When using Twitter's Lead Generation card feature, you must include a link to your Privacy Policy directly in your card. You can add this link through the Campaign User Interface. Pages, where users are asked to enter private and confidential information, must use a secure processing server (https://). Examples of private and confidential information include credit card numbers, bank information, and social security numbers. Providing users with your Privacy Policy, as well as securing your server when collecting their private and confidential information will allow users to understand the conditions under which they share their information. Specifically, they should know who is collecting their information, how it will be used, and what steps will be taken to ensure it is secure and not misused.
This is where you must provide your website's Privacy Policy URL. It's one of the boxes you have to fill out when you create new card:

Twitter's Master Services Agreement explains that lead generation card collects User Volunteered Data, which are personally identifiable information:
from individual users during delivery of an ad pursuant to an applicable Insertion Order, but only where it is expressly disclosed to such individual users that such collection is solely on your behalf."
Twitter Ads Policies abide by six principles, one of which is to "promote honest content and target it responsibly."
Under this principle, Twitter outlined its take on collecting user information:
If you collect user information, your Privacy Policy statement must explain what data is collected and how it will be used. The Privacy Policy should be posted on the same page as where this information is collected.
If you use Twitter's lead generation cards, you must include a link to your Privacy Policy directly in your card. You can add this link through the Cards manager.
Pages, where users are asked to enter private and confidential information, must use a secure processing server (https://). Examples of private and confidential information include: credit card numbers, bank information, and social security number.
Your website's privacy policy will appear on the bottom-right corner of the expanded card-promoted tweet.
Requirements
It's not enough to just have a Privacy Policy. There are things that need to be conveyed clearly to your bottom line to avoid future litigation.
Before you sign up for lead generation card, remember the following:
Let users know who you are.
Your Privacy Policy must explain what data is collected, how the collected user data will be used and what steps are taken to ensure that the data remains secure.
If you start collecting information that's not outlined in your Privacy Policy, you must update your Privacy Policy.
If you're collecting very sensitive information (credit card, bank account or social security numbers), your website must run on a secure server (https://).
The Privacy Policy must be included in the footer section of your website, across all web pages, to make it easier for users and data protection authorities to find.
It's not just Twitter that requires your website's privacy policy. It's the law, such as CalOPPA in the US or DPA in the UK.