Suppose you have a website and you interact with users in any way. In that case, chances are that you need a Privacy Policy to be compliant with all the data privacy rules and regulations that are implemented (or being implemented) worldwide.
A Privacy Policy is a document that notifies your website's users on specific issues concerning their personal, private information. Specifically, it lets users know what type of information you collect, why you collect it, how you will use it, whether you share or sell it, and how you will protect it.
Today, a Privacy Policy is required in practically every nation that has the internet. Outside of the fact that this document is compulsory, it's also instrumental in assuring your website visitors that your business is reputable and worthy of their trust.
With that said, you might be asking yourself, "Okay, then, how do I write a Privacy Policy?"
We'll show you how.
How Can I Write My Own Privacy Policy?
The first thing you should do if you plan to write your own Privacy Policy is to familiarize yourself with the various significant laws requiring you to have one. That way, you can know what these laws demand and what your Privacy Policy should disclose to your website's users and why.
For example, keep in mind that the GDPR that is the standard for data privacy throughout Europe today. Recall that it is exceedingly strict, and the EU can slap all kinds of hefty fines on your company if you do business in a nation covered by the policy but fail to comply.
Another data privacy law to become familiar with is the California Privacy Rights Act (CPRA). There are many areas within the law that are similar to the EU's GDPR, which makes it one of the strictest data privacy rules in the United States.
Once you're familiar with the demands of these major laws, go back over precisely what information your website asks for. Pay attention and document precisely how you manage that data, and how and where you store it. You'll need to be able to disclose all of that in your Privacy Policy.
How Can I Write a Privacy Policy for My Website?

To start with, you might want to take a look at examples of Privacy Policies on the websites of your competitors (or those you know do business in the same nations as you).
Secondly, there are free Privacy Policy generators and templates accessible online. However, you choose to get your Privacy Policy written, here are some things to keep in mind.
Suppose you're not even processing sales on your website. Maybe you're not actively collecting data, and you're just trying to get people to read your blog. As noted elsewhere, if users interact in any way with your site, you need to be sure you're in compliance with major data privacy laws.
Therefore, do the following when writing your Privacy Policy:
Make sure the Privacy Policy is visible - Think about putting a link to the policy in your website's header or footer on every page. Put a link to the Privacy Policy on any landing page, squeeze page, etc. in a prominent place on any form that collects user data so that visitors can check your policy.

Note how Amazon places its Privacy Notice in the footer of its website:

Be transparent - Don't try to hide anything from your website's users. Remember that a Privacy Policy is not just a requirement of law; it is also a commitment to treat your user's personal, perhaps very sensitive information with respect. You should ensure that your Privacy Policy reflects your actual data practices accurately.
Be sure your policy is current - If there are any changes in how you collect information, how you store it, or if there are changes in whether you share or sell that information, or in how you protect it, be sure to update your Privacy Policy accordingly.
Include the following in your Privacy Policy:
What kind of information is collected
How you collect the information
How you use the collected information
How users can control the information you collect
How you protect the user's information
How Can I Write a Privacy Policy for My Mobile App?

Your app is basically no different than a website when it comes to Privacy Policies. To be compliant with most major legislation, you need a Privacy Policy for your mobile app if your app collects a user's data.
Moreover, developers must keep in mind that app stores like Apple's app store and Google Play insist that Privacy Policies be included inside apps themselves and in-app store listings.
Take the Yahoo Finance app, for instance. It lists its Privacy Policy right there in the Google Play store as seen in the screenshot below: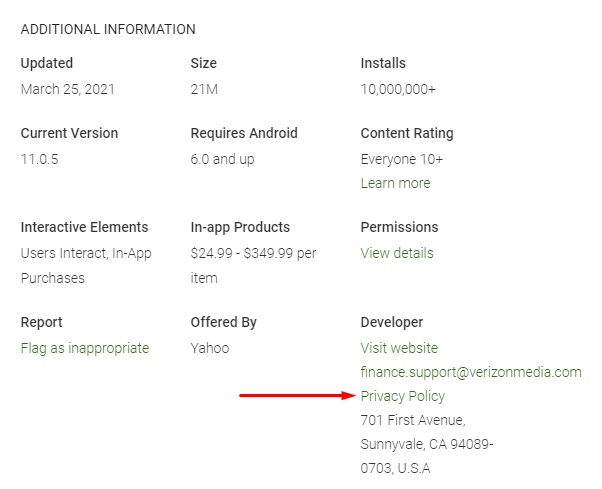 As with websites, remember that Privacy Policies help inspire engender trust between you and your app's users. They provide users with a sense of security and comfort, knowing that you care about their sensitive information and its security.
Places to include your Privacy Policy within an app include:
In any place inside your app where information on how you handle data ought to be disclosed, like whenever you ask for permission to use someone's personal data
Inside your app store listing
On an account sign-up and login page
On a checkout or payment page
In an About menu or legal page inside your app
Can I Copy-Paste Someone Else's Privacy Policy?

In essence, you could use someone else's Privacy Policy as a template. However, copying everything word for word and then expecting the document to be fully applicable to you and your business could be short-sighted.
Consider the fact that merely copying and pasting doesn't provide you with a tailor-made Privacy Policy that covers your business's specific needs.
For example, you could violate your own policy if you lifted a clause from someone else's Privacy Policy, stating that you don't share private, identifiable data with third parties when you actually do.
That's why it's best to exercise caution. Customizing your Privacy Policy to your business's specific needs is the better option.
Do I Need a Lawyer to Write a Privacy Policy?
The short answer is "no." You don't need a legal professional to write your Privacy Policy. However, that's not to say you shouldn't hire one. It truly depends on how in-depth you need your Privacy Policy and what considerations must be taken into account.
For instance, here's an excerpt from Apple's Privacy Policy on how it uses its customers' private information: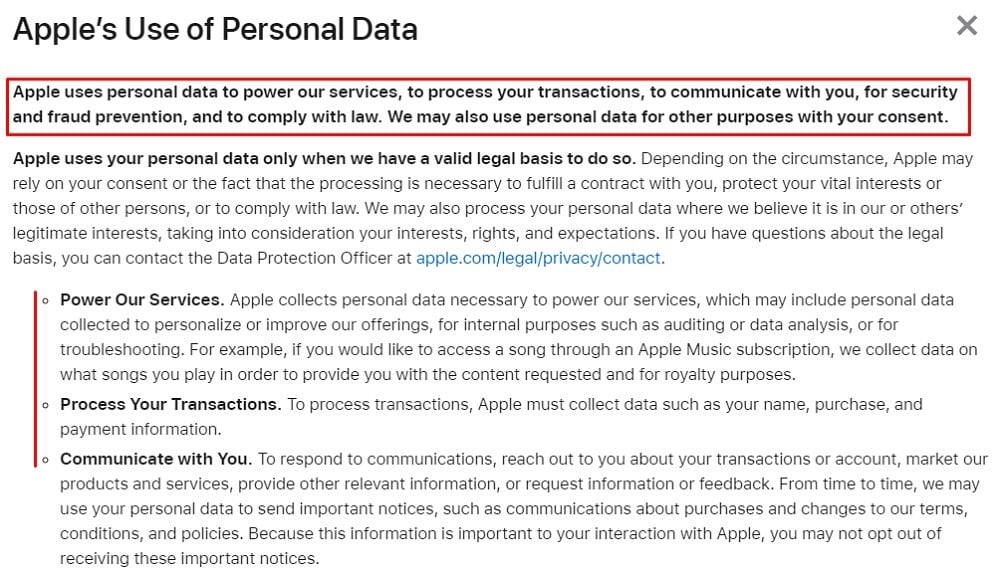 If your data collection needs are very complex, you may want to have an attorney who is familiar with the data privacy laws in the country you intend to do business in, and who speaks the native language, go over your proposed Privacy Policy.
Another reason you might wish to use a lawyer to write your Privacy Policy is if you do business all over the place. Maybe your website's users come from the EU, North America (specifically California), and Brazil. You'd want to be assured that your Privacy Policy covers all eventualities so that you're guaranteed to be compliant with all major laws.
However, no law demands you hire an attorney to write your Privacy Policy. Plus, there are great templates and online generators that can help you draft a Privacy Policy without the need for legal advice and that are actually tailored to the needs of you and your website (or app's) users.