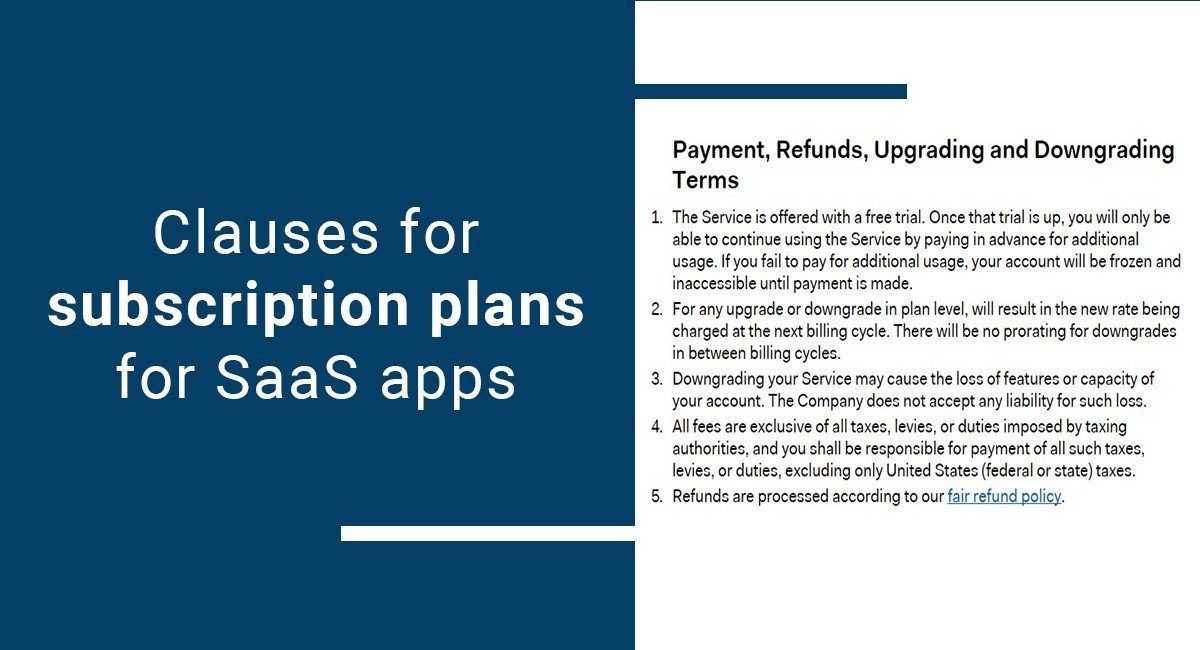 When you create a SaaS product, it's very likely that you'll set up multiple levels of subscription plans, such as a free version, a professional version, and a premium version.
Customers will likely want to upgrade or downgrade between subscription levels, so it's important to cover this clearly in your Terms of Service agreement or Subscription Agreement or Terms & Conditions or Terms of Use. These clauses should not be part of your Privacy Policy.
Let's take a look at some examples of these types of clauses and go through what's important to cover. Then, we'll briefly take a look at how to ensure your customers are legally bound by your agreement.
Clauses for subscription plans
Clause 1: Upgrades, downgrades
Upgrade and downgrade clauses should cover any service changes that result when the customer changes their subscription. For example, if the customer downgrades their subscription plan, they may lose features or data storage amounts.
The first example that we'll look at is from Basecamp's Terms of Service: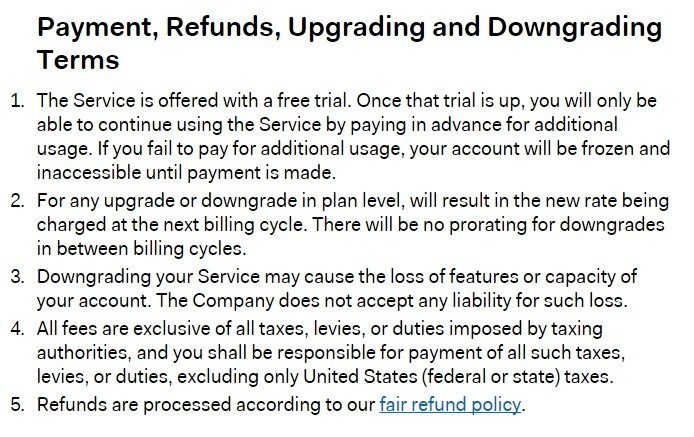 You can see in the example from Basecamp that the general information on subscriptions, upgrades and downgrades is separated into its own clause.
Knowing how to upgrade or downgrade a subscription is quite important to users of a SaaS product or service, so you should ensure that it's easy for them to find and read. Basecamp also covers the fact that downgrading the service may cause the user to lose features or capacity on their account.
Basecamp also specifies that they don't accept liability for any loss. When your customers downgrade their accounts, you should also make sure that warning messages or reminders are incorporated into the downgrade process so that users can backup their data or move files if they need to.
You could also consider setting out a separate Subscriptions Policy or page on your website that outlines the different benefits at each subscription level. If you do that, however, ensure that your explanation or FAQ page works in tandem with the clause in your legal agreement, not in place of it.
The next example we'll look at is from the Terms of Service of Hubspot.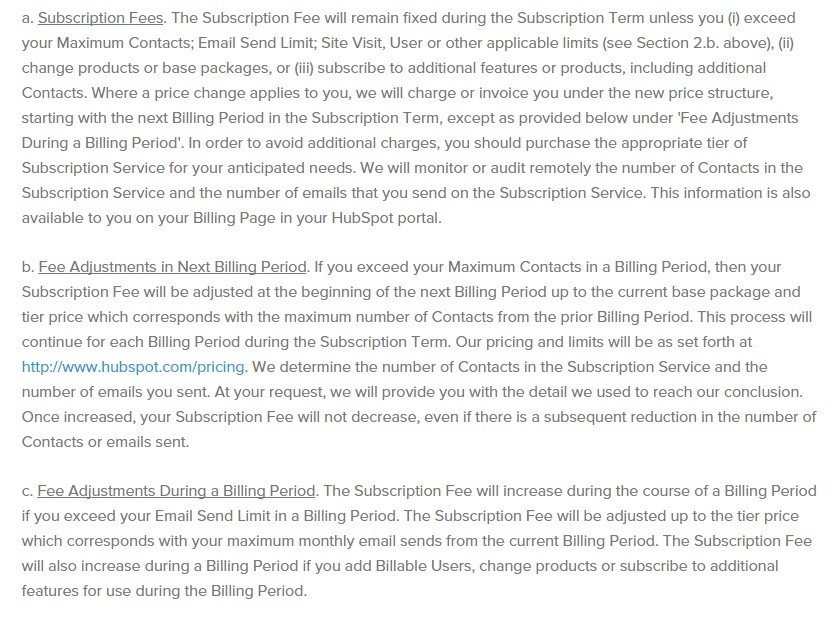 In this example you can see that the nuances of billing and timing are covered by three separate clauses. It's important to address how your customer is billed if they switch to a higher or lower subscription level part way through a subscription period.
In the Hubspot example, the customer is automatically adjusted to a different "Subscription Fee" when they exceed a certain number of contacts, emails sent site visits, or other limits.
In the 2 sections related to "Fee Adjustments", HubSpot notes how the limit exceeded can result in a fee adjustment in the next billing period, while the other section states what happens during a billing period if you exceed the limit.
Some SaaS products will suit automatic adjustment to subscription plans, while others will work better when a user elects to change their subscription level.
Examine your own SaaS product and decide whether an automatic or elective subscription change makes more sense.
It's also important to consider whether payment changes within billing periods are feasible for your customers, or whether your service would be more suitable to charges being changed only at the end of a billing period (e.g. monthly).
Clause 2: Free trials
Now let's take a look at this example from Kissmetrics' Terms of Use: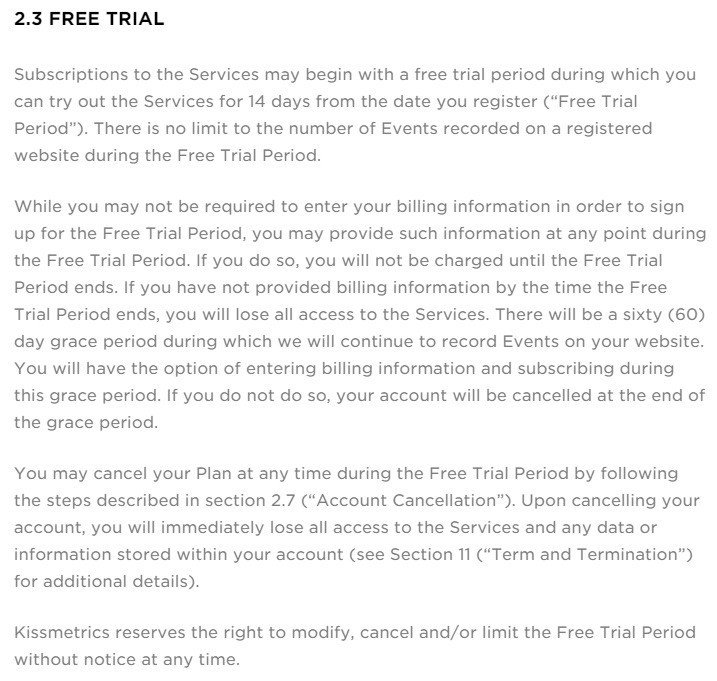 You can see in this example how Kissmetrics deals with free trials, their expiration, and upgrades from a free trial to a paid subscription.
It's important to set out clearly in your Terms of Service agreement how free trials are managed and ensure that you don't forget to specify an expiration date for the trial.
Also specify how free trials can be changed into paid subscriptions, and how billing is effected. In the Kissmetrics' example above you can see that all that's required is that the billing information must be entered.
Clause 3: Payment methods
Next, clearly setting out acceptable payment methods and accepted currencies is crucial for running a successful SaaS product. If you don't specify currency or payment methods, customers may get confused or be misled as to how much they are actually paying.
If you use payment methods that involve third parties (such as credit card processors or PayPal), ensure that your customer is notified of those parties who will have access to their financial information.
The next important thing you need to cover is providing information on how your users can cancel their subscription. This helps to create user trust and ensures that users don't feel trapped or like they need to search to find how to stop using your service.
Like the information on your different subscription levels, information on cancellations should be clearly displayed on your main website.
In the Basecamp example above, the "Payment" clause was covered in the same clause section as "Upgrades and Downgrades."
Their cancellation clause is separated out and provides clear instructions about how cancellation occurs (and what methods are not acceptable as cancellation, such as emails or phone requests). The clause also explains when cancellation takes effect, and how cancellation affects billing and payment.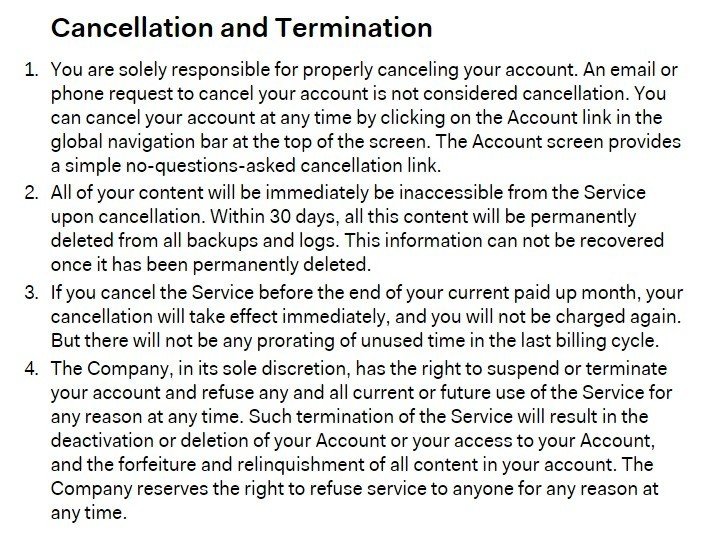 Legally binding agreements
The most important thing in getting agreement to your legal documents is making sure that your users have both seen them and explicitly agreed to them. Particularly, when your Terms of Service agreement covers subscription information and payment details, you want to make sure that your legal agreement is both clear and enforceable in court.
The best way to make sure your terms are legally binding is to use a clickwrap agreement. Clickwrap is when your user must click the "I agree" or "I accept" check boxes that links to your Terms of Service agreement before they can proceed to use your service.
Here's an example of clickwrap from a Drupal plugin: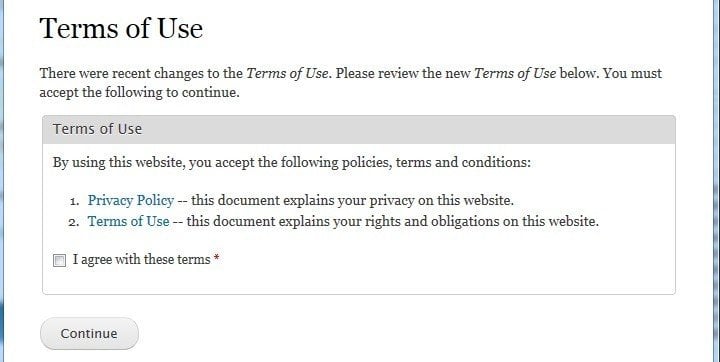 You can see that both the Privacy Policy and Terms of Use agreement are hyperlinked to (so the user can easily find and read the documents), and the check box is directly below the legal documents that are hyperlinked.
It's clear that by clicking "I agree with these terms" the user is agreeing to both the Privacy Policy and Terms of Use agreement linked.
This is in contrast with browsewrap, which is when you provide a link to your legal agreement but the user does not need to view them before using the service. Here's an example of browsewrap from the footer of MSN.com:

The link to the Terms of Service of MSN.com is small and is hidden among the other links at the bottom of the page.
Browsewrap is not sufficient for forming a legally binding contract as your user has not been given notice of the Terms in most cases nor have they expressly agreed to them. Particularly in relation to SaaS products that may include details such as service levels and resolution targets for issues, it's extremely important to get a legally binding agreement.
Ensuring that your clauses on upgrades, downgrades, free trials, and subscriptions are clear is just one piece of the puzzle.
Remember that subscription information is a key part of your service offering, and you need to clearly cover in your Terms of Service agreement how this is managed.
Don't forget to include information on how billing and charges will change if a user switches between subscription levels, and ensure that your cancellation clause is clear and also sets out when final payments should be made.
Last but not least, ensure that payment methods, currencies, and other payment information are set out in both your Terms of Service and on your website.